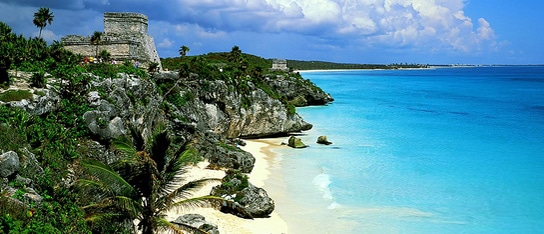 Cancun Honeymoons along with Jamaica honeymoons are the most popular all inclusive honeymoon resort destinations on the planet. This is due to a large availability of flights and all inclusive resort options along with great prices. Many island destinations have to import everything they use including water. This is not so with Cancun, so your dollar is worth more. Practical reasons aside, Cancun honeymoon packages offer friendly people, beautiful beaches and amazing sites to see.
Cancun's airport is the busiest airport in the Caribbean by far. When you fly into Cancun, drive 15 minutes north and you're in Cancun. Drive another 15 minutes north and you are in Playa Mujeres. If you drive south instead you run into what I blanket call the Riviera Maya, which is about 81 miles of coast south of Cancun. So we lump all the resort areas into the Riviera Maya, including Puerto Morelos, Playa del Carmen and Tulum.
We currently offer just shy of 100 resort options for your Cancun and/or Riviera Maya honeymoon. Let me try to put that in perspective for you. That is more than you'll find in all the rest of Mexico honeymoon destinations combined. That is also more than the options available in Jamaica and Punta Cana combined (approximately 84). All inclusive honeymoon resorts in Cancun also outnumber all the Caribbean honeymoon resorts, if you exclude Jamaica and Punta Cana (approximately 94).
Cancun and Riviera Maya   100 all inclusive resorts
Jamaica and Punta Cana      84 all inclusive resorts
Rest of the Caribbean            94 all inclusive resorts
(numbers above are approximated)
Ok, back to finding the perfect resort for you. Let's start north and work our way down. Playa Mujeres is a great area just north of Cancun, so you are close to all the hustle and bustle of Cancun, but far enough away to enjoy the luxury and beauty of the brand new Secrets Playa Mujeres opening in November of this year. We expect this resort to be off the charts popular. Several of our agents have taken tours of the construction site and predict this resort will be our #1 seller. From the beach at Isla Mujeres you can see Isla Mujeres just off the coast. The ferry dock where you catch the boat ride over to Isla Mujeres is just minutes away.
Cancun needs no introduction. White sand beaches, blue caribbean waters, famous nightlife, shopping and resorts for every style on the strip, just like Vegas. Secrets the Vine is centrally located and the most popular honeymoon resort in Cancun. This is an adults only all inclusive with luxury amenities and service. You'll find 495 rooms (affordable to WOW), 7 restaurants, 4 pools and room service is available free of charge in every room. Want some other options to look at?
Le Blanc Spa Resort, the most luxurious all inclusive resort in Cancun
Sun Palace, Cancun's only couples only resort, makes the resort romantic like a Sandals Resort
Hard Rock Hotel Cancun, if you want a rockin' good time on your honeymoon
Riu Palace Las Americas or Riu Cancun, easy on the wallet
That brings us down below Cancun into the region that has so many all inclusive resorts. We send more honeymoon couples to the Riviera Maya than Cancun. You are not far from Cancun, so you can always visit anytime you want. Many repeat guests prefer the town of Playa del Carmen in the Riviera Maya 45 minutes south. This is like a mini Cancun, with a cobblestone street (5th Ave) right off the water with shops and restaurants and nightlife, but without the high rise resorts.
This region has 2 of our top all inclusive honeymoon resorts in the entire Caribbean. Secrets Maroma Beach is on the best beach in all of Mexico. This luxurious adults only resort is current our #1 resort for 2014. The resort has great service, great restaurants and a great variety of rooms. Iberostar Grand Paraiso is the most luxurious all inclusive resort in the area. Every suite comes with butler service. This resort also has a championship golf course (Big Break filmed here) and 4 more Iberostar resorts next door that you have exchange privileges with. So you can walk to the resorts next door and enjoy all the restaurants and bars or take a ride down the lazy river or even enjoy a wave pool. Want more options to look at?
El Dorado Royale & Casitas Royale, unique rooms and gourmet inclusive, great for foodies
Hard Rock Riviera Maya, for a rockin' good time
Riu Palace Mexico, easy on the wallet
Keep this area in mind if you are looking for an affordable all inclusive honeymoon. Go to the Riviera Maya honeymoon page, put in your dates and search all. When the resorts come back, sort results by price and find the resort that fits your budget.
<