Best St Lucia Honeymoon Packages and Resorts, 2022
St Lucia has been voted the "World's Leading Honeymoon Destination" too many times to count. With a St Lucia Honeymoon you can enjoy all the pleasures of the Caribbean and a picturesque backdrop that is easily mistaken for the South Pacific or Hawaii. You'll find beaches, waterfalls, rainforest, a drive in volcano, sulfur springs (famous for mud baths) and even a World Heritage Site (the Pitons) listed by Oprah as the #1 place in the world to visit.
St Lucia is often referred to as "Little Hawaii". The islands beauty is second to none.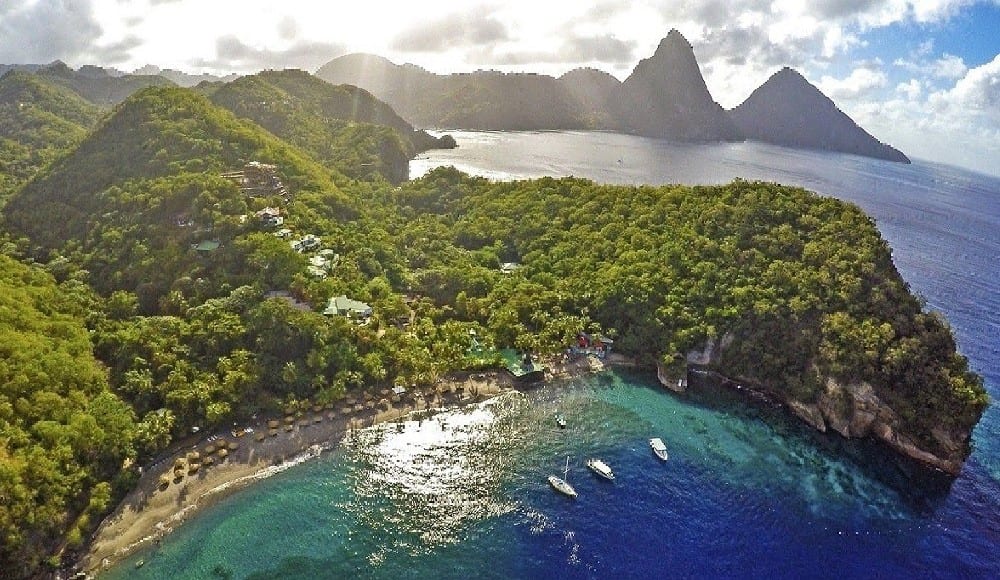 Our 3 most popular all inclusive honeymoon resorts in St Lucia are the 3 Sandals Resorts. Sandals Grande St Lucian is the favorite of the three overall. You should do some research on which one is right for you. Sandals Regency La Toc is the least expensive. Sandals Halcyon is the smallest and most intimate. Stay at one and you can play at all 3. Even the transfers are included, along with 11 pools, 27 restaurants, 21 bars and 2 golf courses.
Recent Blog Post: Which Sandals Resort in St Lucia is Best for you.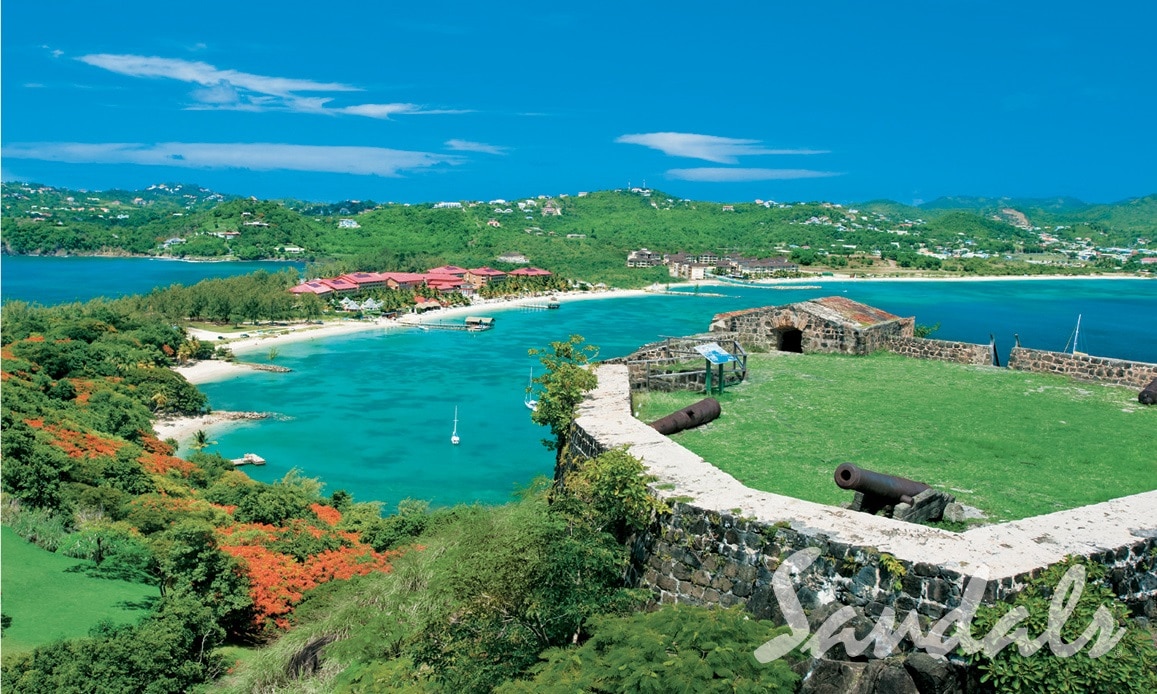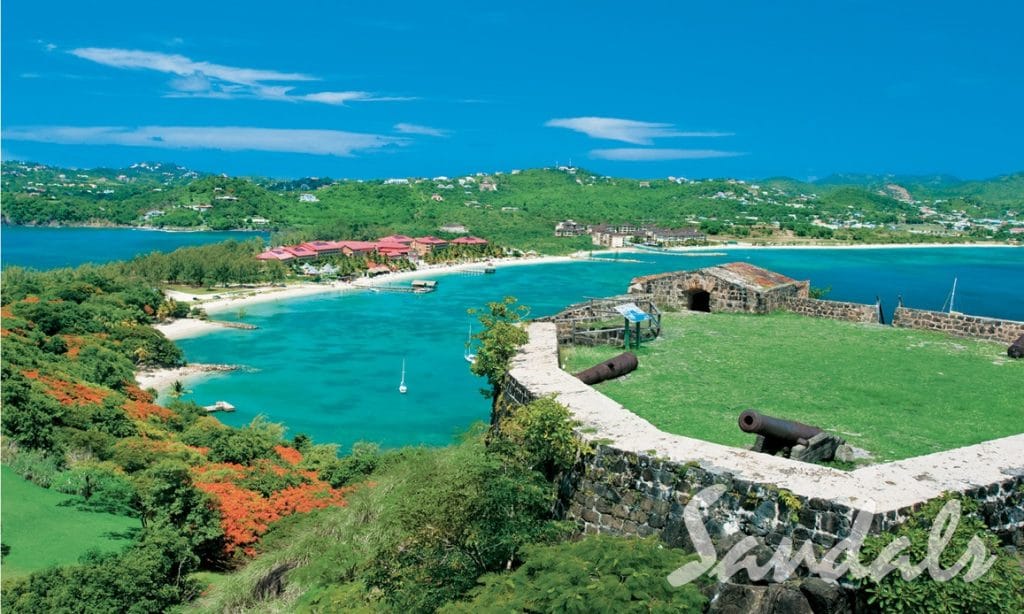 If you are looking for the best honeymoon suite, well this is your island. 10 resorts have rooms with private pools, yes 10! We'll list them below. The top suite would have to go hands down to Jade Mountain. At Jade mountain you'll have a suite with only 3 walls, so you get an unobstructed view of the Pitons. Rates start around $1500 per night. You can book just a few nights here and stay elsewhere for the rest of the stay. We are noticing a big trend with honeymoon couples splurging on the ultimate room for 3 nights at the end of their honeymoon. The Rondoval suites and the Over the Water suites at Sandals Grande and the millionaire suites at Sandals Regency are amazing too.
All the suites below are amazing!
St Lucia Resorts with Private Pool Suites:
Jade Mountain
Sandals Grande St Lucian
Sandals Regency La Toc
Sandals Halcyon
Calabash Cove
Serenity at Coconut Bay
Sugar Beach
Ladera
Cap Maison
Windjammer Landing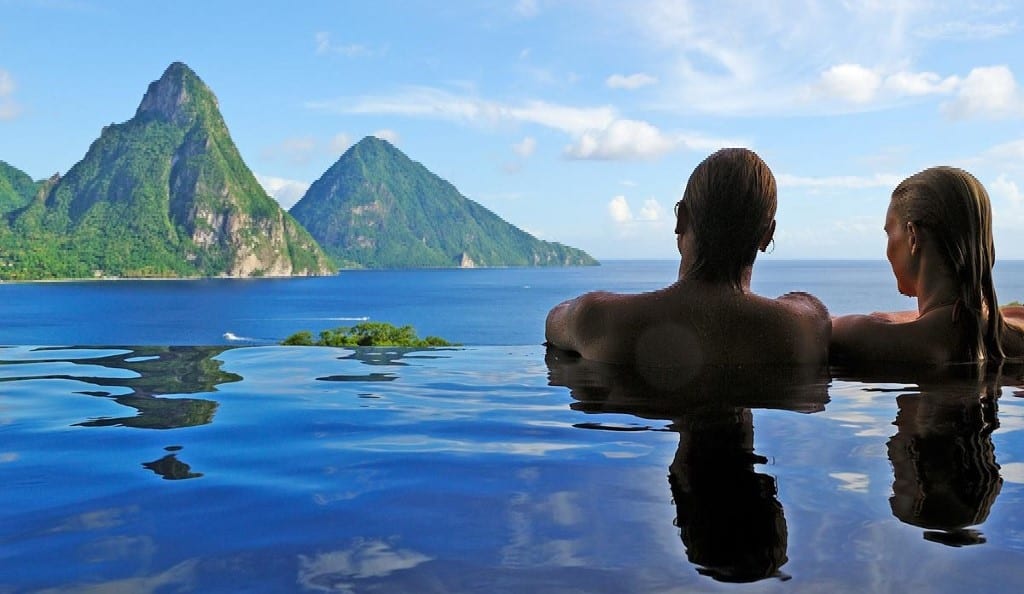 Swim Up Suites in St Lucia:
Calabash Cove
Hideaway at Royalton St Lucia
Royalton St Lucia
Sandals Grande St Lucian
Sandals Halcyon

Boutique Honeymoon Resorts in St Lucia:
If you are looking for an intimate boutique property, Calabash Cove is our #1 recommendation on the Northwest coast where most of the resorts are located. This charming resort only has 26 rooms, including swim up rooms and rooms with private pools.
Jade Mountain would be our #1 recommendation on the southwest side of the island, where the Pitons are located.

Affordable Honeymoon Resorts in St Lucia:
The Royalton and the Hideaway at Royalton St Lucia are your most affordable option. This new modern resort is basically like 2 resorts in one. One side is for families and the Hideaway side is for adults only. Royalton St Lucia honeymoon rates start around $600 per night.

Spa Honeymoon Resorts in St Lucia:
Spa lovers will be delighted with St Lucia also. All the resorts in St Lucia have great spas. The first we have to mention is the Body Holiday at Lesport. This resort is unique in the fact that the all inclusive program even includes one body treatment per day, which goes well with their slogan, "give us your body for a week and we'll give you back your mind".  The second spa we have to mention is the one at Sugar Beach, a Viceroy Resort. Their rainforest spa nestled between the Pitons is exotic and really hard to describe properly.

Best Beaches in St Lucia:
If you are looking for a perfect white sand beach and lots of water activities like water skiing, wakeboarding and tubing, then Sandals Grande St Lucian has your perfect beach. If you want to snorkel or dive right from the beach, you'll love Anse Chastanet, Jade Mountain and Sugar Beach. Many snorkeling tours by boat will drop you off right in front of Anse Chastanet.

5 Best St Lucia Honeymoon Resorts: