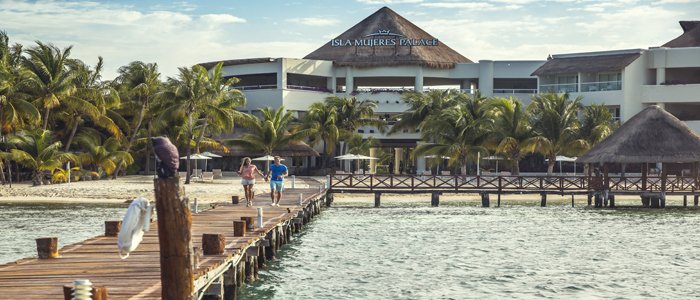 The Isla Mujeres Palace offers couples only all inclusive honeymoon, vacation and wedding packages. This resort is located on a tiny island just a short ferry ride from Cancun.
Great value with Palace Resorts great resort credit promotion
Private, luxurious and relaxed resort
Beautiful powdery white sand beach
Property only has 62 rooms
1 restaurant, 1 bar plus a pool snack area and swim up bar
All rooms with double Jacuzzis and 24 hour room service
Free form pool and a swim up pool bar
If you are looking for a really unique Cancun Wedding or Cancun Honeymoon Resort, the Isla Mujeres Palace is perfect for you. The only other couples only resort in Mexico is the Sun Palace Cancun.
The transfer from the airport takes about 65 minutes, including the private yacht "Casanova" ride. We handle all the transfer arrangements for you from the airport to the yacht and from the yacht to the island. You will have to take a taxi cab from the boat dock once you arrive at Isla Mujeres, which costs around $10. Also be prepared to pay for and ride the ferry if the 9 passenger yacht is full or unavailable.
We always guarantee the best price on Isla Mujeres Palace packages!