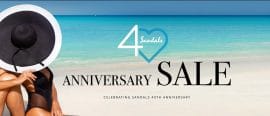 Sandals Resorts 40th Anniversary Sale
Sandals Resorts 40th Anniversary Sale by November 23


Four Decades of Love,
Luxury & Looking Forward
For forty years, the story of Sandals Resorts has been one of unbridled passion that began in 1981 with the dream of one man, Gordon "Butch" Stewart, to create the world's best vacation for two people in love. Through the years, he set out to elevate the all-inclusive experience by including things others would never dream of. Today, that story is best told by the thousands of couples who have made some of their most beautiful and treasured memories here. And by the extraordinary people and places of the Caribbean whose warmth and genuine hospitality continue to surpass every expectation of care and comfort. This has always been the recipe for luxury and as we look to the future, Sandals Resorts will continue to earn your trust with the same passion of purpose. At Sandals, love is truly all you need.
Get a Sandals vacation for only
$400 per couple per night for 40 days Only
This exclusive anniversary offer is available only at 3 select resorts including where it all started, Sandals Montego Bay! Sandals Halcyon in St Lucia and Sandals Ochi are also participating in this sale.
Book your all-inclusive vacation for 7+ paid nights at any of our qualifying resorts now through November 23, 2021, for travel July 31, 2022 – Oct 2, 2022, to be eligible to receive this spectacular $400 per night rate per couple.
Travel:   July 31, 2022 to Oct 2, 2022
Book:     Now to November 23, 2021
---
To be eligible for this promotion guests must fulfill the following conditions:
1. Offer is valid for new bookings only.
2. Offer valid per one qualifying booking.
3. Offer valid for bookings made between October 15, 2021, and November 23, 2021.
4. Offer valid for travel between July 31, 2022, and October 2, 2022.
5. Offer valid for a qualifying stay of seven (7) or more nights PAID in full at time of booking.
6. Guests traveling between July 31st, 2022, and October 2nd, 2022, are required to pay in full at the time of booking, and is non-refundable 90-days prior to travel.
7. Offer is valid strictly on Run of House, room categories will not be pre-assigned or guaranteed.
8. Offer valid for Run of House at any Sandals Montego Bay, Sandals Ochi and Sandals Halcyon Beach Resort.
9. Offer is valid for bookings made until the 40-room inventory is fully booked.
10. Only one name change allowed.
11. This offer is not combinable with any other promotions, discounts, service personnel discounts, or credit vouchers.
12. This offer is bookable at the Loyalty & Travel desk but not combinable with Loyalty & Travel discounts.
13. The offer has no cash value and cannot be sold, exchanged, or transferred to another booking.
14. This promotion is not applicable to Groups.
15. Offer is subject to change and can be withdrawn at any time.
16. Unique Vacations and Sandals Resorts are not responsible for errors and omissions.
This promotion is also subject to our Standard Promotional Conditions but is not combinable with all of our Standard Promotions (Including our Seasonal Promotions), Standard Resort Offers or with our current Loyalty & Travel Desk Discounts. In addition, this promotion is subject to the conditions set out by our Standard Disclaimers.