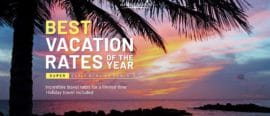 Secrets Resorts Super Early Booking Bonus
Secrets Resorts Super Early Booking Bonus

SUPER DISCOUNTS ON ALL TRAVEL INCLUDING HOLIDAYS!
Book early and receive amazing savings up to 60% off for a limited time only – holiday travel included with no blackout dates! Plus, enjoy $200 in resort coupons when booking this offer. Use for private, romantic dinners, an indulgent spa day and more.
TRAVEL:         December 23, 2021 – April 16, 2022
BOOK:              Now – May 27, 2021
AMResorts Super EBB Promotion is valid on new reservations made April 9th, 2021 through May 27, 2021 for travel December 23, 2021 to April 16, 2022. Valid at all Zoëtry Wellness & Spa Resorts, Secrets Resorts, Breathless, Dreams Resorts, Now or Sunscape Resorts & Spas in the Americas. Guests receive early booking bonus savings up to 60% at participating resorts and $200 in resort coupons.
The published price reflects the savings when you select Super EBB during booking. The savings vary by resort and room category and are not reflective of the rates for the entire travel period. Entire promotion is subject to availability and can be modified or closed at any time. Super EBB is combinable with social groups and/or Groups Savings for Every Season when terms for both are met. Promotion is not combinable with Move the Date, Keep the Rate or Deal of the Day promotions and may not be combinable with other promotions or special offers. Blackout dates and other restrictions may apply and vary by hotel. No rebooks or rollbacks allowed. Promotion may not be available in all markets.
Resort Coupons
Guests will receive $200 in resort coupons per room, per stay.
$200 resort coupons include four coupons worth $10 each, two coupons worth $20 each, and three coupons worth $40 each. Of these coupons, $100 can be used for spa treatment, $60 for romantic dining, and $40 for wine purchases. Spa treatment coupons are broken down into one coupon worth $20 and two coupons worth $40. Romantic dining coupons are broken down into one coupon worth $20 and one coupon worth $40. Coupons for wine purchases are broken down into four $10 coupons.
Resort coupons for spa treatments are not combinable or valid for spa products at the Spa Boutique or 25-minute massages and treatments. Only one coupon can be redeemed per spa treatment. Coupons for romantic dining are combinable up to $60 per romantic dining experience, but not valid for bottles of wine. $10 coupons for wine can be used at any of the restaurant on property. They are not combinable – only one $10 coupon can be applied toward one bottle of wine.
Resort coupons cannot be applied toward the following items: beauty salon services, spa product purchases, telephone charges, dolphin experiences, gift shop purchases, boutique purchases, internet service (if applicable), marina services, dive shop, medical services, car rentals and travel agency services. They are not applicable for tips, taxes, private functions and/or special events such as Christmas and New Year's Gala dinners.
Resort coupons must be redeemed at the time of reservation or service. Resort coupons do not hold any cash or commercial value, are not refundable and non-transferable. They are not accumulative and cannot be combined with any other promotion or special offers including, but not limited to spa treatment discounts, unless otherwise indicated in the promotion. They are only valid during the original stay and cannot be deducted upon check out. Resort coupons are not applicable to group bookings.