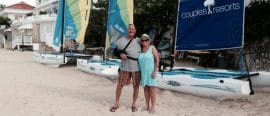 Deborah Liggins Said…
I cannot begin to tell you how wonderful Couples Tower Isle is. It is everything we want on a vacation.
The food is absolutely delicious with a good variety.  There is always food available any time of day or night.
The employees bend over backwards to ensure you are well served.
This was our 16th trip and it felt like going home.  We are now being referred to as Jamericans since we have been so much.
Someone told me that Couples had been voted best resort in the Caribbean. I haven't read that anywhere but would like to think it is true.
We met lots of people who are repeaters as well and some new ones that said they will definitely be back.  That says it all!
Many thanks to Melanie for all her assistance.  She is a jewel.  We will be back in touch with her when we travel again.
Deborah Liggins