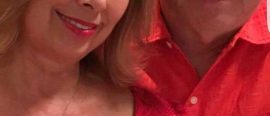 Janet and Joe Said…
If you are thinking about a vacation for that once-in-a-lifetime experience, a wedding by the sea or just a trip to some exotic country I would like to recommend my travel planner and friend Kimberly Felix.
This young lady is extremely personable, has a captivating personality, easy to talk to, knowledgeable about a vast array of exotic destinations, eager to please, sincere, honest and just a nice person.
Ms. Felix takes the worry out of travel, tell her what airport you're leaving from, your destination, what you would like in our vacation all inclusive or whatever, she is your lady.
I normally do not recommend people or things but this young lady goes way beyond the average travel planner. Our last vacation which was at the end of May of this year our family traveled to Jamaica. Riu Negril. Our daughter got married on the third day we were there, and two days later our son got married at the destination.  Kimberly took care of the wedding details, the hotel details, the travel details, she does it all.
Call Honeymoon's travel ext. 225, I guarantee you she will take care of you, and you'll have a vacation with memories that will last a lifetime.
Janet and Joe Harbert
Colorado