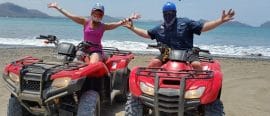 Jason Pacheco Said…
Thank you for the welcome home. As wonderful as the trip was, we are both glad to be back but not as happy to be back at work.
First, everyone that was part of Honeymoons Inc was absolutely phenomenal! Debbie and Kimberly were extremely diligent when it came to answering any questions I had and even took time to call me when I was questioning the paperwork that it would take to receive all our benefits during the trip. Debbie said she would make herself available anytime if we got over to Costa Rica and things didn't go as planned. It won't be for a honeymoon, but I the next time my wife and I plan another exotic vacation, it will be thru your company, if that is allowed!
Second, the Occidental Grand Papagayo was more than either one of us was expecting! The staff was friendly on another level and made sure that any request we had was fulfilled, specifically Cesar and Ivan at the front desk, David the bellman and the entire bar staff. The service at each restaurant was quality that I would expect at a top tier restaurant here back in Texas and I would expect to pay top dollar for. The food that came along with the service was some of the best that we've ever had and don't even get me started on those Pina Coladas!
As previously stated, neither one of us was expecting this trip to be as wonderful as it was. From the time we were picked up from the airport to the time we were dropped off, everything went off without a hitch. We can honestly say that both of us will be talking about this trip for the rest of our lives and we have your company to thank for setting it up for us. I will without a doubt recommend Honeymoons Inc to my friends that are getting married and tell them of the wonderful customer service that y'all provided. Thank you again from both Amanda and I for the experience and we will look forward to working with you again soon!
Sincerely, Jason Pacheco