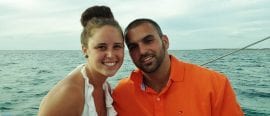 Jessica Said…
Our stay was amazing! The Riu Palace Aruba was the perfect resort for us. The room we stayed in was clean, comfortable and everything we had asked for.  We booked a split stay where we would stay in the Suite for the first four nights and then move to a downgraded room for the next four nights but the RIU let us stay in the Suite our entire stay.
Melanie Viola did a great job helping us book our honeymoon. She was helpful, nice, pleasant and willing to assist. We couldn't have asked for better service!
I will definitely be recommending Honeymoons Inc. to family and friends!
Thank you,
Jessica