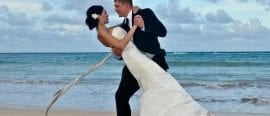 Keri Fairchild-Abraham Said…
Hello!
I just wanted to take a minute to send a HUGE thank you for everything you did to make our wedding happen!
We had our vacation booked for 9 months and my husband decided the night before we left for Punta Cana to check his passport and discovered it was expired! We ended up having to cancel our flights in the middle of the night and when Megan arrived to work the next day, she got everything worked out and it didn't even cost us very much extra (which was a huge concern). It went from being one of the worst, most stressful days of my life, to one of the best!! She saved our vacation and more importantly, our wedding! After that horrible day, everything was perfect and we had an amazing time at the Dreams Punta Cana Resort.
Thank you again to your entire team and most importantly to Megan!
Sincerely,
Keri Fairchild-Abraham