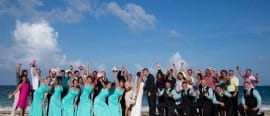 Kevin & Katelyn Fischer Said…
First off we would like to say Thank You to the staff at Honeymoons Inc. with a special Thank You being directed at Ms. Kimberly Felix. Our wedding at the Now Sapphire Resort in Riviera Maya, Mexico was absolutely perfect. Katelyn and I had the time of our lives and the wedding was absolutely flawless. Our guests were all blown away by the tremendous amount of support Kimberly was able to provide from the early stages of booking the trip as well as leading up to the wedding. From all of the guests, including ourselves, thank you.
The resort could not have been any more pleasant. The Amstar staff, the preferred club staff, as well as the rest of the Now Sapphire crew were absolutely phenomenal. Any issues that took place, were immediately fixed and in a very pleasant manner. The rooms were very comfortable, with amazing views and amenities. Overall, we could not have felt happier with our decision to select the Now Sapphire resort and thanks to Kimberly, our stay was everything we had hoped it would be.
Katelyn and I were so pleased with our experience with Kimberly and the Honeymoons Inc. services that we are exploring options for our honeymoon planned for December. Katelyn and I are currently looking at a few resorts and trying to narrow down a few within our budget before we inquire further. Kimberly would be our immediate contact as soon as that list becomes available.
Thank you again for the amazing communication, service, and efforts provided to us during the coordination of our wedding. Any friends and family interested in taking trips to the Caribbean or planning destination weddings will certainly be pointed in your direction.
Respectfully,  Kevin & Katelyn Fischer