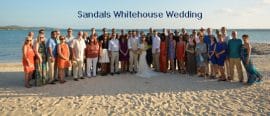 Laura & Michael Said…
We are still in a bit of an afterglow from the wedding and honeymoon at Sandals South Coast! Simply put, we had an amazing time! More specifically, Linda, Niquet, Julie Ann and Girdeen (our Sandals wedding coordinators) and the entire Sandals staff were incredible. The resort was beautiful, the food was delicious (Neptune's was our favorite) and the activities were plentiful.
Linda, who became one of our friends along the adventure of wedding planning, is one of the most compassionate people I've ever had the pleasure of meeting. Her attention to every detail, proactive problem solving (blizzard airline cancellations!) and thoughtfulness along each and every step of our planning, coordination and during the Weddingmoon was beyond words. Michael and I cannot say thank you enough for her part in ensuring our wedding was unforgettable and perfect in every way.
The only somewhat negative experience we had was with our wedding day photographer. Overall, our wedding photographs are fantastic, I'm very happy with the end result that I have in my album, however his insistence on shooting images that I hated wasted time that we could have spent with our guests celebrating.
We made so many unforgettable memories and had the most beautiful wedding ever. We are still experiencing that Weddingmoon afterglow of love and excitement even after returning to snowy, gray Philadelphia and I suspect that this glow will last a long, long while.
Best,
Laura & Michael