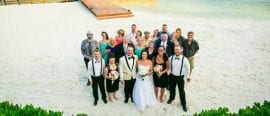 Nicholas and Bridget Neuenschwander Said…
Secrets Silversands was absolutely amazing!  The resort was everything we could have wanted with even a little more.  The staff was extremely friendly, especially their activity staff.  The food from the restaurants was much more than I ever would have expected, even the room service options were all delicious.  The only negative from this resort is something they try to control, but can't really help.  The beaches and water there are fairly littered with seaweed and other debris, although they tractor it every morning and rake throughout out the day.  The view and ambiance, however is perfect and was just the relaxing beach wedding/honeymoon that we needed.
I really want to thank Jason and Honeymoons Inc. for making our wedding perfect.  He worked extremely hard to make this trip amazing for everyone involved, you really have a fantastic agent in Jason.  He calmed nerves, answered questions and concerns almost immediately and overall orchestrated a wedding in paradise.  Weddings can sometimes be a stressful time, but Jason made it calm and helped us figure everything out. He needs to be recognized for his outstanding service.
Nicholas and Bridget Neuenschwander
Secrets Silversands Riviera Cancun Wedding