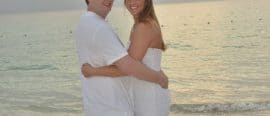 Nicole Said…
We loved Couples Swept Away. It was as close to a perfect honeymoon as we could get. Even with some scattered thunderstorms throughout the week, CSA had enough for us to do that we hardly even noticed. Sometimes we'd just grab a drink and hang out on our private balcony. The staff were amazing. They always were willing to do anything to help make sure your stay was nothing short of fabulous. We thought the food was delicious at all the restaurants as well, and we of course loved the 7 mile beach.
We did some of the excursions/activities CSA includes, and also did the Black Safari, YS Falls, Appleton Rum tour (which I highly recommend for any future travelers to Negril). Entertainment at night was great as well. I liked that they always had something different.
Megan was a huge help in our honeymoon, especially after the Couples San Souci renovation closing fiasco. She helped take care of us and found us a room at a different resort plus we received a credit. She also gave us some information about Club Mobay and some suggestions to do while we there (things not to miss, extra tours, etc.).
We could not have asked for a better agent or honeymoon.
Thank you!
Nicole