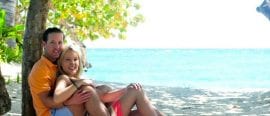 Patrick Taylor Adams Said…
I wanted to take a minute to say thank you for your services!  We could not have asked for a better honeymoon!  We also could not have asked for a more pleasant and easy process.  From the first time we spoke to Melanie Viola on the phone it was very apparent to us that this process would be very easy.  As I am sure you know, planning a wedding with an anxious bride can be very stressful… However, Melanie made it very easy.  It was almost too easy.  She was very helpful and informative when we asked questions about different destinations, and was very helpful in determining the best hotel to stay at in Punta Cana.
After arriving at the Hotel (Iberostar Grand Hotel Bavaro) she was 100% right.  That was the hotel we should have chose!  It was amazing!  Also, the honeymoon package at the hotel, and the VIP services were amazing.  So, thank you very much for your services!  We will definitely be recommending Honeymoons Inc!
Thank you,
Patrick Taylor Adams