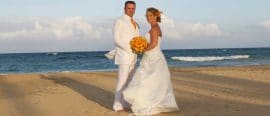 Rachel Said…
A wedding can be a stressful roller coaster. But with Kimberly at Honeymoonsinc.com everything was smooth from day one. Kimberly offered her professional and personal opinion on picking our resort, Dreams resort and Spa in Punta Cana. She was always there to answer my emails and phone calls.
And she WAS ABSOLUTELY a dream when problems came up. She was always quick to fix any issues that arose with the wedding party. I felt like I had her right next to me through the whole wedding planning.
Upon Arrival to Punta cana airport we were greeted by the transportation company with a  welcoming Sign To THE HONEYMOON COUPLE RACHEL AND KEN. A rose Presented and when we arrived to our private van we were given a complimentary bottle of Champagne! At the resort we were Walked to the Preferred club where we were able to enjoy the Bar and finger foods.
We were upgraded to a honeymoon suite where again we had champagne waiting. Dreams Resort is all in the name! It was dream Wedding. Their Pool goes on forever and the Views from the room were Palm trees and Blue Skies. The resort was a maximum capacity but never crowded. The beach was as short walk from our room and the The restaurants were easily accessible.
Our wedding Coordinator Daniella did a wonderful Job of creating the wedding of our Dreams. She kept it stress free and easy flowing.  We opted for the fire show A MUST HAVE for a unique and memorable Wedding.
All In all HONEYMOONS INC will always be our choice when celebrating anniversaries and I will always refer friends and family to KIMBERLY!!!
Rachel- a very satisfied bride