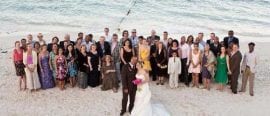 Raoul and Stephanie Said..
Hi Lian,
Thank you so much for all your help in planning our wedding. The resort was beautiful and all 50 of us had a great time. I don't know how we could have planned and coordinated the various travels, airport transportation, and dietary and handicap requirements for all 50 guests. Everybody just had a wonderful time, no issues, and more importantly, it was a stress free wedding!
Attached is a copy of the wedding party you brought together. Thanks again for everything, we can't wait to work with you again for our next caribbean vacation, even if just for the two of us.