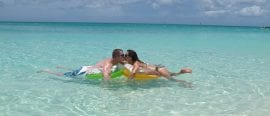 Rick Bartosik Said…
We had the best time imaginable.  Mel and I couldn't figure out which of the 3 were our favorites:
1.    Beautiful ocean
2.    Incredible food
3.    Super friendly and helpful staff
Instead of choosing, we decided they were equally impressive.  Mel and I are trying to get back next year; hopefully staying in the same room in
the Key West Village:  6630.
Parasailing with Captain Marvin and First Mate Gerald…   Got to see an amazing view of the beach and resort…
All of our friends are well aware of Turks and Caicos after our experience.  Hope to see you next year!
Rick Bartosik
Beaches Turks and Caicos Honeymoon