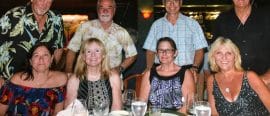 Taylor and Debbie Said…
Just wanted to acknowledge the excellent, over the top personal service that Kimberly provided to us during booking Couples Negril. We have a group of repeaters that Kimberly books each year and each year she takes Golden care of us.
This year we had my sister and her husband book their honeymoon in a beachfront suite. This was not without challenges. Her husband has cancer and has mobility issues to deal with. Kimberly worked with Couples to get them the Best beach front suite 6101 that helped provide him the best access to everything.   Her efforts helped make this trip possible for them.
We all love Kimberly and her impeccable attention is what keeps us booking with Honeymoons inc.  She is the best. Sure wish we could share a drink with her at Couples Negril next year.
Sincerely,
Taylor and Debbie