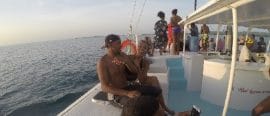 Traci and Nicholas Said…
You have no idea of the AH-MAY-ZING time we had at Couples Swept Away. The only complaint we had was that we did not stay long enough…literally kicking myself on the ride back, thinking we should have booked one or two more nights.
We were upgraded to a beachfront room (beautiful sunsets and right next to the Cabana Grill). The food was great (especially the french toast in the morning), the water sports and Catamaran Cruise were fantastic!!! The Piano Guy was so talented and a lot of people were in there Thursday night for his performance. We also won a bottle of liquor for just being a couple at the Martini Bar. The people were so accommodating and willing to help in anyway. And the beach….so beautiful, like something off a post card. We even got a chance to snorkel at the reefs. I could go on and on about this place. WE LOVED IT!!! and we want to go back…well I know I do.
Thanks again for this place…Traci and Nicholas