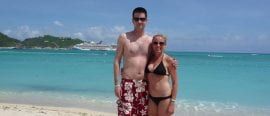 Traci + Blake Said…
We had a wonderful time at the Sonesta Great Bay Resort in St. Maarten! From the beautiful views from our suite to our nice butlers (thanks Taro and Marcia – you were terrific!!) and staff that made our stay so nice…and relaxing! We were greeted with champagne – what a great way to start our vacation! The resort was right on the water, the beach was beautiful. We saw cruise ships come into the bay daily. The food was very good, the room was clean and the king bed was super comfortable.
Only a few minor complaints: 1) the resort's beach didn't have super soft sand – it had crushed shells in it (the beaches on our excursion to Anguilla, Prickly Pear Island and Sandy Island had powder white sand!) and 2) the bartenders at the pool bar weren't that speedy or attentive and didn't know how to make many drinks.
But overall, had a really nice time! I'll admit, I was a little weary working with an online company I had honestly never heard of, BUT planning our trip through Honeymoons, Inc was pretty easy and the trip documents were very organized. We would definitely consider using them again to plan another trip.
Thanks so much!
Traci + Blake
Wilmington, DE