Sandals Resorts | Honeymoons, Inc.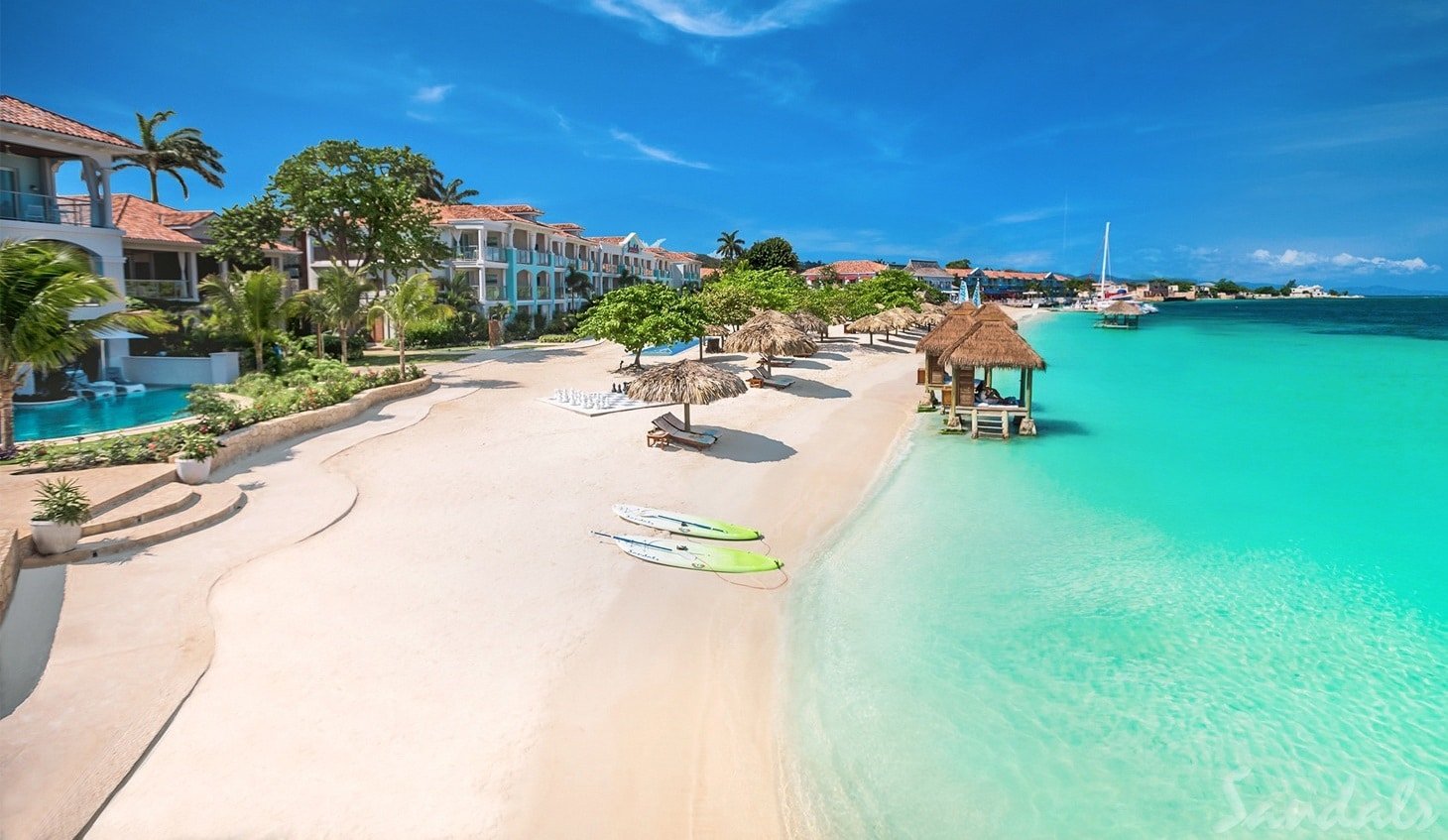 Sandals Resorts offer couples only all-inclusive, Caribbean honeymoons, vacations and destination weddings in the Caribbean.
Sandals Resorts Highlights
Most popular all-inclusive resorts in the Caribbean
Singles and children are not permitted
All-inclusive plan has more inclusions than any other resorts on the planet.
Luxury Included ®
Romantic couples-only atmosphere
Perfect for honeymoons, weddings, vow renewals and anniversaries

Sandals Resorts have been voted the "World's Leading All-Inclusive Company" for 21 years in a row at World Travel Awards.

Honeymoons, Inc. is a Preferred

Specialist Agency and one of their top USA travel agencies in the world for 20 years in a row.
Sandals Resorts, 7 Islands, 17 Resorts
All-Inclusive Honeymoon Packages at Sandals Resorts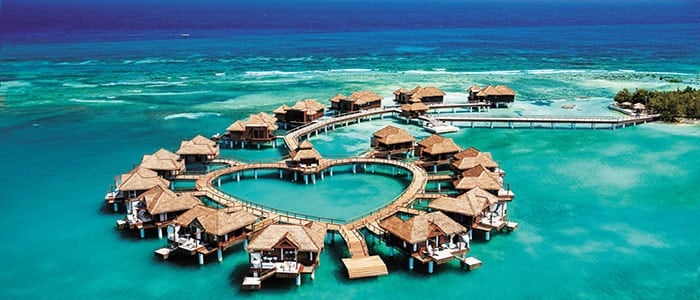 The perfect honeymoon vacation should be stress-free and romantic.
Relax, No More Decisions
Do it all or nothing at all
Leave your wallet at home
No children to disturb your reading or sunbathing
No babies crying while you dine by candlelight
No nurses conventions or fraternity weekends or single scenes
Just relax and enjoy each other
FREE Sandals Honeymoon Bonus
Bottle of chilled sparkling wine on arrival
First night turndown service will include flower petals on your bed
Breakfast in bed one morning
You must travel within 30 days of your wedding date.
All you need is love. Everything else is included.
---
Q. What will I need money for?
A. You won't need money for anything, but you might want to take some money for:
Island Tours (Island Routes is the official Caribbean tour operator for Sandals Resorts. Look for their desk in the lobby. You can also explore in advance and book online.)
Spa treatments
Tips for airport porterage
Gift shop items and souvenirs
Beauty Salon
Beachfront Dinners
Tour photos and videos
Resort photos
---
Q. Can I stay at one resort and visit another?
A. Yes, when you stay at one, you are welcome to play at all. An important note to remember is that you can't sleep at the other resorts and you have to provide your own transportation between resorts in different cities. The following groups of resorts have complimentary transfers:
Sandals Grande St Lucian
Sandals La Toc St Lucia
Sandals Halcyon
Sandals Montego Bay
Sandals Royal Caribbean
Sandals Royal Plantation guests have exchange privileges with Sandals Ochi Beach Club, but since Royal Plantation is much smaller, Ochi Beach guests cannot visit Royal Plantation.
Q. Can I visit more that one Sandals island destination on my honeymoon?
A. Yes, island hopping packages are available. The easiest combinations are the 2 in the Bahamas or between the 4 southern caribbean resorts in St Lucia, Antigua, Barbados and Grenada. If you want other combinations, we can make it happen.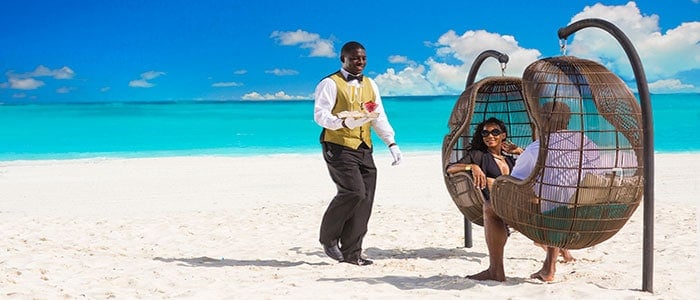 Each resort has several room categories. Don't get too confused, most of the regular rooms vary just by location and view. The suites come in all shapes and sizes. For the ultimate in pampering, choose a suite with Butler Service or a private pool. Walk outs and swim outs of course are on the ground floor. Penthouse rooms are on the highest floor.
All Inclusive Weddings at Sandals Resorts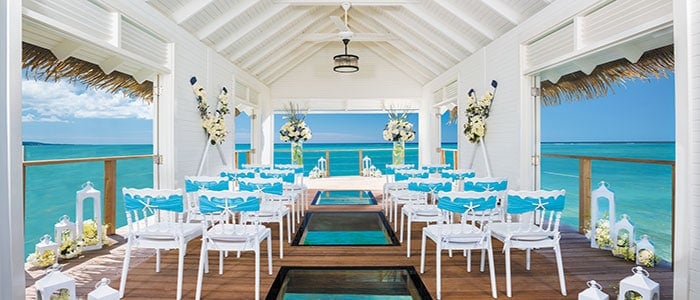 Sandals Resorts offer free wedding packages at all 15 Resorts with just a 3 night stay. Government and license fees may or may not be additional and vary from island to island: Jamaica $95, Antigua $288.00, Bahamas $205.00, St.Lucia $270, Grenada $180, Barbados $325
Island requirements vary slightly, but none of the 4 islands require blood tests. Just plan to come in a couple of days early and submit some paperwork.
Keep in mind that Sandals Resorts are for adult couples only. If you want children to attend, plan your wedding at one of their sister properties, Beaches Resorts, where all ages are welcome. You can even combine a 3 night wedding stay at a Beaches Resort with the whole family, with a 3 night couples-only getaway at Sandals.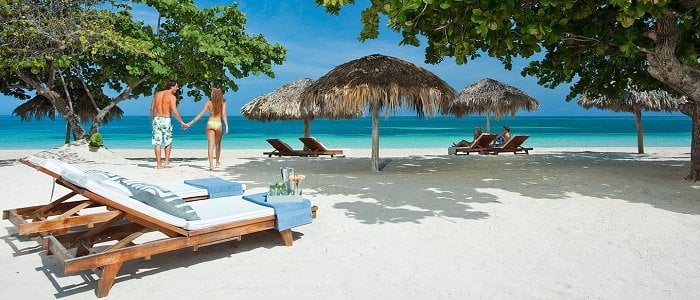 Jamaica Caribbean
64 All Inclusive Resorts
Jamaica honeymoon resorts are perfect for couples looking for romance, relaxation and fun. Find the perfect all-inclusive package in Jamaica for you.
SEE ALL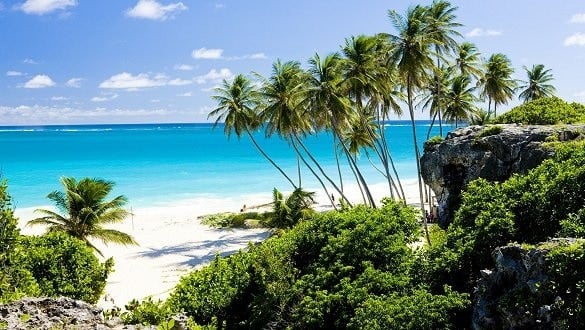 Barbados Caribbean
16 All Inclusive Resorts
The warm, friendly and fun Bajans say, "Life didn't begin in Barbados, we just perfected it!" The island boast 3000 hours of annual sunshine.
SEE ALL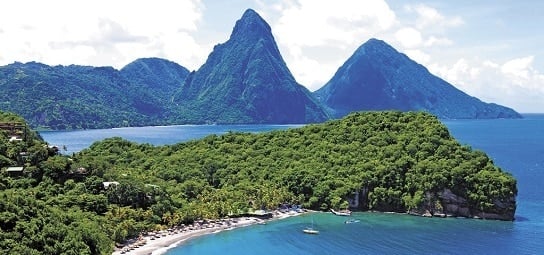 St Lucia Caribbean
29 All Inclusive Resorts
St Lucia honeymoon packages made easy. Find the right all-inclusive resort, resort location and all inclusive honeymoon options for your honeymoon in St Lucia.
SEE ALL