Honeymoons, Inc. was founded in 1997 in Buford, a suburb of Atlanta, Georgia and has since become one of the largest producing travel agencies specializing in the honeymoon market. We cater to travelers from across the United States looking for a beach destination to honeymoon, wed, or just rest and relax. Our specialties are the Caribbean, Hawaii, Costa Rica and Mexico with a heavy emphasis on Caribbean all-inclusive resorts.
All of our agents are required to do classroom training, attend seminars, and to experience our packages first hand. If you are planning a honeymoon or destination wedding, our agents are uniquely qualified to help you, because that is their narrow focus. Our services are totally free to you. Our rates allow you to take advantage of our high volume. Please check with the resorts and airlines, and you'll see the savings!
Honeymoons, Inc. is one of the top producing agencies in the nation for Sandals Resorts, Couples Resorts, Beaches Resorts, Secrets Resorts, Excellence Resorts, El Dorado Resorts, Funjet Vacations and Travel Impressions.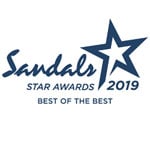 #1 Producer GA
16 Years in a row.
Congratulations to:
Kimberly Felix
Linda Dancer (Chairman's Royal Club, Platinum Wedding Moon Specialist)
Debbie Simmons
Steve Simmons (Chairman's Royal Club Elite)
These 4 agents have earned lifetime Platinum Level status, the highest level of recognition, in Sandals Resorts' Certified Sandals Specialist program.
Couples Resorts Preferred Prestige Agency Program
18 Years in a row
Top 2 Producing Agency Worldwide
#1 Agency in the Southeast USA
Couples Resorts Platinum Agency
Funjet Vacations
500 Club, Gold 2019
500 Club, Gold 2018
500 Club, Gold 2017
500 Club, Silver 2016
500 Club, Silver 2015
Travel Impressions
Best of the Best Award
2001 -2019
Georgia Bridal Show
Best of the Atlanta Bridal Awards
Best Honeymoon Travel Agency
19 years in a row
Now Hiring:
Looking For
Destination Wedding Specialists
Independent Contractors
Interns
Regular Hours: Monday to Friday – 9AM to 700PM
Saturday & Sunday – Appointments Only
All staff work remotely since March, 2020, so all in person meetings will be by Zoom, Whatapp, Skype, etc.
Location: 6030 River Road Flowery Branch, GA 30542
Our charitable work is done through Kiwanis International, Issa Trust Foundation, and the Sandals Foundation.
References
Sandals Resorts Sales Manager-GA
Julie Robinson
phone (404) 593-9078
email:
Couples Resorts Sales Manager
Garfield Collins
phone (954) 416-1298
email:
St. Lucia Tourist Board Southeast
Regional Sales Manager
Richard Moss
phone (758) 458-7125
email:
Jamaica Tourist Board South
Inside Sales Co-ordinatior Tamara Christie
phone (800) 233-4582 ext 580
email:
Can I book a romantic getaway? Anniversary Vacation? All Inclusive Vacation?
You don't have to be tying the knot to take advantage of our expertise and our great prices. We've been on the internet since 1997, and anniversary vacations and romantic getaways are a big part of our business. We love repeat business, and we'll do our best to make you want to call us again for your next vacation to the Caribbean, Hawaii, or Mexico. We pay special attention to detail on your vacation whether it's a Caribbean Honeymoon, Caribbean Wedding, or just a change of scenery.
Send comments or suggestions EMAIL.
Your satisfaction is our #1 priority!
Our Agents are:
Required to attend classroom training
Required to attend seminars
Required to visit the destinations themselves
Knowledgeable
Helpful
Friendly
When you call our office, you'll get a personal agent, the agent's personal phone extension, and the agent's personal email address. That agent will be available to you from start to finish. Why call a major reservations center where the average turnover is 3 months, or use one of the mega.coms, where you are # ZA263849954264UUGH, when you have our friendly, trained, and professional agents waiting for your call.
We will treat you like an individual looking for a pleasant vacation experience. We specialize in serving a very small niche, honeymoons and weddings in the Caribbean, Hawaii, and Mexico. This specialization helps us stay better informed on the islands, the resorts, and the special values available to you. We cannot help you with your reservations for a business conference in Chicago, We cannot help you find the least expensive airfare from Detroit to Vegas, and we can't help you find the perfect Villa in Italy. But, if you're looking for a beach destination to honeymoon, wed, or just rest and relax, give us a try.
---
If you are not satisfied with our service, please contact us immediately.