Iberostar Selection Rose Hall Suites
Iberostar Selection Rose Hall Suites offers all inclusive Jamaica Honeymoon, vacation and all inclusive Jamaica Wedding packages.
This Iberostar Resort is a great choice for an all inclusive Montego Bay wedding. This resort is one of our top recommendations for a Jamaica wedding with all ages attending.
Iberostar Selection Rose Hall Suites Highlights
All-Inclusive
Beachfront
Sustainability
Couples and Families resort
Located on James Bond island
Lazy River
Infinity pool with swim up bar
All suites
6 restaurants
6 bars
Direct access to the beach
Star Camp for kids
Coral Reef nursery
Daily activities
Nightly entertainment
Professional shows
Responsible consumption of seafood
Nearby golf course*
PADI-certified Diving Center*
Free Wi-Fi
As you can probably guess by the name, all rooms are suites. The resort features a lake pool with a swim up bar, an activity pool, a lazy river, 5 restaurants, and 6 bars. Guests staying at the Iberostar Rose Hall Suites also have access to the facilities at the Iberostar Rose Hall Beach. Access is not allowed at the adults only resort next door, Iberostar Grand Rose Hall
---
Testimonials
All Inclusive Jamaica Wedding Testimonial

Hi Kimberly – we just got back from Jamaica yesterday and I had to drop you a quick note to thank you again for all you did to make our wedding/honeymoon trip unforgettable!!!!
You were really a joy to work with!  You answered every email within the hour and provided so much useful information to me and my guests.  You worked very hard to get rooms for my last minute guests even after the hotel had sold out.  Everyone loved working with you and had wonderful thing to say about you.  Iberostar was a FABULOUS property and we enjoyed every aspect from the scenery, to the beach, to the pools and the delicious food and drink!
---
Matt & I are so incredibly grateful that you went above and beyond by upgrading our room to a gorgeous terrace with a beach front view at no additional charge and had a bottle of Jamaican Rum, a Fruit Tray and a $50 spa credit certificate waiting for us on arrival 🙂  We had coffee on the balcony every morning and enjoyed the sunrise over the beach – words cannot express how beautiful that was.  We also really appreciate the personal touch of the surprise dinner reservations for us and our guests at the specialty restaurants….dinner at The Gourmet restaurant our first evening on the property was a real treat.  We had a very delicious and romantic meal to kick off the trip!
I've included some pics of the wedding for you to enjoy 🙂  I have also already written the wedding review online and sung your praises 🙂  Do you only do Caribbean vacations or do you handle European and/or Napa Valley vacations…We've already started talking about our 1 year anniversary and vacations and would love to continue working with you.  Thank you, thank you, thank you!
Matt and Alicia
---
Thank you so much! Everyone truly had a great time at Iberostar Rose Hall Suites.  So many friends and family were really impressed with the resort, service, food etc… A huge group even mentioned wanting to take a big group trip every couple of years to all of the Iberostars!  We had a great wedding and can't say enough about the staff at the resort and how fun/engaging they were.
Deciding to use a travel agent for our destination wedding was one of the best decisions we could have made.  While we are from Chicago, we had guest coming from as far as Ecuador for our special vacation.  Honeymoons Inc juggled the bookings of about 100 guest, dealt with 100 different personalities, needs etc with tremendous professionalism.  This allowed my wife and I to focus on other details and trust that all our guest would arrive happy, safe, and sound.  I strongly recommend that anyone considering Honeymoons Inc use them.
Thanks,
Greg
(Wedding photos courtesy of Michael Saab Photography Associates)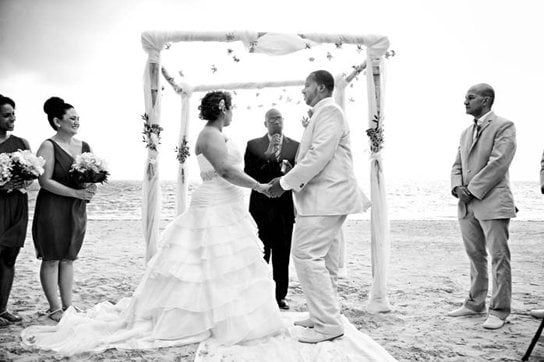 ---
I do not even know where to begin! I could not have been happier with EVERYTHING!! It was absolutely the BEST day of my life and I have you to thank for that! I will not lie, I could not be happier that it is over (lol), but I could not imagine getting to that day without you! I wanted to make sure you get some pics so you can see how it turned out and of course I will be calling you as well, I just wanted to make sure you and everyone above you knows just how much of an asset you were to me and you are to your company. God Bless you and your family!!!
Thank you so much again!!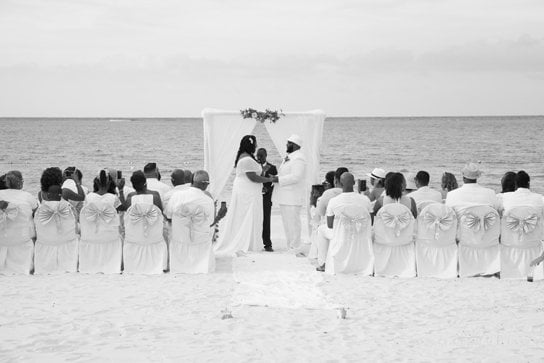 ---
We had an awesome time. We would definitely go back to this resort. The staff was great and attentive to our needs. The room was a good size for Kristy and I. There was a good selection of foods for all of our meals. Dinner reservations were easy to make and there was a good variety of restaurants….Thanks, Oscar