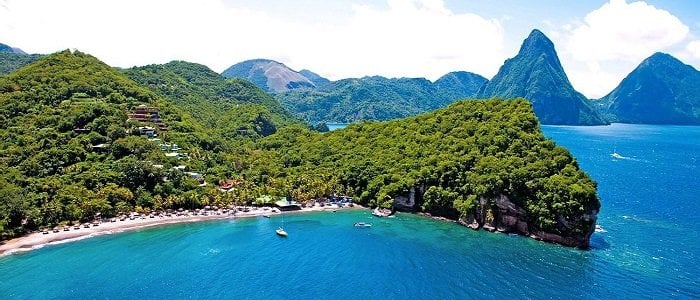 Anse Chastanet
Anse Chastanet is a destination within itself, nestled within a 600-acre estate with two beaches, offering many facilities and activities right on property. If you are looking for the most unique resort for your St Lucia Honeymoon, you should definitely look at this resort and it's sister resort, Jade Mountain.
The beaches are on some of the island's best coral reefs for snorkeling and scuba diving. Within the estate lies a lush tropical forest with 18th century remains of an old plantation, plus 12 miles of private estate trails to explore by foot or bike.
This romantic resort hideaway offers 49 individually-designed rooms, decorated with stunning original artworks, in a unique hillside/beachfront setting. Distance from hotel to Hewanorra International Airport (UVF), is 45 minutes. Distance from hotel to town of Castries, 50 minutes. Distance from hotel to town of Soufriere is 15 minutes.
Anse Chastanet Highlights
Just off the beach is the island's best snorkeling and scuba diving
Unique and rustic
Remains of an 18th century plantation on site
12 miles of private estate trails to hike or bik
Only 49 rooms, individually designed
45 minutes from airport, 50 minutes to Castries, 15 minutes to Soufriere
---
Testimonials
Getting married at Anse Chastanet was a dream come true! I'm not a typical bride, and wasn't very into all the planning involved, but they handled it beautifully. Our wedding coordinator, Angel, was amazing and definitely lived up to her name. She took care of every detail, even getting the wrinkles out of our wedding clothes, and made us feel special the whole day. We got to have a simple yet elegant ceremony on Anse Mamin beach, followed up by a photo shoot in the jungle ruins of Anse Mamin Plantation. I honestly didn't expect everything to go as perfectly as it did, and I don't think it would have if we went somewhere else. The food, the service, and the ambiance were amazing- and the pictures of this resort online don't do it justice at all. Anse Chastanet is special and just makes you feel good. We live a pretty relaxed lifestyle, but we have never experienced this level of peace and relaxation before or since. Even before we left, we were talking about going back and renewing our vows in a few years. Anse Chastanet will always have a special place in our hearts and we can't wait to return!
-Kelsey & Jason