Turks and Caicos Experiences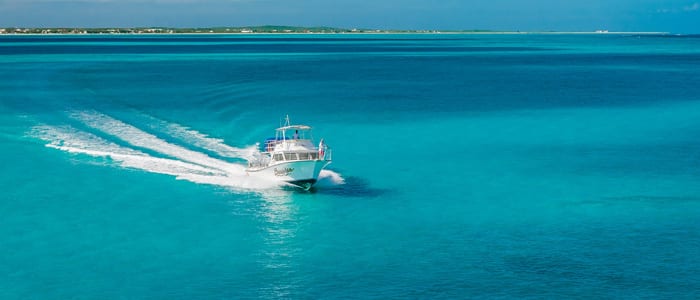 Popular tours or excursions in the Turks and Caicos Islands:
Island Vibes Kitty Katt Catamaran Cruise
It's fun in the sun for everyone aboard our luxurious 65 ft catamaran, Kitty Katt! Enjoy a 3-hour journey that will take you sailing along the coastline and snorkeling in the beautiful turquoise waters.
Twilight Sunset Catamaran Cruise
Complete your majestic day spent on an exotic island with a sail atop the magical waters of Turks & Caicos. Aboard the Kitty Katt, celebrate the close of your day and bring in the night with a spectacular Caribbean sunset!
Underwater Submarine Adventure
View the endless deep-blue as the fish do and take a journey to explore a panoramic underwater view of the spectacular coral formations and vibrant sea life!
Island Routes Reef Fishing Adventure
Enjoy a half day full of excitement reeling in your catch of Snapper, Grouper, Yellow Tail, Barracuda, and loads of other tasty sea treats!
Bone Fishing Expedition
Providenciales offers some of the best bone fishing in the world year round. Ride comfortably to our shallow flats and embark upon an exciting fight with the wily bone fish.
Deep Sea Sport Fishing Turks and Caicos
Take your turn at the "battling station" to capture the catch of the day. Your experienced captain and crew will introduce you to the very best spots where you can try your hand at catching Blue Marlin, Wahoo, Dolphin (Mahi Mahi).
Provo Adventure Cruise
Enjoy a scenic sail along the coastline to Little Water Cay (Iguana Island), home to the native Turks & Caicos endangered rock iguanas!
Provo Eco Kayak Tour
Discover the marine ecology that surrounds Little Water Cay while padding beside the extraordinary mangroves of the area. Getting a close up look at the unique flora & fauna is inevitable.
Seaside Scavenger Hunt
Join Captain and Crew on an adventurous search for a Caribbean delicacy: conch, a succulent aphrodisiac will most certainly fulfill your appetite, pleasing all the senses!
Provo Shopping Indulgence
As if you needed a reason to shop…but here's a good one – everything here is duty-free! A visit to the town's center is a virtual treasure trove with local, hand-crafted souvenirs and unique keepsakes you can't find anywhere else.
Conch Farm and Blue Hill Splendor
Meet world-famous conchs, Sally and Jerry on this unbelievable outing that intertwines the best of Turks & Caicos Islands' history, culture, and natural beauty.
Provo Golf Escape
This escape to Grace Bay's golfers paradise includes transfers to and from the club, greens fees and a golf cart. For novices, this is an opportunity to learn on a world-class course and lessens can be arranged.
Glowing Waters Full Moon Cruise
Revelers will be glowingly happy with a front row seat and tasty island appetizers as the sun goes down and glimmering begins.
Provo Cays Exploration
Hunt for conch and lobster like true islanders and your fresh catch will be served at a BBQ on a deserted white-sand beach.
Sesame Sail Away Catamaran Cruise
Some special friends make lasting vacation memories for the whole family on this fun-filled 'Kitty Katt' cruise. Kids of all ages join Sesame Street characters Elmo and Zoe for a morning filled with singing, dancing, and game-playing on the Caribbean Sea.
Spotlight Tweens & Teens Catamaran Cruise
The luxury 'Kitty Katt' catamaran is exclusive teens and tweens-only territory for a snorkeling cruise under the Turks & Caicos indigo sky.