Excellence Playa Mujeres
Excellence Playa Mujeres offers luxury, adults only all-inclusive, Cancun Honeymoon, vacation and wedding packages. The resort is close and convenient to Cancun, but not in the middle of the strip
Excellence Playa Mujeres Highlights:
Nestled on an untouched 20-mile peninsula
25 minutes from the airport and 10 minutes from downtown Cancun
Isla Mujeres and a Greg Norman golf course are close by as well
2 miles of beach
8 restaurants, 11 bars (4 are swim up) and 24 hour room service
Showers built for 2 & jacuzzis in every suite
6 Pools , 4 outdoor jacuzzis + 5 attached to the pools
Adults Only, No Children
Comprehensive 24/7 All Inclusive program
Suites with  jacuzzi inside and outside
2 Story Rooftop Pool Suites
Free Weddings (restrictions apply)
Free Honeymoon Packages
This resort is a perennial TripAdvisor's Travelers Choice award winner. The two story roof top terrace suites are extremely popular. We highly recommend this resort for adults only honeymoon, anniversary and wedding packages.
---
Testimonials
Hi Steve,
We had a wonderful experience working with Catherina. She was incredible! We also loved the Excellence Playa Mujeres and would recommend your services to all.
Thanks again to Catherina and your team.
Lina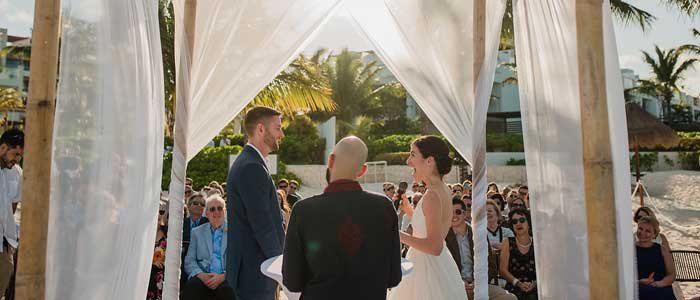 ---
We had a fantastic time and can't thank you enough for helping us out.  The majority of our guest are talking about going back to Excellence, they all wished they stayed longer.  The wedding couldn't have been more perfect, we had great weather and of course the resort staff were fantastic.  Everyone of guest had a blast and couldn't believe how smoothly everything went and how great the service was at the reception.  The wait staff was on top of their game, as soon as a drink was emptied another one appeared. Not to mention that the appetizers and food were great!  I kept the menu and I am hoping to recreate some of the food.   The gentleman that did my hair and makeup rocked, I showed him pictures of want I wanted and he did it.  I attached pictures for you to see, I just have to share them.  I almost forgot to mention to my bouquet, it is beautiful and I wish I could of taken it home.   I honestly went in with the mindset that since I did everything via e-mail that it might not be perfect or exactly what I wanted but it was everything I wanted and more.
If you have any future clients that are thinking of having a wedding at Excellence Playa Mujeres, I would highly recommend it and you can always refer them to me too.
Have a great day!
Shawna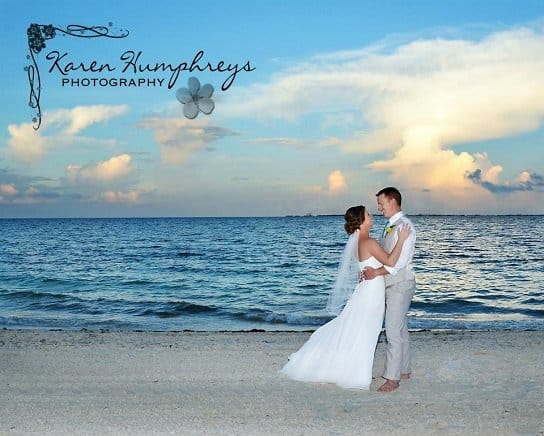 ---
The wedding was beautiful!  Best vacation ever!!  The resort, staff, service, food, entertainment, & weather were all class A.  A fantastic time was had by all!!   My only complaint is that our rooms were all so spread out from each other.  I thought we would be pretty much in a block of rooms in the same building.  Our room and some others were a very long walk to the center of things.  We had two seniors that had the farthest away rooms and was very hard for them going back and forth.   Other than that everything was wonderful!  Would highly recommend it and can't wait to go back sometime in the future. Thanks  Honeymoon, Inc. and  Excellence Playa Mujeres!!!
Robert, Linda and Tyler
---
Steve, the wedding was beautiful and the vacation was everything I expected and more, just wish I were there a little longer.  We received great service from the moment we arrived until our departure.  Excellence Playa Mujeres was "Mui Excellente'"!  and I look forward to revisiting in the future.

I'd also like to send a special "thank you" to Kimberly Felix, she was every helpful and accommodating throughout the entire booking process!  Thanks so much!

Angela R. Jacobs
Yes we loved it! It was the trip of a lifetime. Everything was absolutely perfect. Thank you so much for making our trip so easy and within our budget. We couldn't be happier with the resort and our experience with Honeymoons Inc. We'll recommend you to all our friends getting married!
Thanks again,
Zach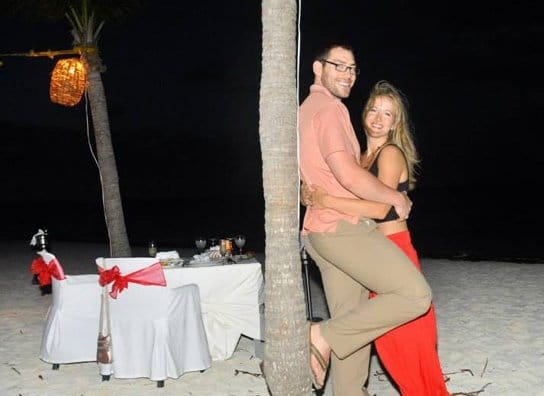 ---
We'd like to thank you so much for everything.  Our vacation was perfect.  Honeymoons Inc. did a great job setting up everything…..from flights to resort accommodations.  Excellence Playa Mujeres is an exquisite, romantic resort where you are treated like royalty and we are already planning on returning next year.
Thank you again for a job well done.
We look forward to working with you next vacation season.
Mike and Tracy
---
We absolutely LOVED Excellence PM…. It was paradise. The service was exceptional, and the resort/beach was absolutely gorgeous. Their honeymoon package in Excellence club was really wonderful! The staff went above and beyond to make our stay unforgettable. Thank you, for helping us choose this amazing honeymoon location! – Melissa Quaas
---
Dear Steve,
Thank you for the email. We are finally adjusting back to normal life here in DC. We absolutely loved the resort! It was by far the most relaxing vacation we have ever taken.  We would like to thank the entire Honeymoon Inc. team for also making the honeymoon planning and booking so stress free. Everyone that I have had communication with throughout the entire process weather it was through email or phone conversation was extremely friendly and professional. It was a nice surprise to see how smoothly your entire team made the booking process.
We will definitely be recommending your company to all our friends.
Sincerely,
Kurt and Mary
---
Hi Linda,
I wanted to thank you immensely for your advice on Excellence Playa Mujeres. You were not kidding–it's truly my favorite all inclusive resort I have been to so far. We absolutely loved it. From the grounds, the beach, the pool, the food, the staff, everything was amazing. I loved the room and pool view was great. I can't thank you enough. Looking forward to our next trip!
Thanks again-
Ashley and Chick
---
Jill and I really love the Excellence resort chain, and especially this one at Playa Mujeres.  I believe this was our 4th time at Excellence, as well as 3 at Secrets, 3 at Sandals and a few at Iberostar.
Overall Excellence seems to always be at the top of the list for our price range – which is about $4k per week with airfare. Playa Mujeres rooms were are awesome – large, nice porch, hot tub in every room.  Nice bar and bathroom.  Awesome showers! The grounds were absolutely beautiful, quiet, nicely divided so you didn't see too many people at once, and the pools go on and on.
Nice beach and swim area.   You can take a snorkel tour for just 2 hours right off the beach.  Nice to not have to spoil a day to go snorkeling. The bars are plentiful, and the restaurants were really fantastic.
Special kudos to the French restaurant, the sushi chef at the lunch restaurant, and 2 of the staff – Erika and Felipe.
Definitely a recommend.
-Phil
---
I had a wonderful time.  The resort was beautiful and the people all wonderfully helpful and super friendly.  This is my third trip booked through Honeymoons Inc. and I could not be happier with the results.  Our travel advisor has been extremely helpful all three times.  I really enjoy working with her.
Thank you all for making my vacation wonderful.
Angie