El Dorado Maroma
El Dorado Maroma offers intimate, luxury, adults only all-inclusive Riviera Maya Honeymoon, vacation

and wedding packages on one of the best beaches in the world.
El Dorado Maroma Highlights:
Adults Only All Inclusive and Intimate
Named one of the top 10 beaches in the world by the Discovery Channel
24 hour room service
6 restaurants and 4 bars
Did we mention GREAT BEACH
El Dorado Resorts Gourmet Inclusive®
Perfect for true beach connoisseurs and foodies
El Dorado Maroma Tours provided by Lomas
Testimonials
I just wanted to let you know how much Steven and I appreciate all that you've done for us. You truly went above and beyond for us when we needed you. Our wedding day was literally perfect, I want to go back and do it again and again! The weather was awesome, the staff was very friendly and helpful, and we loved our DJ! We are also very happy that you recommended the Maroma for our honeymoon. A smaller, more intimate resort is exactly what we wanted after the wedding week. And the beaches and ocean were so nice, we spent every day in the water!
Destination Wedding and Guests:  Generations Riviera Maya & El Dorado Casitas Royale
Honeymoon:  El Dorado Maroma
Overall, I'm so glad that I chose you to plan our wedding and honeymoon. I would recommend you to anyone who's looking to plan a destination wedding. Please let me know where I can leave you a review!
Thank you for being wonderful!
Sincerely,
Kayla & Steven Fritz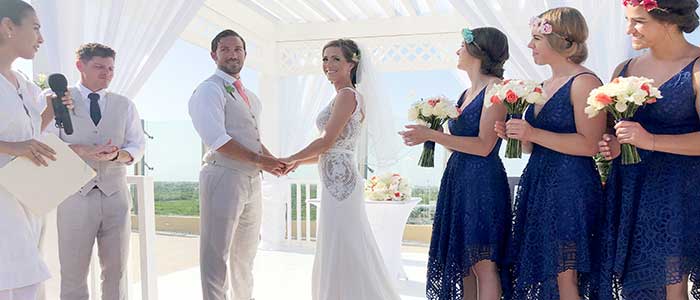 El Dorado Maroma was the most comfortable resort we have ever stayed at… Everything was top notch … First class rooms, food-excellent tasting, 24-hour room service, we used it 24-hours everyday, exceptional service 24-hours, service on the whole resort from the beach to eating out everyone was friendly … We got a CAB to go shopping g to Playa  on 5th avenue 20 min away… Cab fee $20.00 each way…. Well worth it…… Never been on a resort that was as COMFORTABLE…, oh don't forget the beach MASSAGE…. WONDERFUL …. We loved the EL DORADO MAROMA!!!!
– Susan
---
We loved, loved the El Dorado Maroma resort. It was an exact match for what we wanted – a nice beach, good food, and great service. Travel was seamless, and our transfers from the airport and hotel were timely and comfortable. All in all, we couldn't be happier with our experience and plan to return there again, hopefully soon!
Our agent replied right away to our request for a last-minute trip and provided a variety of options within our budget. Even better, she gave us her personal opinions and feedback to help in our decision-making process, which I consider especially invaluable. She was recommended to us by Kyle Harvey and his wife, who also use your service regularly.
Sarah