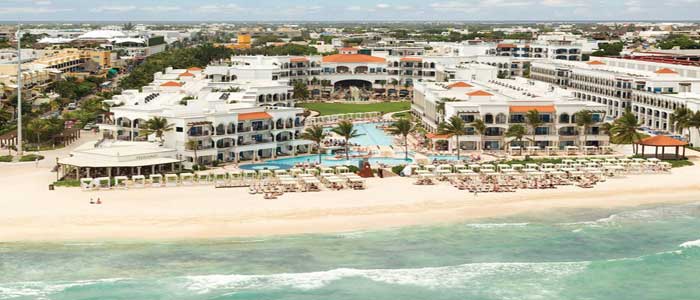 Hilton Playa del Carmen
Hilton Playa del Carmen offers adults-only, all suite, all inclusive honeymoon, wedding and vacation packages. The property has 459 suites, most with ocean view. From the resorts entrance, take a short stroll to the famed 5th Avenue. The location of Royal Playa del Carmen makes it perfect for anyone who wants to be able to walk to the shops and nightlife of the charming little town of Playa del Carmen.
Hilton Playa del Carmen Highlights
Location
Location
Location
Walk to 5th Ave & Playa del Carmen
All Suites
Adults Only (16 and up)
Double Jacuzzis
Stocked Mini Bars
24 hour room service
Penthouse suite with private pools
2 pools, 1 with swim up bar
Swim up  beachfront junior suites
24 hour VIP lounge
24 hour room service
9 restaurants, 7 bars
Tapas & Pintxos, Spanish Tapas
Chef's Plate, international haute cuisine
Spice, buffet
Pelicanos, Caribbean fusion seafood
Asiana, Asian fusion
Maria Marie, Mexican-French fusion
El Mediterraneo, Casual
Six more dining choices are included at the adjacent Gran Porto Real.
Testimonial
We LOVED the Royal Playa Del Carmen!! Acutally consider it our best trip ever!
We will definitely go again and would love to book our trip with Honeymoons Inc. From start to finish this has been a great experience!
Specifically about the Royal we thought the service was exceptional, food wonderful, location and activities available perfect for our varied age group ( 10 family members, 8 kids from 19 to 35) etc……
Thanks for checking in and we appreciate all that you did to make our trip fabulous.
Just FYI——-our trip was to celebrate my husband's 60th birthday as well as our daughter's (age 25) remission from leukemia——-we feel we have lots to be thankful for!!
Thanks!
Marka Riddle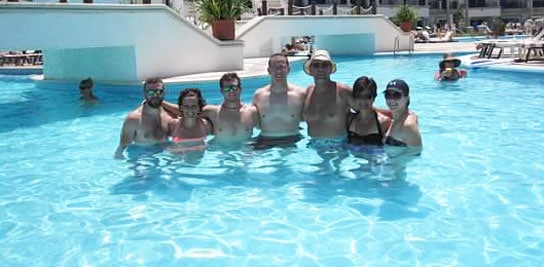 Best vacation EVER!   Every thing was just perfect, starting from the time we were picked up at the airport until we were picked back up the resort for the flight home.  Your "agent" partners were great…I was impressed with them.
The Royal Playa Del Carmen is , by far, the best resort I have stayed at in Mexico.  The service level was amazing and the general "may I help you attitude" is unmatched any where.  They even rearranged my liquor cabinet to insure that I had Jack Daniels and Absolute voka…amazing.  My cabana girl (Elizabeth) met me every morning at the pool with two ice cold mimosas and kept them flowing until I said stop.  All day long she catered to us as if we were the only folks there.
The location of the resort is perfect, just a 1 minute walk to 5th AVE and a million great places to eat and drink.  The restaurants in the resort all equally as good as anything on the street.
I just can not say enough  good words about this place and I would highly recommend to over and over again to anyone.  Great pick..  THANK YOU!
Anyway, I cant wait to go back.  I will let you know when I am ready!!
BTW, thank you for tip about the rental car.  I rented a car  on two separate occasions for only $50 per day…great deal!  You guys ROCK!!
Regards
Richard Bing