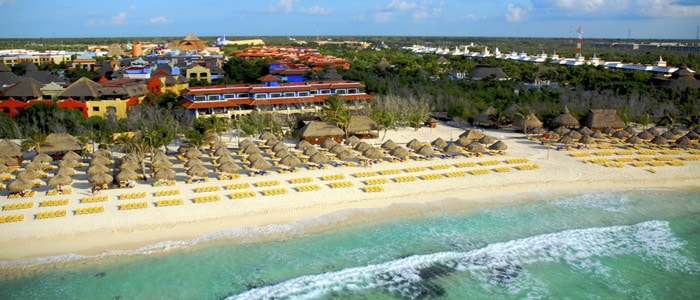 Iberostar Paraiso Beach offers all inclusive Riviera Maya Honeymoon, vacation and wedding packages. This Iberostar Resort is just 30 minutes from the airport and 20 minutes from Playa del Carmen. The white sand beach is 430 yards long, yes that's over 4 football fields:) The spectacular lake pool has center islands, waterfalls and Jacuzzis, all surrounded by palm trees and huts.
Iberostar Paraiso Beach has 424 rooms, 3 floors, 8 restaurants, 8 bars (one swim up), 3 pools and offers room service from 11am to 11pm.
We recommend this resort to couples looking for an affordable all inclusive honeymoon. The resort has a nice beach, nice pool and you can always count on Iberostar for good food and good service. You will find cheaper resorts in the Riviera Maya, but if you can afford a little more, go with a resort you can trust. You also get full access to the Iberostar Paraiso Del Mar next door.