Cancun Honeymoon vs Riviera Maya Honeymoon
A Cancun honeymoon as well as a Riviera Maya honeymoon means beautiful beaches, amazing resorts, great weather, great service, modern furnishings, hundreds of things to see and do and also ROMANCE.
With both you fly into the Cancun international airport. Going north about 16 miles will take you to the famous Cancun strip and Playa Mujeres is just 5 miles north of the Cancun strip. Going south just 9 miles brings you to Riviera Cancun or the start of the Riviera Maya and you have 74 miles of amazing resorts dotted down the coastline.
Did you know if you fly out of Los Angeles, that the non-stop flights to Cancun are 4 hours and 55 minutes and that flights to Hawaii take 5 hours and 55 minutes? No matter where you live in the USA, you can almost always find an affordable flight and a good flight schedule to Cancun. From Atlanta, the flight is less than 2.5 hours and from New York, 4 hours.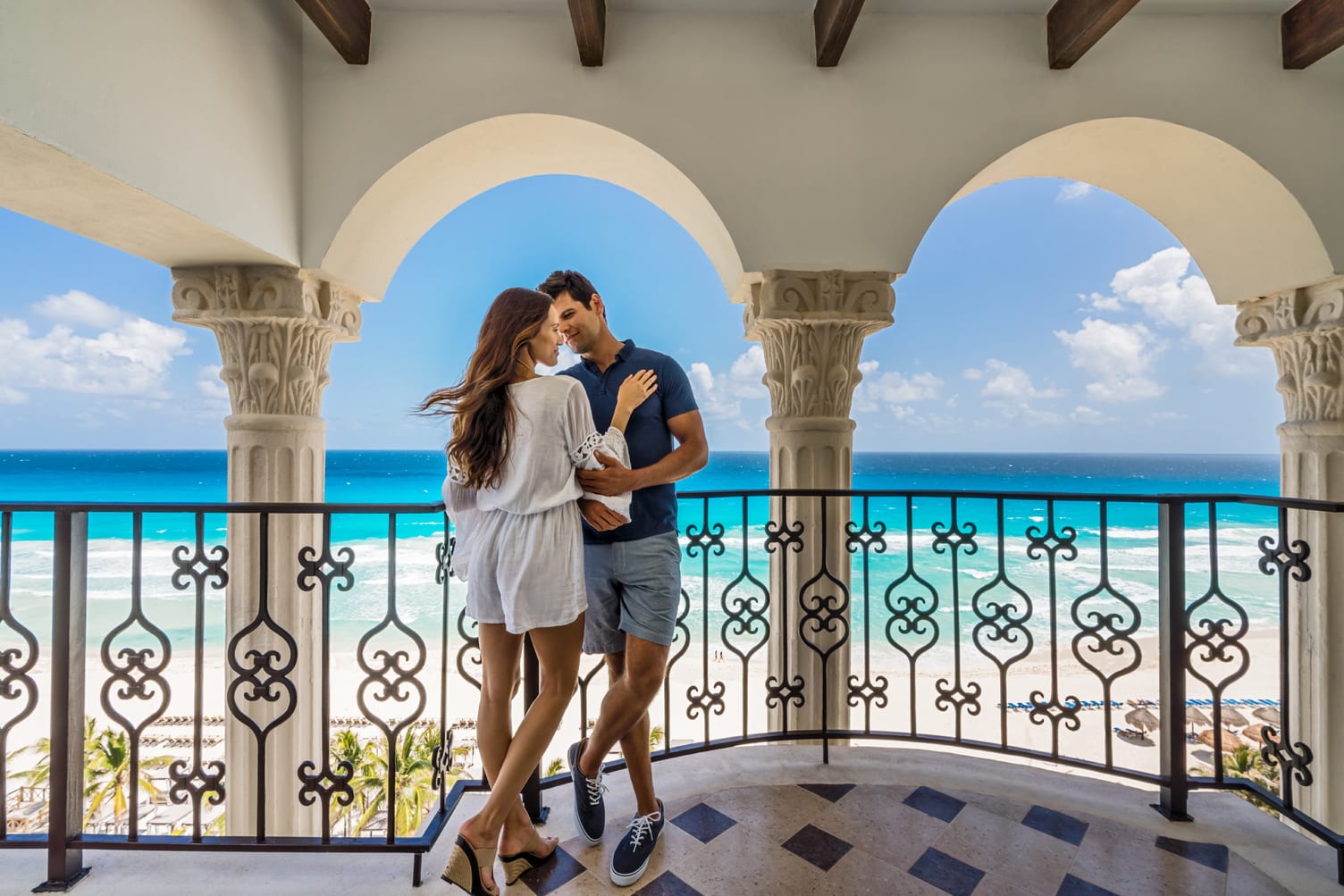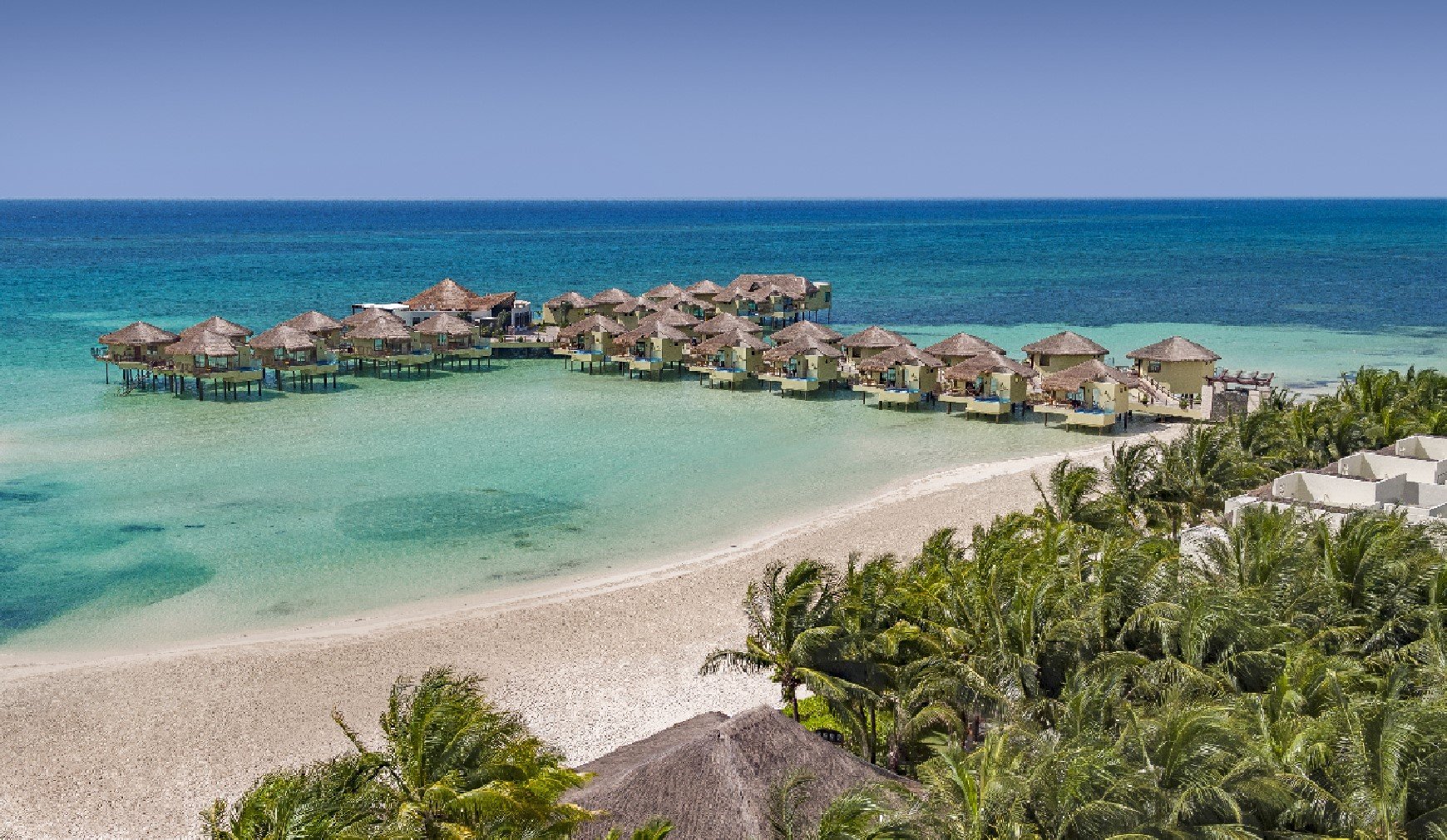 Once you get to Cancun, you have over 100 all inclusive Cancun honeymoon resorts to choose from. You'll find over 50 in Cancun and over 90 in the Riviera Maya. The total Cancun area accepts more visitors than any other destination in the Caribbean. The Cancun and Riviera Maya has more all inclusive resorts than Acapulco, Cozumel, Huatulco, Ixtapa, Los Cabos, Mazatlan and Puerto Vallarta combined.
Both areas are a tremendous value. A luxury resort in the Riviera Maya will always be 25% to 50% less than a luxury resort in one of the exotic islands like St Lucia, Barbados or Grenada. I won't get into all the economics, but this is a fact. You can see why Cancun  and Riviera Maya area is such a popular choice for a Caribbean honeymoon.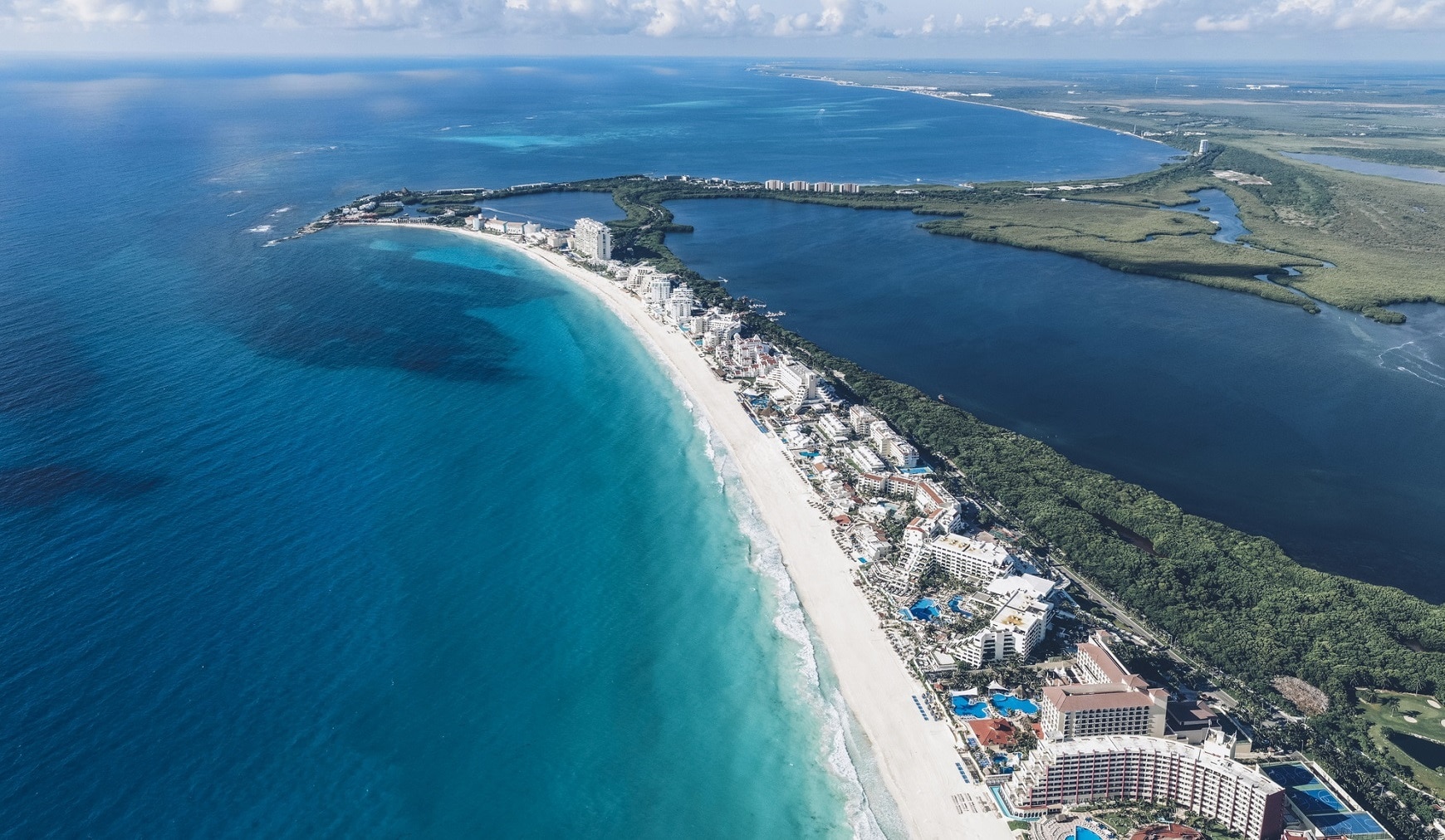 Fly into Cancun
Resorts are 5 to 21 miles away from the airport
Over 60 All-Inclusive Resorts
Tremendous Value
Long Beaches, great for walking, running and beach bumming
Ocean is suited for body surfing in Cancun and swimming in Playa Mujeres
Tall, compact resorts usually 10 to 20 stories tall, with a resort to your left and a resort to your right
The top or north end of the Cancun strip is the busier end with lots of nightclubs and restaurants. If you want to walk to the clubs, restaurants and bars, stay on the North end of the strip. The south or quieter end is only A $5 cab or $1 bus ride away. You can be anywhere in Cancun in minutes.
Don't forget about Playa Mujeres, which is actually 15 minutes north of Cancun, but we consider this area part of Cancun. This area is for those who want to be close to the nightlife and shopping, but not in the middle of it. You are also a short ferry ride away from Isla Mujeres (a charming tiny island just off the coast), which you can see from the beach.
Riviera Maya Honeymoon Resorts
Fly into Cancun
Resorts are 10 miles to 80 miles from the airport
Over 100 all-inclusive resorts
Tremendous Value
Long beaches, great for walking, running and beach bumming
Ocean is suited for swimming, snorkeling and scuba diving around the 2nd largest barrier reef
Low rise resorts, usually 5 stories or less and very spread out with lots of acreage
Driving south from the airport, the first area you come to is the Riviera Cancun or Puerto Morelos area. Below the Riviera Cancun, you'll find Maroma, Paraiso, Playa del Carmen, Puerto Aventuras, Akumal and Tulum.
The resorts here are more a destination to themselves, where you can easily check-in and never leave until you are going home.
We have to do a shout out for Playa del Carmen.  You'll love this charming little town with a famed cobblestone street, 5th avenue, that is traffic free. This is a small town version of Cancun with shops, restaurants, bars and clubs.
Best All Inclusive Cancun Honeymoon Resorts
1. Hyatt Zilara
2. Secrets Playa Mujeres
3. Atelier Playa Mujeres
4. Excellence Playa Mujeres
5. Secrets the Vine
Best All Inclusive Honeymoon Resorts in the Riviera Maya
1. Secrets Akumal
2. Palafitos Overwater Bungalows
3. Unico 20-87
4. Iberostar Grand Paraiso
5. Secrets Maroma Beach
If you are looking for an adult only all inclusive, in both areas you can find the most affordable adults only honeymoon packages and the most luxurious adult only honeymoon resorts available anywhere in the Caribbean.
I think almost everyone knows that Cancun is famous for it's nightlife. Besides that this area is packed with interesting sights and activities. On the low key side, you can enjoy the beach, explore an ecological park or visit some of the best archaeological sites in the Americas like Chichen Itza and Tulum. In the water, you'll find every water sport imaginable plus a couple that you had never imagined. Cancun and the Riviera Maya have also become leading golf destinations.