Secrets St Martin vs Sonesta Ocean Point St Maarten
I recently did a 4 night stay at Sonesta Ocean Point followed by a 3 night stay at Secrets St Martin to see which resort I thought would be the best for honeymoons and destination weddings.
First, let's take a quick look at the island. St Martin/St Maarten is the smallest island in the world to be owned by 2 nations. St Martin is French. St Maarten is Dutch and has the international airport. The border is just a sign. Sneeze and you'll miss it. You don't have border patrol or customs or anything like that. You can find hundreds of all-inclusive resorts in Jamaica, Mexico and Punta Cana, but sometimes you just want to explore a new location.
St Maarten is in the heart of the Caribbean. You are 16 miles from Anguilla, 20 miles to St Barts and 34 miles from Saba. They call themselves the friendly island. I will agree with that statement. The people are a real melting pot with people from every where in the world.
Ok, back to the resorts. Unlike other islands, if you are looking for an adults only all-inclusive resort, you only have 2 choices, so let's do some comparisons.
OVERVIEW
258  suites
6 restaurants
5 bars
1 large oceanfront swimming pool
1 jacuzzi
Room Service 7am to 10pm (temporary)
RESTAURANTS
Barefoot Grill, burgers and pizza
Coco Cafe
Himitsu, Asian
Market Cafe, buffet
Olio, Mediterranean and French
Portofino, Italian
ROOMS
Junior Suite Garden View
Junior Suite Mountain View
Preferred Club Junior Suite Mountain View
Preferred Club Junior Suite Swim Out
Preferred Club Junior Suite Marina View
Preferred Club Junior Suite Marina Swim Out
Preferred Club Master Suite Mountain View
Preferred Club Master Suite Swim Out
Preferred Club Presidential Swim Out Suite
OVERVIEW
130 suites
3 restaurants
4 bars
3 swimming pools
24 hour room service
5 additional bars and 5 restaurants next door at Sonesta Maho Beach included
RESTAURANTS
Azul Restaurant, Mediterranean themed menu varies nightly
Casa Blue, Caribbean fused tapas
Pool Grill
Ocean Terrace, buffet*
The Point, Italian*
The Palms Grill, unique super heated lava rock, cooks at the center of your table*
Maho Cafe*
Pizzeria Napoli*
* restaurants located at Sonesta Maho Beach
ROOMS
Junior Suite
Deluxe Junior Suite
Deluxe One Bedroom Suite
Swim Out Junior Suite
Rooftop Butler Suite
Sunset Butler Suite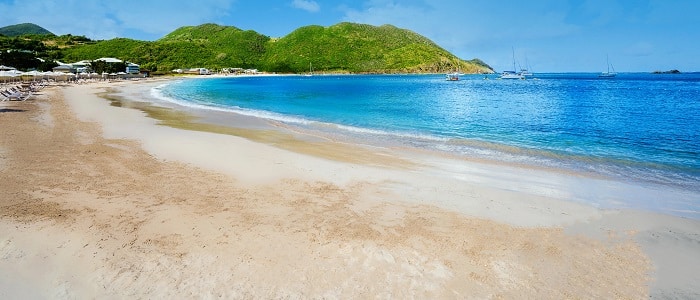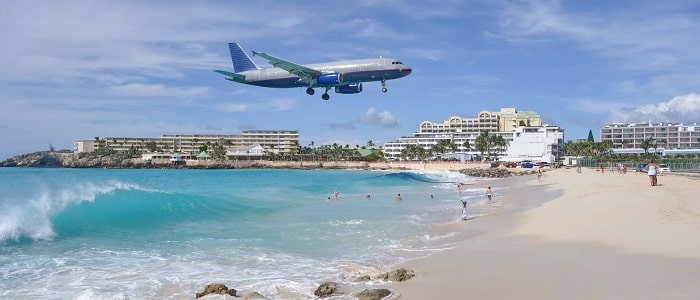 The beaches at both resorts are unique. I'll have to give the win here to Secrets St Martin. The resort sits in a protected bay and the calm water is perfect for people who like to be in the ocean. You also have beach waiter and a beach bar just up a few steps from the beach. You also get amazing sunsets as the bay faces directly west.
Sonesta's beach is really nice, but the beach is not part of the resort. You actually are leaving the property to get to Maho Beach. The beach has bigger waves but is nice to be in also. The coolest feature is you have small planes and jumbo jets flying right over your head. I was mesmerized watching them come in. The resort has built several sandy areas with chairs for guests that want to be right by the beach. They also have a very unique zero entry sunset pool with a private man made beach.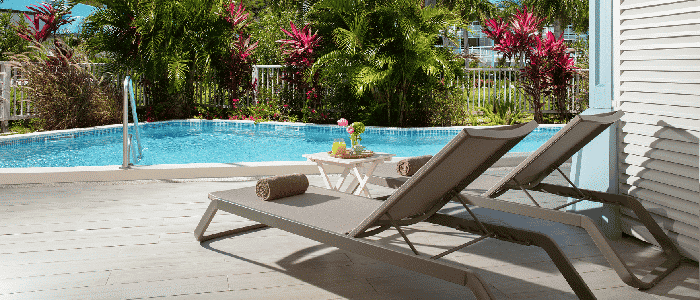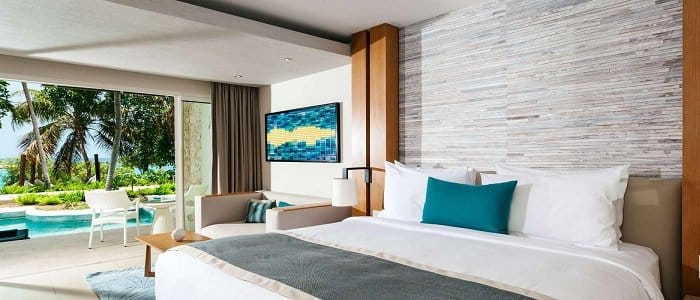 Both resorts have all suites. The junior suites are roomy and have nice beds and comfortable furnishings. They both have swim-up suites.
Secrets St Martin has preferred club rooms, but the preferred club lounge is very small and there is no preferred club restaurant, pool or beach area like most Secrets Resorts have.
Sonesta St Marteen has butler suites and I talked to a few guests that had butlers and they were very happy with the service. Because of the butler service suites and the fact that all rooms face the ocean, I'd give Sonesta the win on room competition.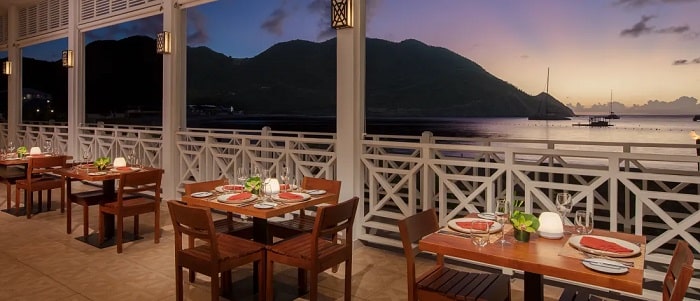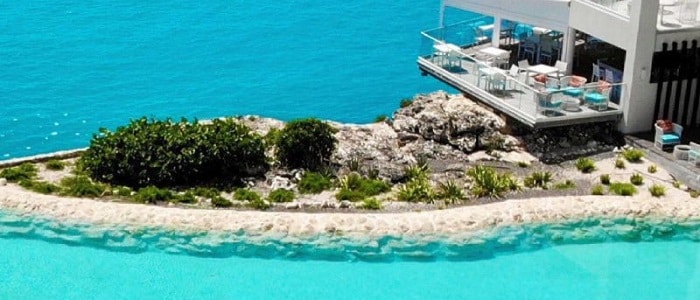 I am going to give the win on food to Sonesta as well. Azul is where I ate most of the time, but they change the menu daily. The Point had great Italian food. The pizzas are really good. I didn't get a chance to test the Palms Grill, which I regret.
Secrets St Martin's food quality and service was better than average, but not quite up to the standards of other Secrets I've experienced. I will have to say the lobby bar, the preferred club lounge and the Himitsu were excellent. I love Asian food.
St Martin/St Maarten is a foodies paradise. I didn't eat off the resorts, but they have about 200 restaurants on this tiny island.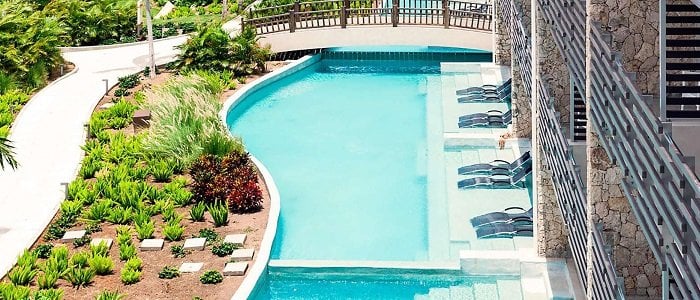 OTHER
Secrets St Martin is just 35 minutes from the airport. Sonesta St Maarten is 2 minutes from the airport.
Both have great views. Secrets St Martin has a clear view of the Caribbean with Anguilla in the background. Sonesta St Maarten has a great view of planes coming in and Maho Beach.
Secrets St Martin sits on the west coast, so the sunsets are incredible.
Sonesta St Maarten is walking distance to the larges casino on the island. The French side does not have gambling.
I'd give the pools, spa and fitness centers at both resorts a tie.
I personally enjoyed the Sonesta more but Secrets was right behind. If I was going to St Martin/Maarten for my honeymoon having experienced both, I would still do a split stay. I'd stay 3 nights first at Secrets St Martin to relax and enjoy the amazing beach. I would then go to the Sonesta for 4 nights to enjoy both the resort and the entire Maho village area.
Experiences in St Maarten brought to you by Viator.