Couples Negril Resort
Couples Negril is an adult only, couples only all inclusive resort located in Negril, Jamaica on Bloody Bay Beach. We'll save you money and time guaranteed!
Laid back luxury
Ultimate beach
Ocean is calm and clear and friendly for swimming
Great food and service
Couples Resorts' all inclusive program with unique inclusions: golf, intro to scuba, snorkeling trips, sunset sails, shopping trips
Great Value
This resort is ideal for:
Jamaica Wedding, especially eloping
Anniversary vacation
Fun, stress-free and romantic getaway
Couples Negril Highlights
216 Rooms and 18 Suites
Free WiFi
4 Bars, premium brand liquors
2 Pools
2 Jacuzzis
Intro to Scuba, Golf, and Waterskiing Included
Continental Breakfast in Bed
Room Service in Suites
Adults Only & Couples Only
Spectacular Sunsets
Sunset Catamaran Cruises Included
Free weddings with a 3 night stay
4 Restaurants
Cassava Terrace, International
Heliconia, Mediterranean
Lychee, Asian
Otaheite, Gourmet Caribbean
---
Testimonials
My fiancé and I did not know where we wanted to go so I asked a traveling co-worker. She didn't either so a friend of hers recommended Catherina at Honeymoons Inc. We contacted Catherina and she recommended 4 with Couples Negril winning with all of the included amenities. We told her we were getting married there and she told us she had also. This was our 3rd year in a row and we have met returning couples so it feels like home. I always highly recommend Honeymoons Inc. and Catherina.
Sincerely,
Michael and Kelly
---
Thank you for reaching out. We loved Couples Negril! The staff was great, the food delicious, and the resort was beautiful. We would love to go back one day and will be recommending both Honeymoons Inc. and Couples Negril to all of our friends.
Catherina was extremely helpful throughout this entire process and we would love to work with her as well!
Thank you again,
Sarah
---
The stay at Couples was "Beautiful"!! It was plenty to do and the people were beyond friendly. We enjoyed the culture and the food. Thank you Honeymoonsinc.com for everything!
Jeffrey and Cecily
Couples Negril Honeymoon
---
Just wanted to acknowledge the excellent, over the top personal service that Kimberly provided to us during booking Couples Negril. We have a group of repeaters that Kimberly books each year and each year she takes Golden care of us.
This year we had my sister and her husband book their honeymoon in a beachfront suite. This was not without challenges. Her husband has cancer and has mobility issues to deal with. Kimberly worked with Couples to get them the Best beach front suite 6101 that helped provide him the best access to everything.   Her efforts helped make this trip possible for them.
We all love Kimberly and her impeccable attention is what keeps us booking with Honeymoons inc.  She is the best. Sure wish we could share a drink with her at Couples Negril next year.
Sincerely,
Taylor and Debbie
---
I just wanted to send you a quick email to tell you thank you for helping us with all our travel for our wedding!!!!  Everything was awesomely great & we didn't have any problems with anything…even when my mom forgot her booklet with the transfer page for the resort, they told us not to worry about it & they would take care of it.
Everyone was so nice, not just the people that worked there, the guests were nice too!!!  We met so many people & made so many friends that we felt right at home!  : )
Char
Charlotte and Carl, Couples Negril Wedding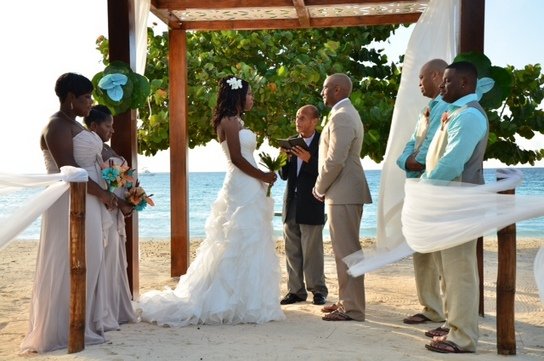 We had a wonderful 11th time stay and both the resort and its staff were top notch. Interestingly our flight there was cancelled last minute (Dallas ice storm) so we missed our first night. Then on our last day our flight had been moved up last minute causing us to miss it. Couples graciously let us stay for the night and applied  it to the first day we missed.
Our vow renewal was beautiful and again the staff treated us like royalty. Talk to you soon for our next trip!
Tom & JoAnn
20th Anniversary, Couples Negril
---
The wedding was perfect, thanks to you!
Jeffrey and Christine Poss
Couples Negril Wedding
Well where do I begin?  Our 7th trip back to Jamaica and all booked through Honeymoons Inc- I think that says it all. This most recent trip was beautiful, amazing and spot on, thanks to you all.  On this trip alone we referred 5 couples to you all and they all booked through you.  As conversations stirred on the beach about Honeymoons Inc there was not a single person/couple who weren't absolutely pleased.  I can't say a single bad thing about your company and all its associates.  Thank you Honeymoons for giving my husband and I seven great Honeymoons.  We'll back for another booking.  I'll talk to ya'll in about 18 months when we do this once again.