Couples Sans Souci
Couples Sans Souci offers adults only and couples only all inclusive honeymoon, wedding and vacation packages in Ocho Rios. We'll save you money and time GUARANTEED.
All rooms are suites and have ocean views
Nice beach in a calm cove
Legendary spa
Couples Resorts' unique extra inclusions:  Dunn's River Falls tour, shopping shuttles, snorkel trips
Great value
Perfect resort for a Jamaica honeymoon
This resort is very unique and classic Caribbean. We highly recommend this resort for your Caribbean honeymoon.
Couples Sans Souci Highlights
Located on best beach in Ocho Rios
Legendary European Spa
4 pools (1 swim-up) and 3 Jacuzzis
All Suites, 148 of them, on 35 Acres
Stocked Mini Bars in Suites
Jacuzzi Suites available
Dunn's River tour included
A mineral pool in the spa area
Room Service, 6am to 11pm
Friday night gala on the lawn
4 Restaurants and 5 bars on site
Ristorante Casanova, Caribbean gourmet
Palazzina Restaurant, International
Bella Vista, Jamaican
Beach Grill, burgers and snacks
---
Couples Sans Souci Resort Recognition
Honeymoons, Inc. has been recognized by Couples Sans Souci as one of the top agencies nationwide to help you arrange a Couples Resort Vacation. We have been designated a Platinum Preferred Agency. Our friendly efficient agents also guarantee the lowest price and strive to make the process as convenient as possible. The quote below is taken from Couples Resorts website.
"As a result of their tremendous knowledge and professionalism and for their tremendous support of Couples Resorts, an elite group of travel agencies have achieved "Platinum" status, our highest level of travel agency recognition. The logo above designates these travel agencies as our most experienced and productive partners."
---
Testimonials
Thanks again for everything! We had a blast on our honeymoon and met many new friends. Hope we get to return someday.
Thanks again for the help booking this trip,
Paul
---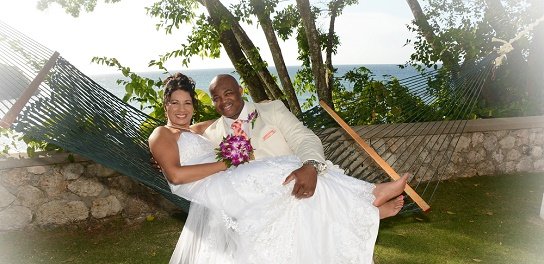 We would like to offer our sincere appreciation for all of the help and assistance that you provided us for our wedding at Couples Sans Souci and our honeymoon at Couples Negril.  Both resorts were great!  We had a fantastic time and we can't thank you enough!  Thanks so much for your advice on the numerous resorts that we were considering for our ceremony and honeymoon, and we also appreciate your patience when we were a bit unsettled about our ultimate plans.  Couples Sans Souci is a truly tremendous property, and it will forever be a very special place for us.  Again, thank you and the staff of Honeymoons Inc. for helping to make our day so special.  We look forward to planning an anniversary trip with you in the future.
Cheers,  Russell and Tatjana Richardson
---
I'm so thankful that you helped make our special day as beautiful as it was!
Larry and Charlotte Eason  Couples Sans Souci Wedding
---
Hi Kimberly, Thanks for an incredible 25th wedding anniversary/honeymoon!  Next to our kids being born, this was the most fantastic week of our lives.  We will be going back hopefully next year!  Thanks for helping to make it so memorable… and phenomenal!
Yours,
Sari and Terry Chism
---
We had an absolutely fantastic honeymoon!  Couples Sans Souci exceeded my expectations even after hearing all the wonderful things you said about it.  It was exactly what we were looking for and we can't wait to get back!
I just want to thank you for helping me through this process. You and your company were amazing and provided everything we needed and then some.  The packet that you sent ahead of time was a major help, as we saw other couples fumbling though piles of paperwork trying to find the correct documents both at the airport and the resort.  We will definitely be recommending you to our friends and I'll certainly be in touch next time we're planning a getaway.
Hope all is well with you!  Thanks again for all your help!
Eric and Stephanie
---
Our vacation was one of the best.  We highly recommend Couples Sans Souci. We were again highly pleased with our experience booking with Honeymoons, Inc. Thanks and we'll be back next year.
John Rugland
---
We had an amazing time at Couples Sans Souci, Jamaica (third trip/3 years).  Kimberly is awesome!  I just want to let you know how amazing she is. We absolutely love Kimberly and look forward to booking with her again next June. We are now officially called Jamericans. We LOVE Kimberly!!!
Have a beautiful day/week!
Sincerely,
Sari & Terry