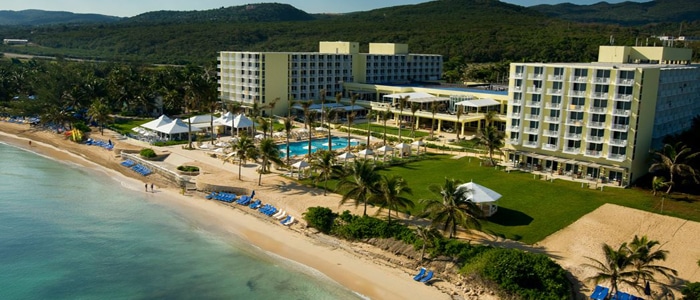 Hilton Rose Hall Jamaica Honeymoons
Hilton Rose Hall Resort & Spa offers all inclusive Jamaica Honeymoon, vacation and wedding packages.
This resort is conveniently located just 15 minutes outside Montego Bay and 10 minutes from the airport., The property is situated on  400 acres that used to be a Sugar Plantation. The ruins from the sugar mill make for some stunning Jamaica wedding venues.
If you are looking for an amazing water complex or an exceptional golf course, this is a good choice for your all inclusive Montego Bay Honeymoon, vacation or wedding. Sugar Mill Falls is one of the most distinctive water complexes in Jamaica and one of the biggest man-made attractions in the Caribbean.
At 110,000 square feet, this water park includes three terraced pools, a 280 foot waterslide and meandering canals complete with waterfalls, jets, 3 Jacuzzi hot tubs, and a swim-up bar. Designed to fit naturally into the landscape, the park features architectural designs based on the original Rose Hall estate. The golf course was redesigned by Robert Von Hagge.