Palm Island Resort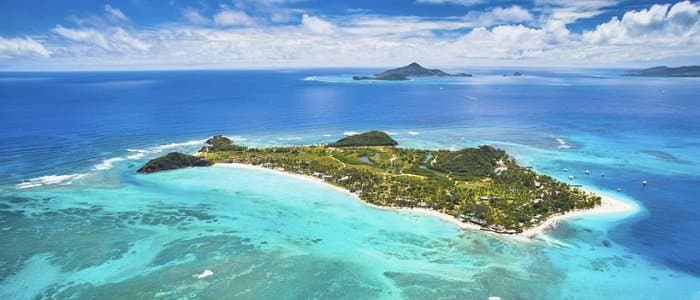 Palm Island Resort offers all inclusive private island honeymoon, vacation and wedding packages in the Grenadines. This resort's island is a 100-acre hideaway. With only 43 rooms and suites, this is the best honeymoon resort for you if you're looking for a resort off the beaten path, where you can totally unplug. The water is crystal clear and the sand is sugar white.
If you stay 7 nights, the resort throws in the transfer from St Lucia. From St Lucia, you'll take a small plane to Union Island. From Union Island, Palm Island provides a ferry, which takes about 10 minutes. Make sure that you are in St Lucia early enough on your arrival day. On departure day, make sure you have a late enough flight home. Guests not staying 7 nights can purchase the transfer for $400 per person.
Restrictions apply and baggage fees may apply. Honeymoons, Inc. can arrange the air for you.