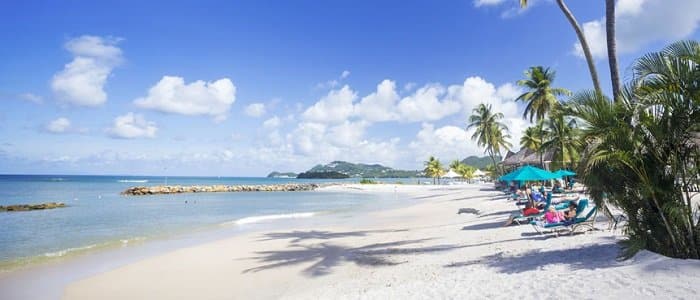 Rendezvous St Lucia
Rendezvous St Lucia Resort is an adults only, couples only all-inclusive resort located on Malabar Beach, a 2 mile stretch of beach that is St Lucia's longest beach.
Rendezvous St Lucia Highlights
Adults Only, Couples Only
2018 TripAdvisor's Top 25 All Inclusive Resorts (#15).
Intimate Resort, only 100 rooms
33 miles from Hewanorra Airport (1:15 ride)
1 Mile from Vigie Airport
2 Miles from downtown Castries
St Lucia's longest beach
3 bars
Swim-up pool bar and a piano bar
Oceanfront Cottages and Suites
Scuba Diving is included
Exchange dining privileges with their sister resort, The Body Holiday at LeSport's Cariblue restaurant (transfers not included)
2 Restaurants
perfect for an all inclusive St Lucia honeymoon 
Voted top 10 Caribbean honeymoon resort by brides.com
Rendezvous St Lucia's philosophy:
"Other couples-only holidays offer you the frenetic pace of what feels like a singles bar! If you like music blaring on the beach all day, if you like being prodded into doing what the staff thinks is holiday-camp fun and games, Rendezvous is not for you.Rendezvous is a holiday created by romantics for romantics. We don't have lots of restaurants and noisy crowds that stifle intimacy, but we do offer the finest candlelit dining you will ever experience together. It is a truly intimate, gentle, tranquil escape from all that jars you and separates you in the real world. Everything you do (and if you choose, there is lots to do) is geared to your desires, your preferences, your special wants and needs as a couple in the company of other like-minded couples. In a word, Rendezvous gets in your heart, not in your face!"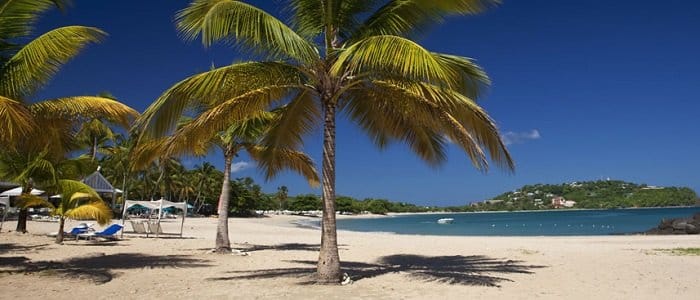 Testimonial
I immediately wanted to jump at the chance to provide feedback on your service. My wife and I booked our honeymoon through you to Rendezvous in St Lucia. Everything was incredible. …
Russ and Kristin Mixon
Let me be the first to tell you how thankful we were that you guys put together such a fantastic package for my wife and myself. The trip went off flawlessly (aside from Miami International Airport – but that is another story) and we could not have had a better time…..Thank you for setting this up and making this process so effortless for us. We will definitely be recommending you to all of our friends that are getting married!
Richard Barnhill
Rendezvous St Lucia Honeymoon
See complete honeymoon testimonials.