Sandals Regency La Toc
Sandals Regency La Toc offers couples only all inclusive, St Lucia Honeymoon, vacation and wedding packages.
Sandals Regency La Toc Highlights
Sandals Resorts

comprehensive all inclusive plan
9 restaurants, 8 bars and 2 swim up bars
Honeymoons, Inc.Top 10 All Inclusive Honeymoons
Main resort section features the largest pool in St. Lucia and is very active and lively
Bluff section is quieter
Hillside between main resort and bluff has villas, a Japanese restaurant, and a secluded pool area
Stay at one and play at all 3 Sandals Resorts in St Lucia, Sandals Halcyon,

Sandals Grande St Lucian

World Travel Awards voted "St Lucia's Leading Resort"
210 Acres and a half-mile beach
3 pools including the Eastern Caribbean's 2nd largest (behind Sandals Grande Antigua's new pool)
Complimentary 9-hole golf on property, 18 hole course with transfers
19 categories, one for every budget
An exotic island destination with a true rainforest and the world's only drive-through volcano
Suites with private pools and butlers
"Stay at One, Play at Three" Program with full exchange privileges and complimentary transfers to Sandals Halcyon Beach and Sandals Grande St Lucian, enjoy a total of 23 dining options
331 Rooms and Suites
Pavilion Restaurant, International
La Toc, French
Armando's Restaurant, Italian
The Pitons Restaurant, Caribbean
Kimonos, Japanese
Arizona, Tex-Mex
Cricketer's Pub, Pub cuisine
Pizzeria Del Campo, brick oven pizzas
Beach Bistro, beachfront grill
Sandals Regency La Toc Testimonial
Colleen said…
We had a wonderful honeymoon at Sandals La Toc in St. Lucia! Catherina was a pleasure to work with, and we have recommended her to our engaged friends to use for their future honeymoon.Thank you again!
Colleen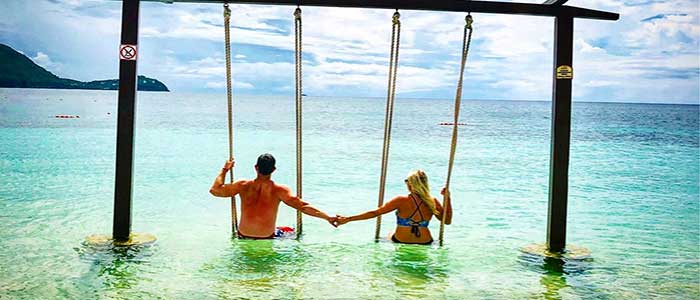 ---
I think I can speak for both of us that we had an AMAZING trip.  The service we received was top notch.  We both have been highly recommending Sandals Regency La Toc to all of our friends and in fact have already starting planning a return trip very soon.
On behalf of Jamie and Myself we just wanted to thank you guys for everything you all did for us.
Thanks,
Scott Creamer
---
We just wanted to write to express our sincere gratitude for helping to make our honeymoon more than we could ask for. When we found out 2 weeks before our wedding that the place we were supposed to honeymoon was closing, we truly thought we wouldn't have a honeymoon. Jason and Steve worked day in and day out to find us another vacation destination that would accept our pre-payment to the original resort. We were SO happy with Sandals Regency St Lucia – and our honeymoon was both exciting (watersports & entertainment) and relaxing (POOL BAR!).
Thanks again for all your help!
Best Regards,
David and Kristina Haase
---
We had a GREAT time!  The resort was awesome. All of the staff was very friendly, the food was excellent, and our room was perfect. Shannon was a great help and always responded promptly to our emails. And we had lots of questions for her!  We will definitely be staying at a Sandals again.
Amy & Darrell