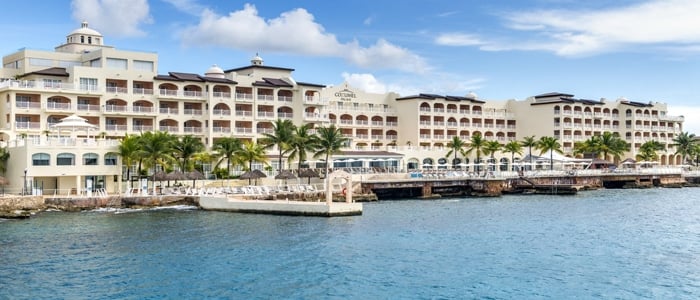 Cozumel Palace offers all inclusive Cozumel Honeymoon, vacation and wedding packages. This resort is located within walking distance of downtown San Miguel. 
Great value with Palace Resorts awe-inclusive package
Easy to take the ferry to Playa del Carmen and spend the day at Playacar Palace
Exchange privileges with 4 other resorts
4 restaurants, 2 bars
Most rooms at this resort have ocean views, double jacuzzis and 24 hour room service.
Doesn't offer complimentary scuba diving tours in the all inclusive package, but this is still the perfect choice for snorkel and scuba enthusiasts
We highly recommend this resort for a Cozumel Honeymoon, great rooms and walk to town.
---
Cozumel Palace Testimonials
Thank you for the opportunity to provide our feedback regarding our son's wedding at the Cozumel Palace resort.  In one word our experience was "fabulous!!"  The staff was courteous, extremely helpful, and there was always someone available to assist.  The setting of the resort, right on the water, is simply breathtaking.  The rooms were clean and the room service impeccable.  The wedding itself was beautiful.  The resort wedding pagoda offered a gorgeous backdrop for the wedding—with an unbelievable view of the water and sunset.  The wedding planner and staff at the wedding were friendly, helpful, and seemed like part of the family.
We couldn't be happier with our experience in the Cozumel Palace.  We have already been telling our friends it's the place the go if you want to relax and have your every wish catered to.
I have to also say something good about the spa.  I enjoyed some of the spa services and the spa and the spa staff were wonderful and gave the best messages ever!!!
Thank you for making this very special moment in our lives so great!!!
Mary Ann and Bill Knox
(Parents of the Groom-Rick Tavares)