Sandals Montego Bay or Sandals Royal Caribbean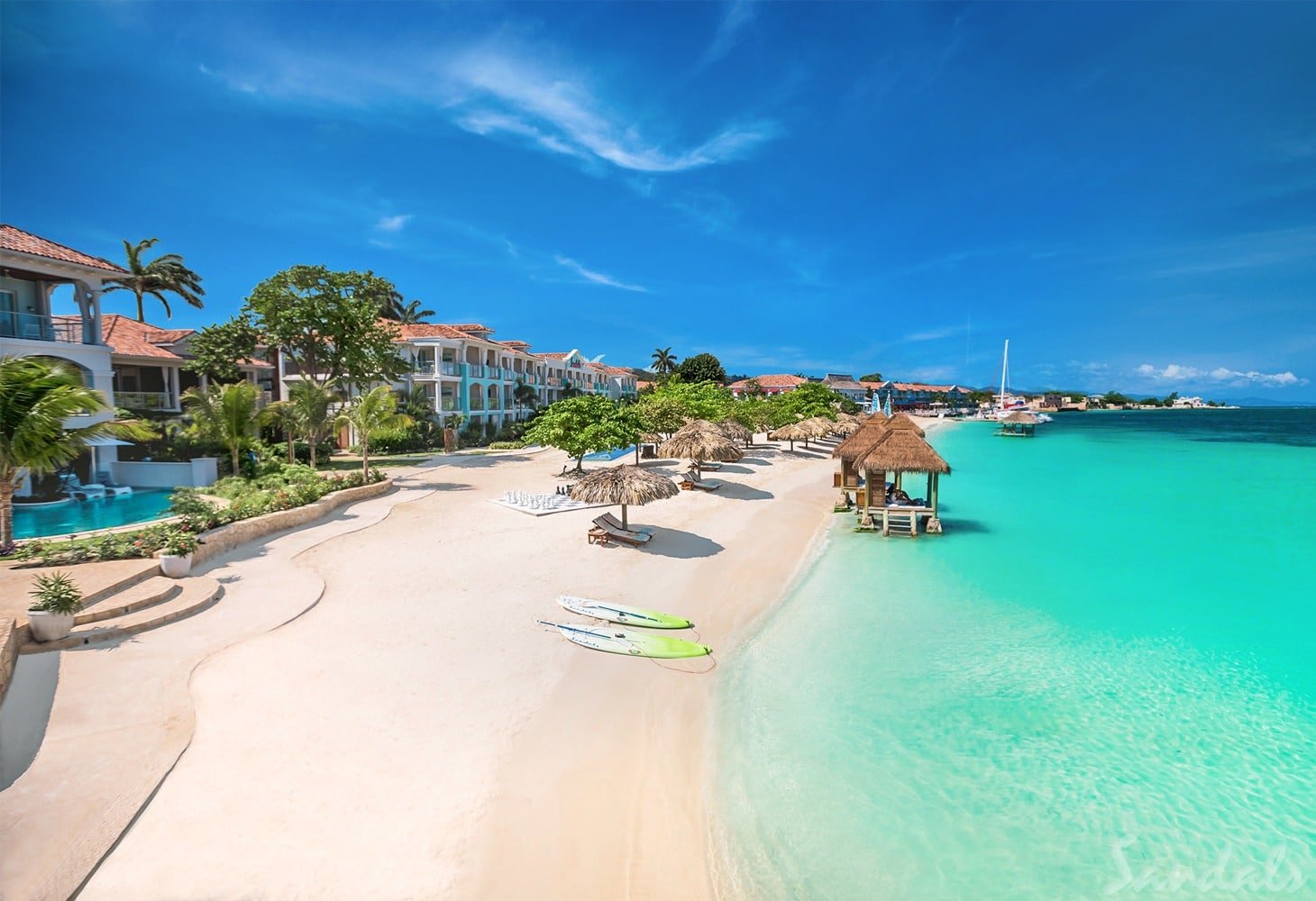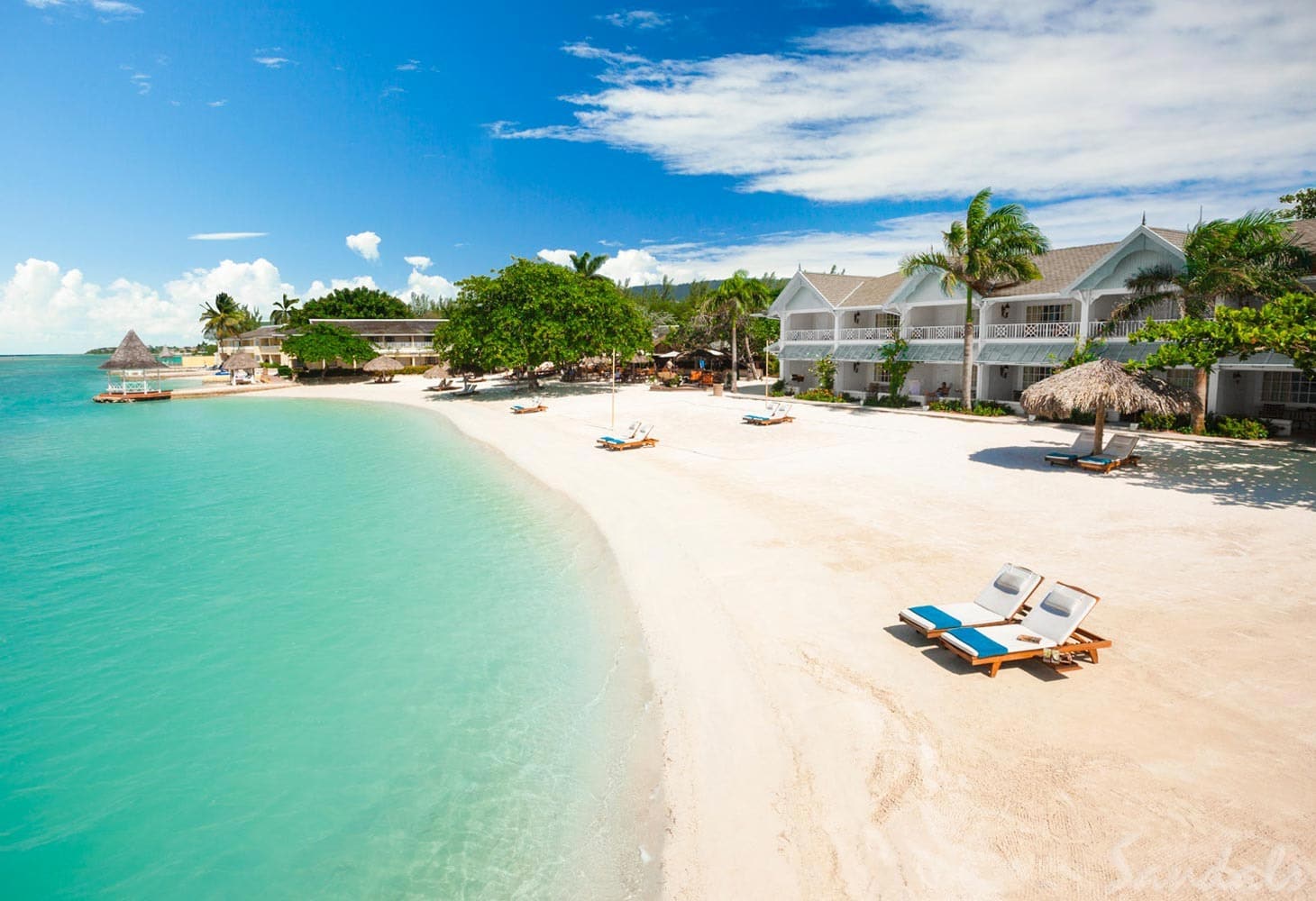 True Beachfront Resort Where the Party Never Stops
The very first Sandals has been masterfully reimagined to be the most modern, open-concept, 5-Star Luxury Included® beach resort. Innovative and luxurious, Sandals Montego Bay is adults-only and nestled along the unending shoreline of the most exclusive, private white-sand beach in Jamaica, where offshore reefs create the calmest waters for leisure swims. Discover a chic and casual oasis, mere steps from the water, evoking a carefree spirit of romance and luxury. Our spectacular open-air lobby with magnificent sea vistas captures the island ambiance. There's a new Over-the-Water Bar, and new Over-the-Water Chapel for an over-the-top experience. Enjoy even more of the best all-inclusive resort in Montego Bay with exclusive play privileges at nearby Sandals Resort. At Sandals Montego Bay, the fun never stops and the beach never ends.
Jamaica's Most Alluring Retreat
A kaleidoscope of cultures from Britain to Bali awaits you at Sandals Royal Caribbean. The resort's decidedly British heritage begins with the Majestic Georgian-style Great House, surrounded by manicured gardens and roaming peacocks – all complemented with well-heeled traditions like afternoon tea and a rousing game of croquet. Minutes away on the private offshore island of this adults-only resort you will find luxurious Over-The Water Bungalows. The mysteries of the Orient unfold in a secluded natural setting where casual poolside and beachside pleasures beckon by day, while chic parties, an authentic Thai restaurant, and island-style extravaganzas invite excitement by night. At Jamaica's most alluring all-inclusive resort, two diverse vacations are woven into one and served with warm island hospitality, making your stay in Jamaica a journey to remember.
Sandals Montego Bay and Sandals Montego Bay Rooms and Suites
Most Club Level & Butler Suites come with BMW private transfers.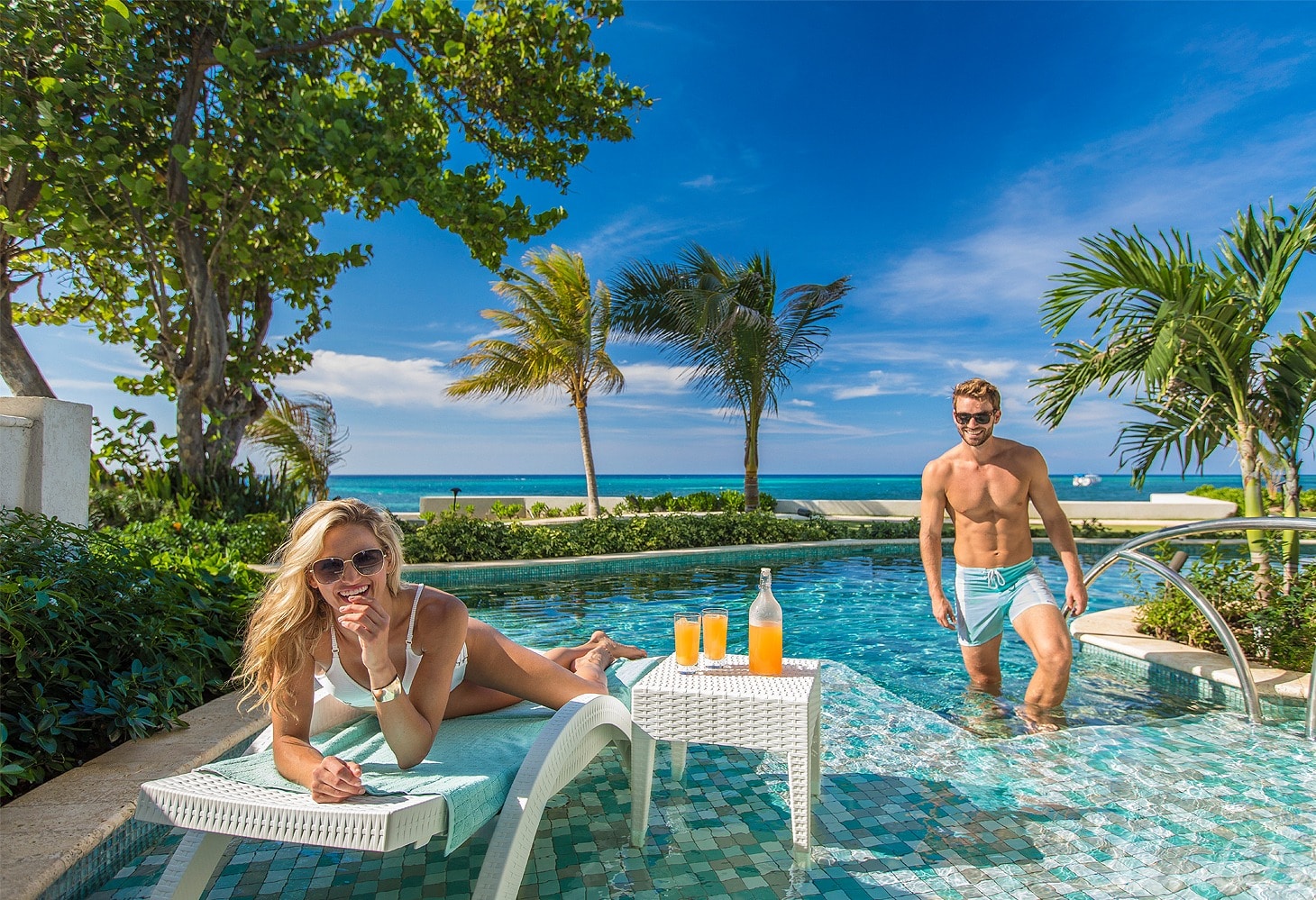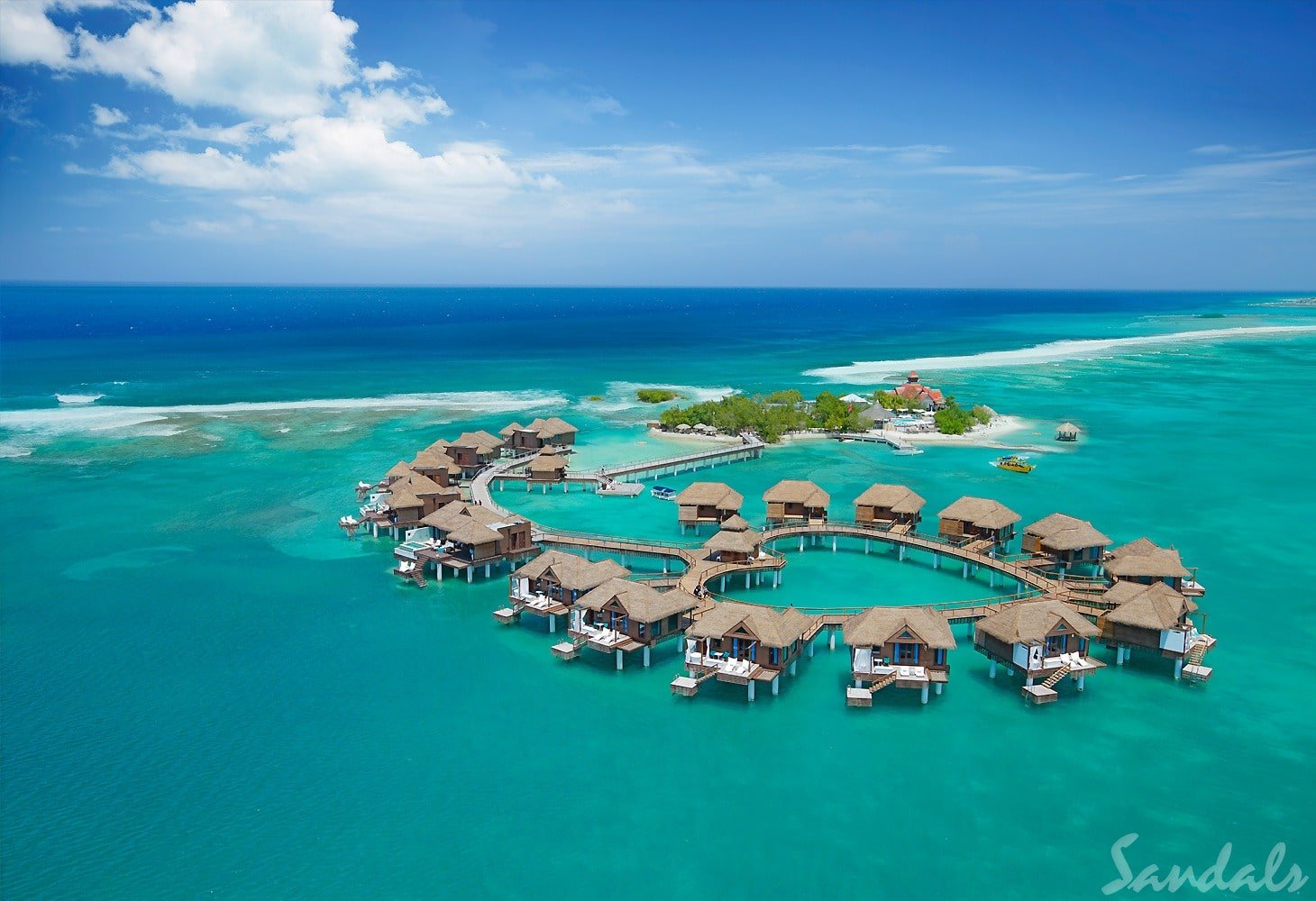 264 Rooms, 26 Rooms and Suite Categories
13 Butler Suites
8 Club Level
5 Luxury Rooms
From $304 pp/pn to $705 pp/pn
Sandals Montego Bay has incredible Millionaire Beachfront Swim Up Suites. These were added as part of the recent renovation.
227 Rooms, 28 Rooms and Suite Categories
14 Butler Suites
6 Club Level
8 Luxury rooms
From $262 pp/pn to $1769 pp/pn
Sandals Royal Caribbean is one of only 3 Sandals Resorts that have over-the -water suites. Only 5 of the suites have plunge pools.
The Beaches at Sandals Montego Bay and Sandals Royal Caribbean
The beach is Sandals Montego is one long stretch of wide white sand beach. Sandals Royal Caribbean has 7 scalloped beaches. I give both an A+. Water-skiing is available at Sandals Montego Bay, but not at Sandals Royal Carribbean due the reefs.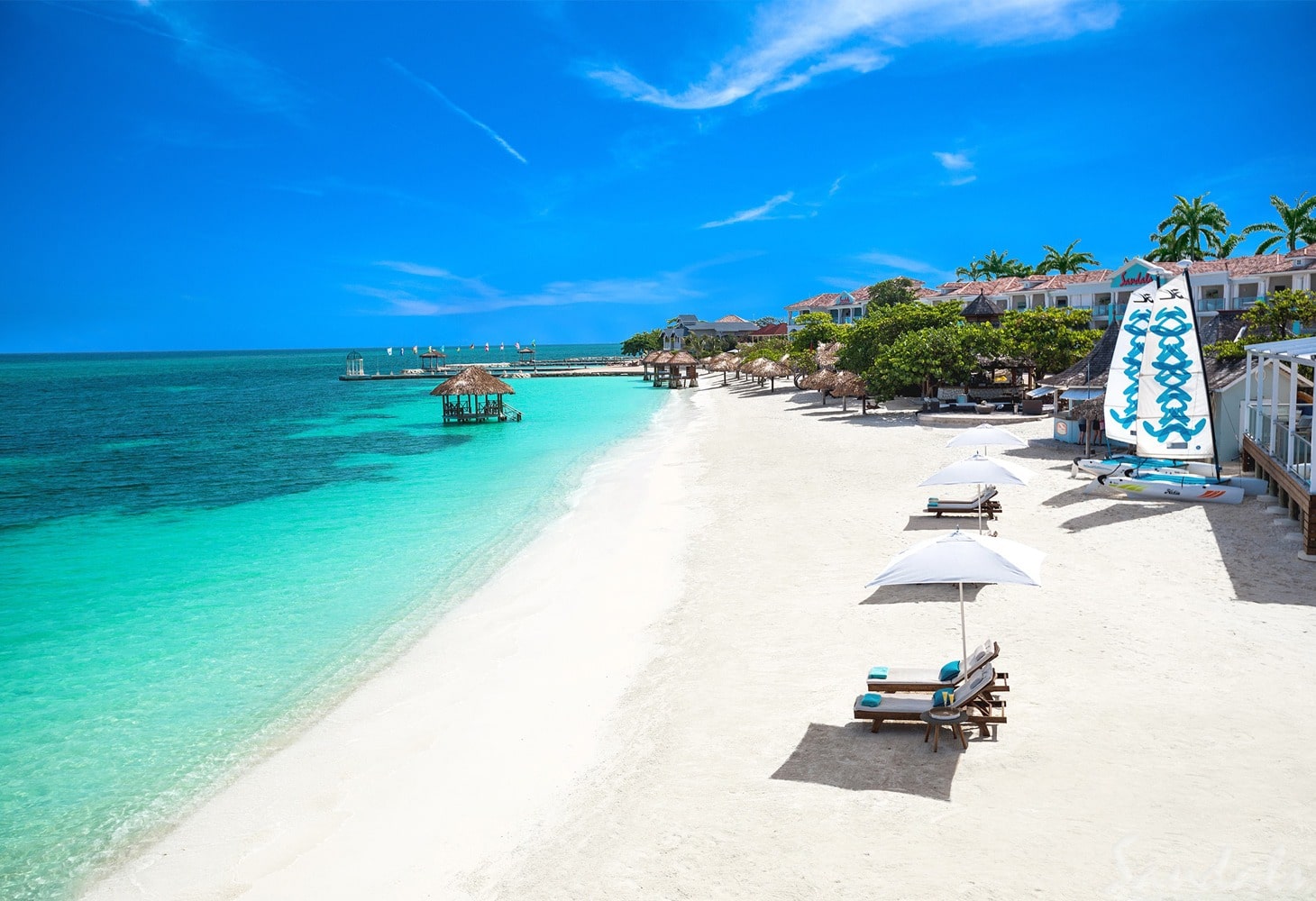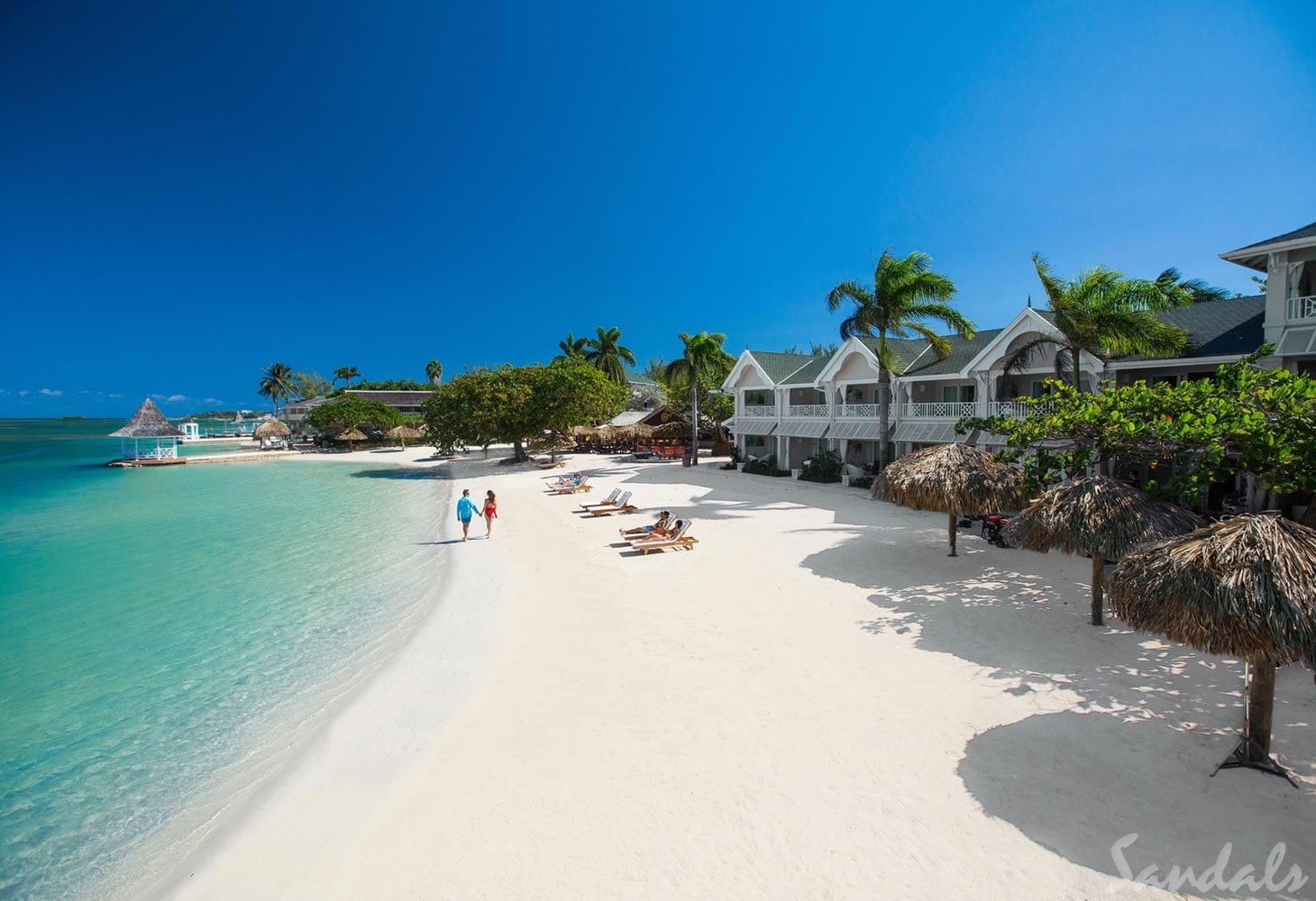 Dining at Sandals Montego Bay and Sandals Royal Caribbean
Don't forget you have full exchange privileges between the 2 with transfers included!
Sandals Montego Bay – 12 Restaurants
Bayside, international
Oleander, gourmet Jamaican
Cucina Romana, Italian
Tokyo Joes, pan-Asian
Stew Fish, Seafood
The Cricketers Pint, Pub food
Dinos Pizzeria
Mariner Seaside Bar and Grill, Bar food
Cafe de Paris, Pastries, crepes and coffee
Jerk Shack, the best:)
Butch's Steak & Seafood
Soy, Sushi
Sandals Royal Caribbean – 9 Restaurants
Royal Thai, Thai
Le Jardinier, French
The Cricketers Pub,  Pub food
Bella Napoli Pizza
Mariner Seaside Bar and Grill, Bar food
Jerk Shack, the best:)
Spices, Caribbean
Bombay, Indian
La Tavola, Italian
Together with exchange privileges, 21 Restaurants!
"As I see it"
Choosing between these 2 Sandals Resorts is made easier by the fact that you can not make a bad decision. You would love either one of these resorts, but they definitely have their different personalities.
Sandals Montego Bay is the party animal of all the Sandals. Don't take that to mean every one here is young. This resort has more repeat visits every year than any other Sandals. Some of the guests have been coming here for a great time for 40 years.
Sandals Royal Caribbean is fun also, but much quieter and calmer. With the cove beaches, everyone is more spread out, so you always get the intimate resort feel.
Location is the last item i'd like to point out. Sandals Montego Bay is 2 minutes from the airport. We've had a few clients that were annoyed by the jet noise that you have around noon and around 4 pm. Most guests just smile and wave and this is part of the atmosphere. Sandals Royal Caribbean is 15 minutes away and does not have noise.