All-Inclusive Destination Wedding Packages
Caribbean Resorts
All-inclusive destination wedding packages in the Caribbean and Mexico held at all-inclusive resorts are easy and very cost effective. You can plan one in less than an hour!
Honeymoons, Inc. can help with all the details. All you have to do is show up and say "I do".  The beach and Caribbean Sea are the perfect backdrop. We'd love to be a small part of your "Big Day".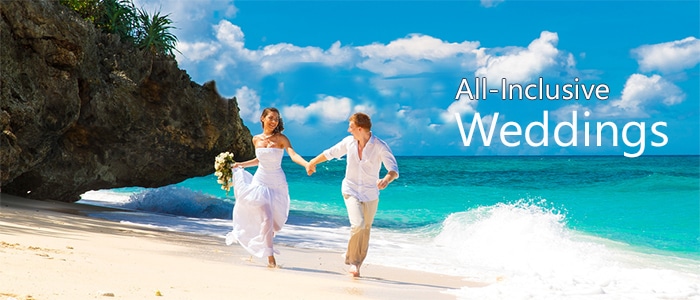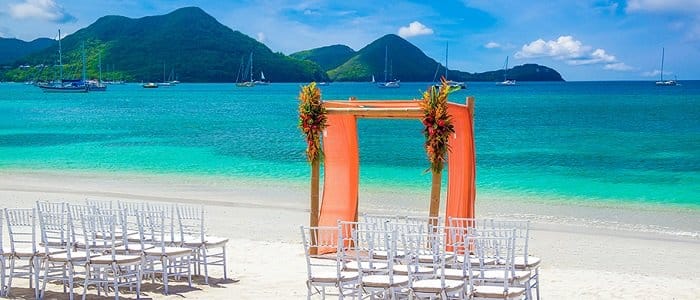 Say "I Do" in Paradise!
If you want simple and stress-free wedding planning, this is a great alternative. You have 2 options for a wedding group:
1. Book a wedding and a block of rooms with a contract and secure rooms for everyone.
2. Book your wedding and your own room and let wedding guests contact us. We can even give you a website customized just for you, where your guests can come and book themselves 24/7.
Either way, you get benefits for guests that attend the wedding, like free rooms and free private events.
What does an all-inclusive wedding package cost?
The average cost of a modern wedding at home is between $20,000 and $40,000. Most of our featured resorts offer FREE all inclusive destination wedding packages! The average Caribbean wedding package, not including your stay, is around $1,000.00. A full week in the islands staying at an all-inclusive resort usually costs between $4,000.00 and $7,000.00.
If you want to spend $40,000.00, just fly your friends and family down to enjoy your wedding day with you. A 3 night all-inclusive stay for your guests usually cost from $400.00 to $800.00 per person. All-inclusive resort wedding guests usually pay their own way. Guests will have an amazing vacation.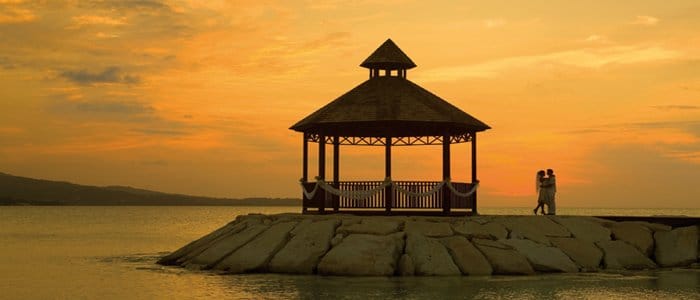 Below is a typical all-inclusive resort wedding package.
"Wedding in Paradise" package at Dreams Playa Mujeres
Caribbean Destination Wedding package includes:
Symbolic Ceremony*
Wedding organization and personal touch of on-site wedding coordinator
Preparation and ironing of couple's wedding day attire
Complimentary room for one member of the wedding couple the night before the wedding
Bouquet(s) and/or boutonniere(s) for the wedding couple
Wedding cake (for up to 10 guests)
Sparkling wine toast (for up to 10 guests)
Special turn-down service the night of the wedding
15% discount on all spa treatments (Boutique purchases not included)
Newlywed Package
Late check-out for the couple (based on availability and upon request)
Free Anniversary Nights – when staying a minimum of 5 nights over their first anniversary return-stay, the couple will receive 2 additional nights free OR if Stay 4 nights, receive 1 additional night free
This package is free if you book at least 7 nights in a preferred club junior suite ocean view or higher or if you book 5 rooms in any category for 3 nights or more. 
If you do not qualify for free, the package costs $999.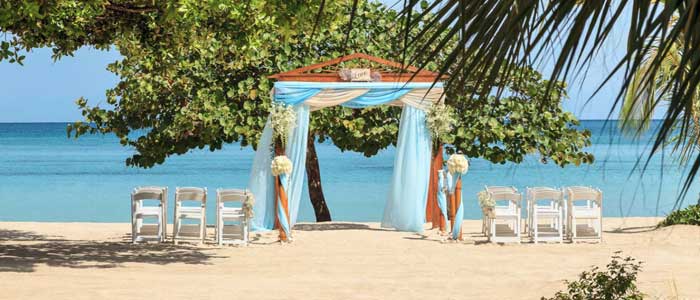 *Symbolic means the ceremony is not legal. Most of the weddings we do in Cancun and Punta Cana are symbolic. On English speaking islands like Jamaica, St Lucia, Bahamas, Antigua and Grenada, most weddings are legal ceremonies.
Elope on your own,
or have family and friends attend!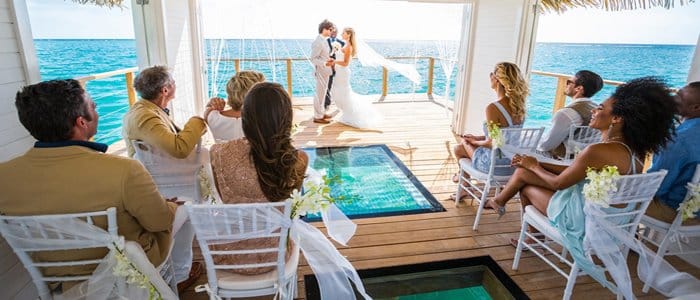 Caribbean weddings may be right for you if:
You want to escape the traditional stress and expense of a wedding at home
You want the romance of eloping
You want to combine your wedding with a 3 night/4 day celebration with all your friends and family
You want a unique, romantic and beautiful wedding backdropYou don't have to give up the reception party. Even if you don't bring everyone with you, bring home a video or some pictures, add a big screen and have a big welcome home reception. We have clients tell us all the time that they enjoyed their reception more than they could have if it immediately followed their wedding ceremony.
Couples wanting to elope should look at Couples Resorts and Sandals Resorts first. These 2 couples only resort brands make it very easy to get married in the Caribbean. If you want an exotic island, look at St Lucia, Antigua, Grenada and Barbados.
Most Popular All-Inclusive Wedding Resorts of 2020
There are hundreds of great Caribbean all-inclusive wedding resorts out there. These are our clients' most popular choices in 2019!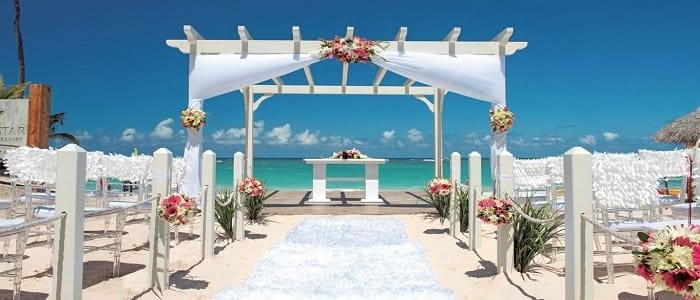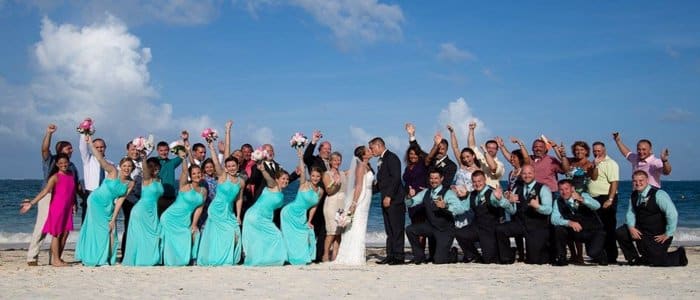 TAKE A GROUP!
First off we would like to say Thank You to the staff at Honeymoons Inc. with a special Thank You being directed at Ms. Kimberly Felix. Our wedding at the Now Sapphire Resort in Riviera Maya, Mexico was absolutely perfect.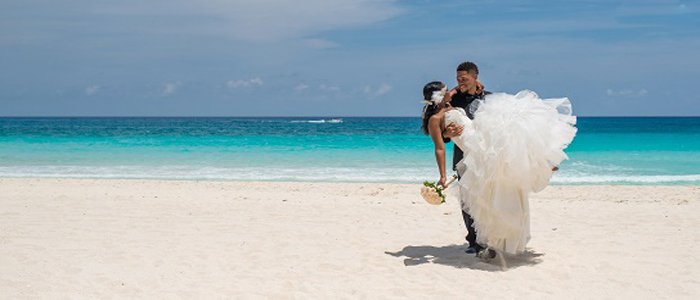 ELOPE
We had an amazing time. This was one of the best trips I've ever been on. Everything was stress free and organized so well. All we had to do was show up!  Thanks, Rikki…Sun Palace Cancun. See more testimonials from past clients.