All-Inclusive Honeymoon Resorts with Private Pool Suites in St Lucia
These resorts can be found up and down the west coast of the island. Most are on the northwest side around the Rodney Bay and Castries areas.
St Lucia honeymoon resorts are known for the incredible suites they offer. This island is all about quality of the resorts and their rooms, not quantity. Few resorts have over 200 rooms, which is the opposite of destinations like Cancun or Punta Cana.
Suites with private pools can be found at these 10 top St Lucia honeymoon resorts below.
This resort has 2 suite categories with private pools, the beachfront rondoval and the grande rondoval. Your private courtyard also comes with a jacuzzi, outdoor shower and a hammock. The rondoval suites also come with your own butler.
This is our #1 recommendation for an all inclusive honeymoon in St Lucia. This resort is also the only resort in St Lucia to have Over Water Bungalows.
Jade Mountain is the most luxurious resort in all the Caribbean. The resort is very small and intimate. Suites are absolutely incredible, but don't have telephones or TV. You can totally unplug here, but you still have electricity and WiFi, so you aren't isolated. You'll find 4 suite categories, which are more aptly named sanctuaries, all of which have private pools.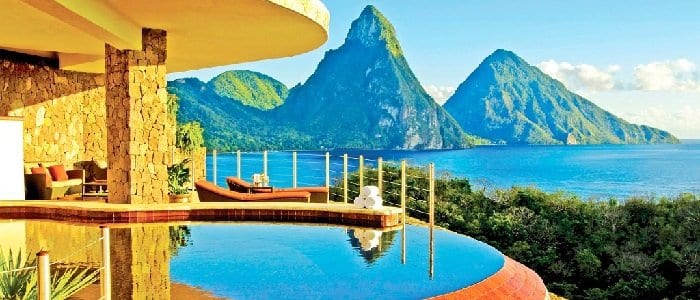 3. Sandals Regeny La Toc St Lucia
Sandals Regency La Toc St Lucia has private pools in 4 of their suite categories. One category is tucked in the gardens and is very affordable. The other 3 are located in the bluffs above the main resort with incredible views. All suites come with a personal butler. Choose the millionaire suite and be 150 feet above sea level. The suite has retractable glass walls and a private deck with a plunge pool, waterfall and whirlpool.
Calabash Cove is an intimate beachfront property with an old world Caribbean charm. Along with your secluded private pool, you'll have a super size jacuzzi, outdoor rain shower and a hammock.
5. Sugar Beach
This very luxurious resort is nestled right between the Pitons and is one of the most incredible resort settings you can find in the Caribbean. The resort has 5 cottage categories and 5 villa categories. All categories have personal pools and butler service. Feel like you are in the middle of the rainforest at this luxury resort.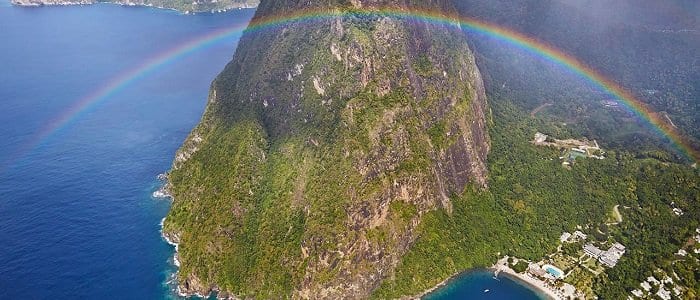 6. Ladera
Ladera actually sits on a hilltop overlooking Sugar Beach. This very unique resort is for adults only. The resort has 4 amazing suite categories with private pools. All have just 3 walls. The 4th wall is removed so you have the most amazing view you can imagine.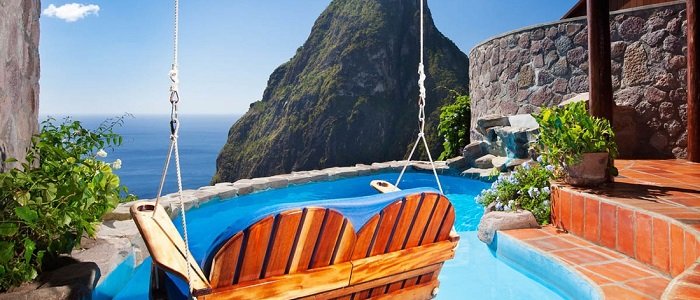 This Sandals resort is the smallest and most intimate of the 3. Sandals Halcyon's pool sanctuaries are their top 2 room categories. Stay here and play at all 3 Sandals Resorts in St Lucia, but you may never want to leave your private pool.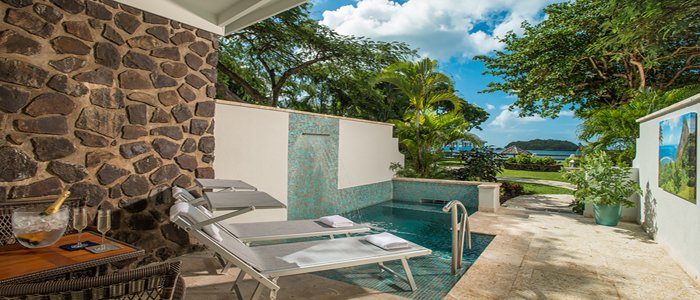 8. Serenity at Coconut Bay Resort
This luxury boutique property is very private and very close to the airport. Enjoy these expansive suites with tons of private outdoor living space and butler service.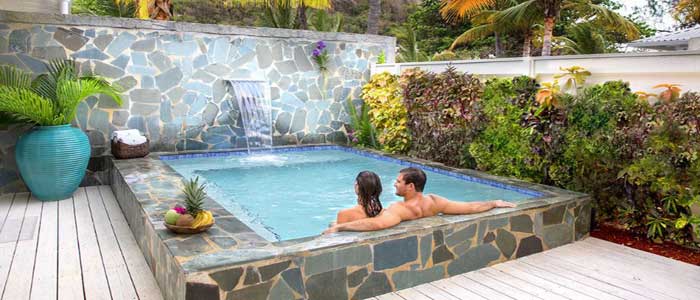 9. Ti Kaye
This St Lucia honeymoon resort is located on a cliff overlooking a secluded beach. Enjoy your ocean view cottage with pool that also comes with a large private deck, rocking chairs and unhindered views of the Caribbean Sea.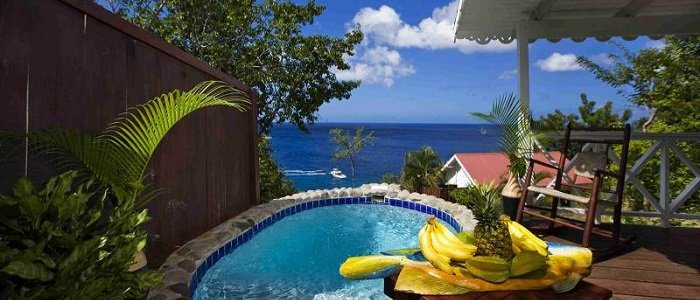 This affordable resort has private pools with its 2, 3 and 4 bedroom villas. Choose this resort for all inclusive St Lucia wedding groups with big families.
Other St Lucia Honeymoon Suites
Swim Up Suites make great honeymoon suites also. Find swim up suites at Sandals Grande St Lucian, Calabash Cove, Royalton St Lucia and the Hideaway at Royalton St Lucia.

St Lucia Honeymoon Experiences:
Check out the most popular honeymoon experiences with VIATOR.