Best Secrets Resort for your Honeymoon
Couples should consider Secrets Resorts if they haven't already for their all-inclusive honeymoon package. Many couples come to us that have stayed at a Secrets Resort and insist on trying a new one for their honeymoon. Many couples come to us for a Secrets Resort, because friends and family have insisted they stay at a Secrets Resort. This brand is not as well known as Sandals Resorts, but they do have loyal multi-visit fans.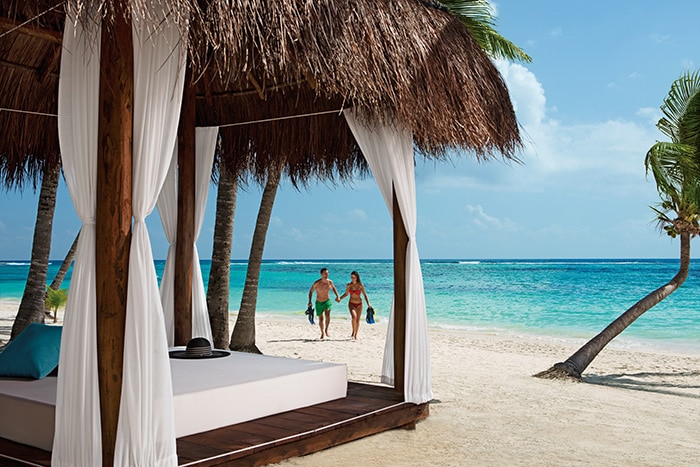 A Few Reasons:
Unlimited Luxury All-Inclusive Plan
Beachfront locations
Concierge or preferred club service and amenities are available in the upgraded room categories
Really nice rooms, even the least expensive rooms are honeymoon worthy
Swim up suites, suites with outdoor soaking tubs, suites with outdoor jacuzzis and now thanks to Secrets Playa Mujeres, even suites with private pools
Quality of the food and drink experience is excellent
24 hour rooms service, rooms have a secret box, you don't even have to open the door
No wristbands ever
That's a really brief explanation or the highlights, now let's find the best Secrets honeymoon Resort for you.
Secrets Resorts – Best Beach:
Secrets Maroma Beach Riviera Cancun, sits one of the best beaches in the world
Secrets Akumal, great for snorkelers, you can walk down the beach to an amazing snorkeling trail
Secrets The Vine, in the middle of the famous Cancun strip beach, there is a reason why the Cancun strip is full of hotels, the beach
Secrets Cap Cana, Punta Cana's best beach, wade out at least 100 yards and still be able to stand
They are all beachfront, but these are the best beaches in my opinion.

Best Secrets Honeymoon Resort Suites:
Almost every category at Secrets is a junior suite or better, so even the very least expensive room is nice. Each and every Secrets Resort has suites that are perfect for honeymoons. All the Secrets Resorts have swim up suites except Secrets Capri Riviera Cancun and Secrets the Vine.
Secrets Playa Mujeres, Preferred Club Master Suite Ocean Front Private Pool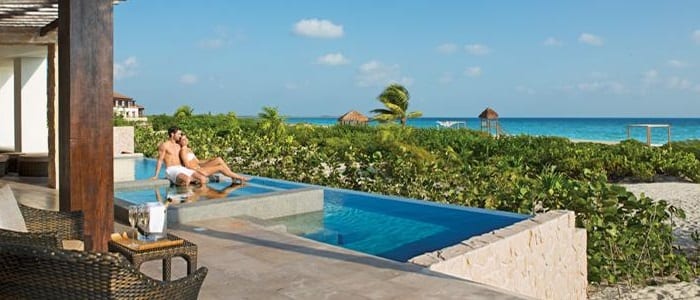 Secrets Cap Cana, Preferred Club Bungalow Terrace Ocean Front Swim Up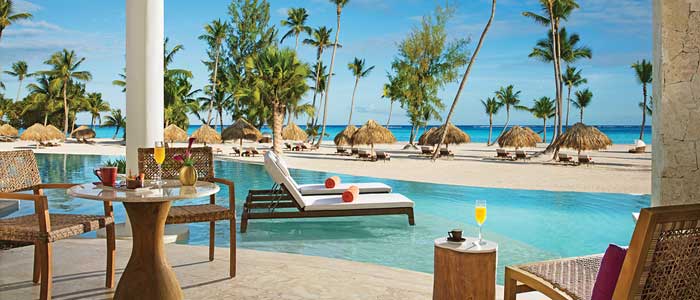 If you can afford the extra cost, we always recommend upgrading to the "Preferred Club", so you can get the extra service you deserve on your special occasion.
Preferred Club Rooms come with:
Personalized Check In and Check Out
Private Preferred Club Lounge
Preferred status and amenities
Preferred club rooms and suites in premium locations
Concierge services
Daily continental breakfast in the Preferred lounge
Afternoon hot & cold hors d'oeuvres in the Preferred lounge
Exquisite desserts and fine liquors in the Preferred lounge
Upgraded mini bar furnishings
Upgraded bath amenities
Secrets Akumal, Preferred Club Junior Suite Swim Out Ocean Front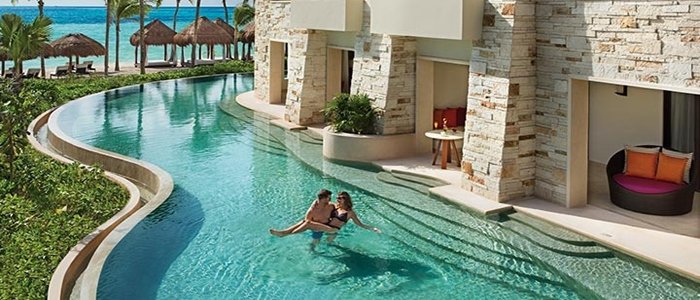 Secrets Wild Orchid, Preferred Club Junior Suite Ocean Front Swim Out

Secrets Resorts – Best for Short Stays
If you plan to honeymoon for 5 nights or less, we recommend the resorts that are the easiest to get to. From the west coast, this is very easy, Cabo.
From the east coast, you have 6 choices. Choose from the 2 in Cancun, 2 in Jamaica and the 2 in the Riviera Maya and you'll find great flight schedules and airfare rates.
Secrets Resorts – Best for Explorers
To me all of the Secrets Resorts are in great locations, that i have to get out and explore, but I guess if we had to choose just a few:
Secrets Papagayo, what better place to explore than Costa Rica? find beach, mountains, volcanoes, white water, zipling, hot springs, rainforest……
Secrets Vallarta Bay, with the charming town of Puerto Vallarta minutes away and the Sierra Madre mountains right behind you, enjoy
Secrets Akumal, closest in the Cancun and Riviera Maya to Chichen Itza, Tulum and Coba, incredible archaeological ruins


Secrets Resorts – Most Affordable:
First, I always have to remind you that best price and best value are not the same. If you never splurge on another trip, the honeymoon is time to just do it. Don't go crazy and overspend, but remember that you always remember how good the honeymoon was long after you remember what it cost.
Prices are for 5 nights and 6 days, Monday to Saturday. This is total cost including transfers from September 20 to September 25, 2021. Just add flights and this is your total all inclusive honeymoon package cost.
Secrets Huatulco starts at $680 per person
Secrets Aura Cozumel starts at $697 per person
Now you know where to find the 2 most affordable Secrets all-inclusive honeymoon packages.
Secrets Papagayo Costa Rica starts at $829 per person
Secrets Puerto Los Cabos starts at $859 per person
Secrets Vallarta Bay starts at $939 per person
Secrets Playa Mujeres starts at $973 per person
Secrets Royal Beach starts at $1009 per person
Secrets the Vine starts at $1046 per person
Secrets Maroma Beach starts at $1080 per person
Secrets St James starts at $1089 per person
Secrets Wild Orchid starts at $1123 per person
Secrets Riviera Cancun starts at $1142 per person
Secrets Cap Cana starts at $1162 per person
Secrets Akumal starts at $1219 per person
Secrets St Martin starts at $1469 per person
Secrets Resorts will give you an amazing week and 6 of the resorts are under $1000 per person. That's an all inclusive honeymoon package deal for a resort we know that you will love!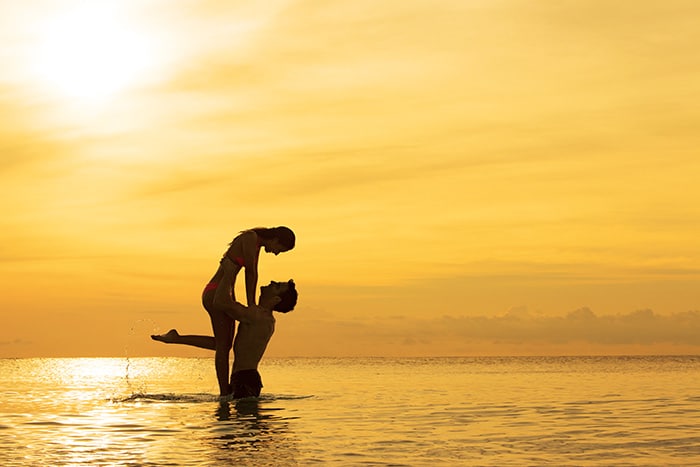 They also have great honeymoon and wedding packages from free to $25,999.
FREE SECRETS RESORTS HONEYMOOON & ANNIVERSARY PACKAGE
This complimentary honeymoon and anniversary package includes:
Welcome letter
Fresh fruit
Bottle of sparkling wine
Special turn down service
Breakfast in bed with Mimosas (Reservations must be made in advance with concierge)
15% discount on all spa treatments
Please request newlywed or anniversary package at time of booking. Couple will be required to present a copy of wedding invitation or marriage certificate at time of check-in. Package is subject to change without notice and is only applicable to couples staying within three months of their wedding or over their anniversary date.
15% discount on spa treatments cannot be applied to spa packages or combined with any other spa promotion or offer.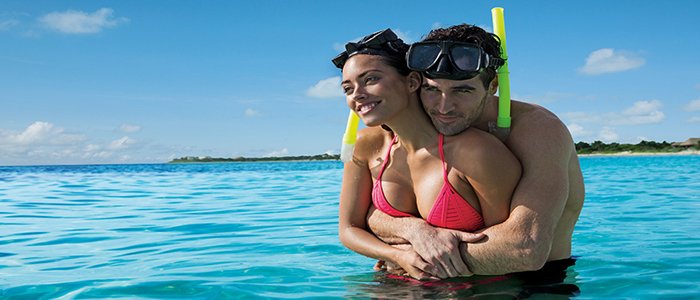 SECRETS RESORTS ETERNITY HONEYMOON PACKAGE
This package is complimentary when booking the Preferred Club Junior Suite Ocean View or higher for a minimum of 7 nights.
This all-inclusive honeymoon package includes:
Sparkling wine, fresh fruit and flowers in room upon arrival
Breakfast in bed with Mimosas one morning of stay, reservation with concierge required
Tension Release Massage for two in our couple massage suite (25 minutes)
Choice of couples spa treatment for two (25 minutes)
Private beachfront dinner one evening (includes a bottle of domestic wine and silver menu for two) – upon return from dinner you will find a romantic turndown service.
Special turn down service
Free Anniversary Nights
2021 Selling Price $999 USD
Note: Please request your honeymoon package at time of booking.
Restrictions/exclusions:
Not available during Christmas and New Year's Eve. Subject to availability and double occupancy only.
Taxes and gratuities included. Prices and package subject to change without notice.
This package cannot be combined with the Secrets Wedding in Paradise Package for both to be received complimentary. To receive the package complimentary.it is only applicable to couples staying within three months of their wedding or staying over their anniversary date. Couple must present a copy of their wedding invitation or marriage certificate at the time of check-in. Package is available to all guests when purchased at the selling price.
Free Anniversary Nights
Stay a minimum of 7-nights with your qualifying wedding or honeymoon package at any Secrets Resorts & Spas and earn complimentary nights toward your return stay over your first anniversary! Free Anniversary Nights are valid on all qualifying new wedding or honeymoon reservations made at any of the Secrets Resorts & Spas with a 7-night minimum stay. The couple will receive the following for their first anniversary return-stay: Stay a minimum of 5 nights over first anniversary date and receive 2 additional nights free or Stay 4 nights over first anniversary date and receive 1 additional night free.
Restrictions/exclusions:
Booking window is year-round. Guests must have the authorized anniversary night certificate from the resort
of their initial stay in order to receive the free anniversary night (s) which is earned when booking a qualifying wedding or honeymoon  package (see individual packages for inclusions, restrictions, and room requirements). To be eligible for the free anniversary nights, guests must stay during their actual anniversary date. Anniversary nights must be redeemed at same resort brand as the initial stay.
I hope this blog article will help you find the best Secrets honeymoon resort for you!