Best St Lucia Honeymoon Resorts 2023
St Lucia has been voted the "World's Leading Honeymoon Destination" 5 consecutive years and 14 times at the annual World Travel Awards (WTA). With a St Lucia Honeymoon you can enjoy all the pleasures of the Caribbean and a picturesque backdrop that is easily mistaken for the South Pacific or Hawaii. You'll find beaches, waterfalls, rainforest, a drive in volcano, sulfur springs (famous for mud baths) and even a World Heritage Site (the Pitons) listed by Oprah as the #1 place in the world to visit.
St Lucia is often referred to as "Little Hawaii". The islands beauty is second to none.
5 Most Popular St Lucia Honeymoon Resorts 2023
3 of the most popular all inclusive honeymoon resorts in St Lucia are the 3 Sandals Resorts. Sandals Grande St Lucian is the favorite of the three overall. You should do some research on which one is right for you. Sandals Regency La Toc is the least expensive. Sandals Halcyon is the smallest and most intimate. Stay at one and you can play at all 3. Even the transfers are included, along with 11 pools, 27 restaurants, 21 bars, 100 pools and 2 golf courses. More… Sandals Resorts St Lucia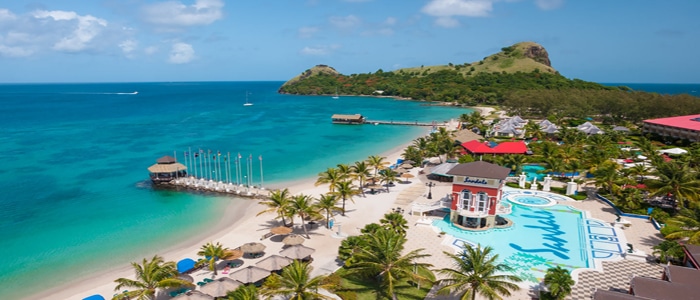 This resort has it all. You'll find a great beach, affordable rooms, swim up rooms, rooms with private pools, overwater bungalows, the most waters sports and championship golf 5 minutes away, 311 rooms, 12 restaurants, 7 bars, 5 pools. You can even walk to a national park with a small fort next door.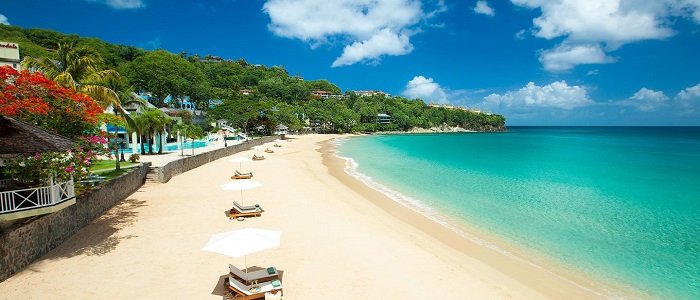 Sandals Regency La Toc 
This large spread out resort is almost 3 resorts in one. The main pool area is always lively and active. The bluff area on top is just a smaller scale fun area. In between on the bluff is peace and quiet. Find affordable rooms to millionaire suites, 331 rooms, 9 restaurants, 8 bars, 3 pools, executive golf course on property.
Jade Mountain
This one of a kind luxurious boutique resort has rooms (sanctuaries) with just 3 walls. You don't want to spoil the view of the Pitons from your suite. This resort comes with 2 beaches, hiking and biking trails, excellent diving and snorkeling from the beach, 29 suites, 4 restaurants, 3 bars, 1 pool.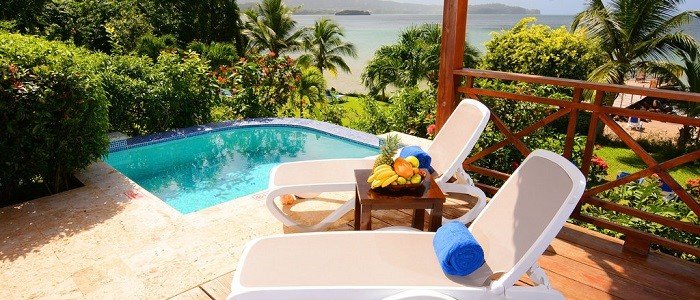 Calabash Cove
This upscale boutique resort is on the northwest side of St Lucia. The resort has only 26 suites. Most of the rooms are swim up or come with a private pool. The food and service is amazing, 1 pool, 1 restaurant and 1 bar.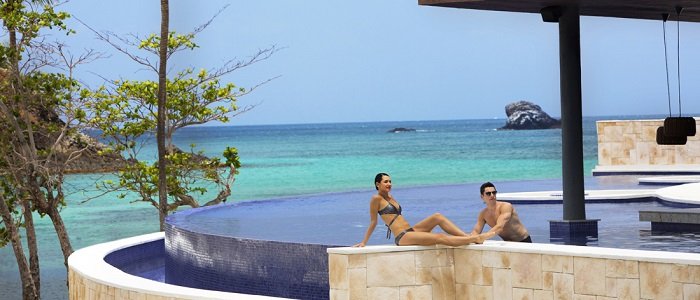 Hideaway at Royalton St Lucia
This large complete resort is affordable and comes with all the modern amenities. Find Dream beds, superior wifi, access to family resort next door, 13 restaurants, 13 bars and 2 pools.
The Best St Lucia Honeymoons Suites
Most honeymoon couples want a very special room for their honeymoon. St Lucia resorts do not disappoint. Resorts that cater to romance are adding amenities in the room to enhance the honeymoon experience. The 2 most popular honeymoon suite features have become rooms with private pools and rooms where the pool comes right to your patio. Here we tell you where to find these special St Lucia honeymoon suites.
St Lucia Resorts with Private Pool Suites:
Jade Mountain
Sandals Grande St Lucian
Sandals Regency La Toc
Sandals Halcyon
Calabash Cove
Serenity at Coconut Bay
Sugar Beach
Ladera
Cap Maison
Windjammer Landing
Ti Kaye
Swim Up Suites in St Lucia:
Calabash Cove
Hideaway at Royalton St Lucia
Royalton St Lucia
Sandals Grande St Lucian
Sandals Halcyon
Swim Up Suites in St Lucia:
Calabash Cove
Hideaway at Royalton St Lucia
Royalton St Lucia
Sandals Grande St Lucian
Sandals Halcyon
The Best St Lucia Beaches
#1 Sandals Grande St Lucian is located in a bay with a beautiful white sand beach. Enjoy all the non-motorized watersports like paddleboards, kayaks and sunfish sailboats. You can also enjoy waterskiing, wakeboarding and tubing. You can walk just off property and rent jet skis.
#2/3 Jade Mountain and Anse Chastanet sit on a salt and pepper beach within a short swim of an amazing reef for snorkelers and scuba divers alike. This site is so popular that you'll see a couple of dive boats stop every day.
#4 Jalousie Plantation has a great beach in an unbelievable location right between the famed "Pitons" of St Lucia.
The Best Location in St Lucia
When it comes to St Lucia, we won't name a winner here, but you have 2 distinct choices when it comes to location in St Lucia.
#1 On the the south west coast, you have resorts that are much more remote and isolated.
#2 Most resorts are located on the northwest coast, less isolated and closer to Castries the capital and Rodney Bay. These resorts are much more convenient for nightlife and shopping.
Most Affordable Honeymoon Resorts in St Lucia
St Lucia and affordable are not often mentioned in the same sentence. If you just want to experience St Lucia and any resort will do. They have to 2 budget all-inclusive resorts:
Mystique St Lucia
Coconut Bay Beach Resort
The Hideaway at Royalton St Lucia is a bigger more modern property, that we'd recommend you start with if your wallet will allow.
One of the best reasons to choose St Lucia for your honeymoon is all the great activities and excursions. Island Routes is our most trusted tour operator on the island. Check out their list of tours.