Best All-Inclusive Elopement Packages Caribbean
The best all-inclusive elopement packages Caribbean, Mexico or Costa Rica. Have the wedding of your dreams, just for the two of you. Bask in the romance of your private paradise. Savor breathtaking beach settings and luxury inclusions on your special day.
We'll help you find the best wedding destination and the best all-inclusive wedding resort. You don't even have to leave for your honeymoon. You're already there!

Best Destinations in the Caribbean for All-Inclusive Elopement Packages 
The entire Caribbean is the picture perfect backdrop for you to elope. Bring back your amazing photos and videos and throw a big reception party.
The best destination for shorter stays, say 3 to 5 nights are islands that are closer and easier to get to. This would be the Bahamas, Cancun, Jamaica, Punta Cana and the Riviera Maya. If you have 6 nights, that opens up the southern Caribbean destinations like Antigua, Aruba, Barbados, Grenada and St Lucia.
One more item that might help you pick the best destination is whether you want the ceremony to be legal or just symbolic. Legal weddings are easy to do in the English speaking islands. These are Antigua, Bahamas, Barbados, Grenada, Jamaica and St Lucia. Other destinations like Aruba, Cancun, Curacao, Punta Cana-DR, and St Maarten require you to jump through several hoops. In these destinations, you are better off doing a courthouse wedding then a symbolic wedding when you travel.
The best destinations for your wallet are Cancun, Riviera Maya, Jamaica, Costa Rica (not Caribbean) and Punta Cana.
The best exotic locations are the Exumas, St Lucia, Barbados, Antigua and Grenada. The dramatic photo below is brought to you by Jade Mountain!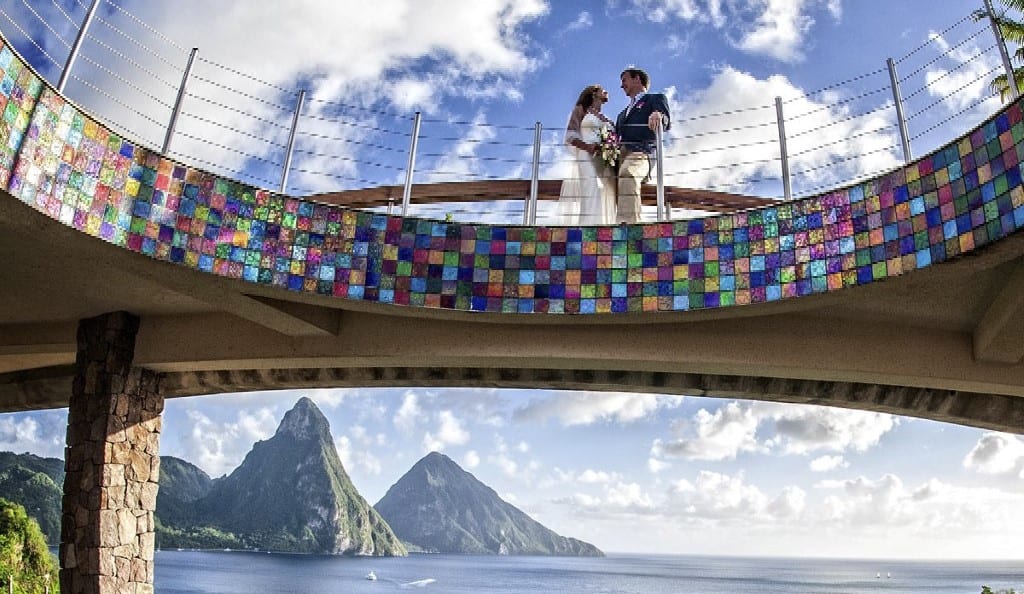 Best All-Inclusive Elopement Wedding Resorts
Since this vacation will be just for the 2 of you, we always recommend couples only resorts.
Without singles or kids, your elopement will be more romantic. You can find couples only resorts in Antigua, Bahamas (Nassau and Exuma), Barbados, Cancun, Grenada, Isla Mujeres and St Lucia. In most of these destinations, you'll find our #1 recommendation, Sandals Resorts.
---
Elope to Sandals Resorts (Antigua, Bahamas, Barbados, Grenada, Jamaica, St Lucia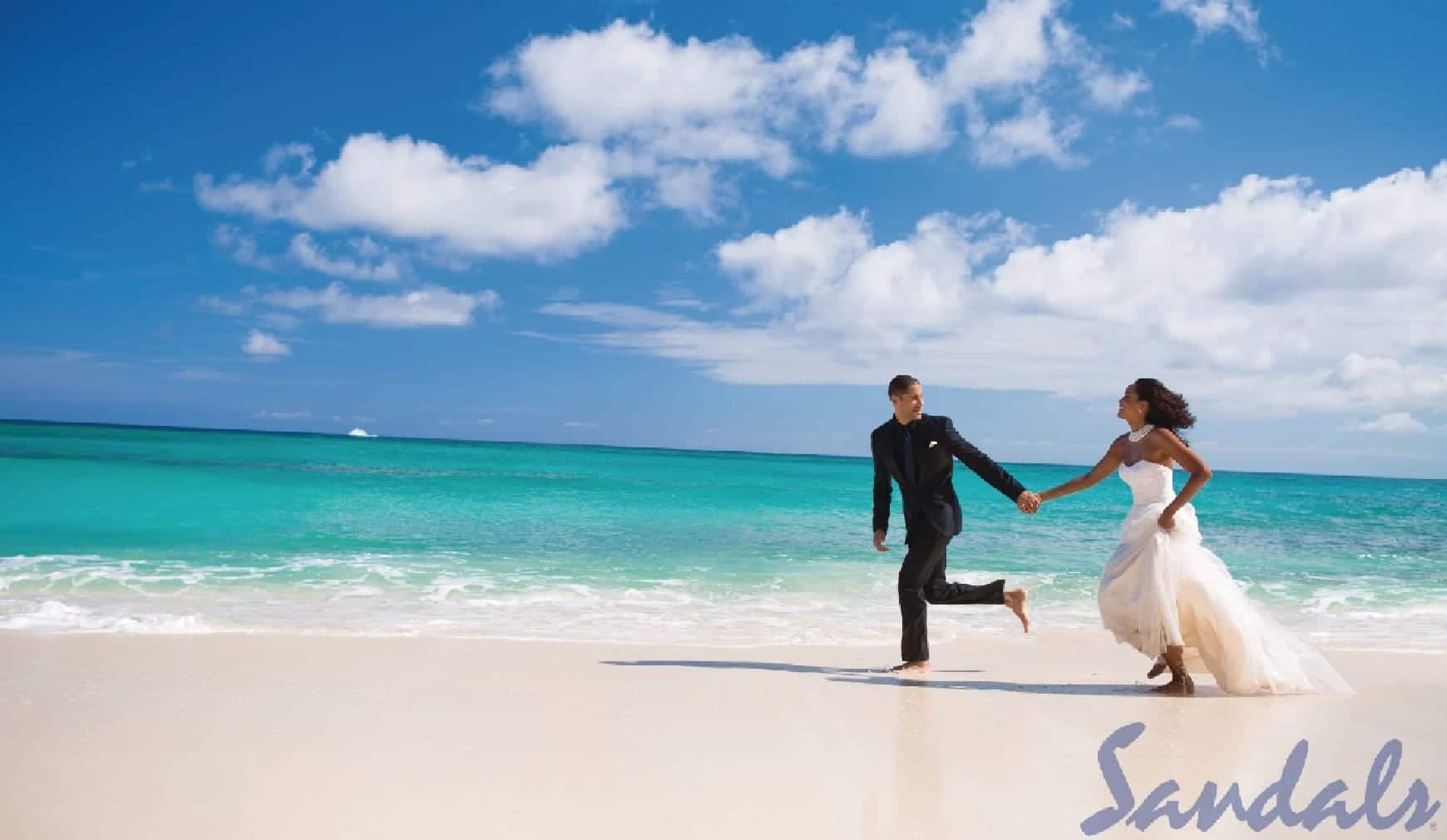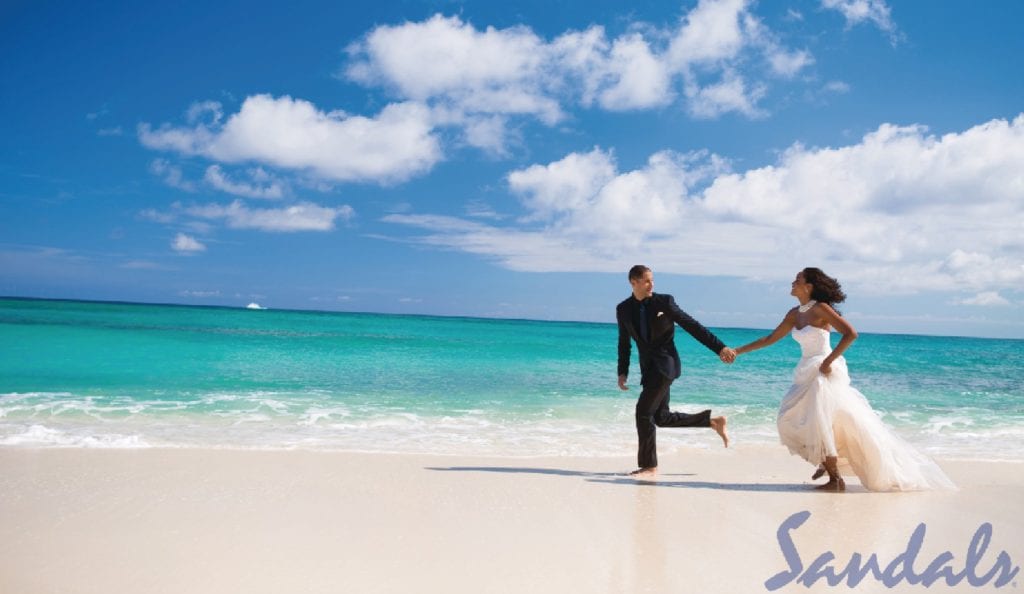 Sandals Resorts gives you a free* wedding with just a 3 night stay. With a 7 night stay Sandals Resorts includes even more.
Sandals Resorts Free* Elope Wedding Packages Include:
Before Arrival:
Personal Wedding Planning Team
Preparation of marriage documents
After Arrival:
15% discount on Red Lane® Spa Services for bride and groom
Ceremony:
Picturesque Ceremony Location
Bouquet and Boutonniere
White cushioned Chivari chairs for all guests
Pre-recorded musical accompaniment of your choice
Complimentary 5″x7″ wedding photo
Reception:
Wedding Cake, 2 tiered white fondant with fuchsia Dendrobium orchids
Table setting with white linens, silverware and crystal
Decorative centerpiece for head table
White cushioned Chiavari chairs for all guests
Cocktail reception with sparkling wine and hors d'oeuvres
Bride and Groom signature cocktail
*Subject to mandatory minister and government fees. Jamaica $95, Antigua $288.00, Bahamas $205.00, St.Lucia $270, Grenada $180, Barbados $325
Stay 7 Nights or Longer
Receive up to $1500 in Premium Perks
Up to $500 towards license and administrative fees
$500 towards room upgrade
$200 Photography Credit on select packages
$200 Anniversary Credit or videography credit on select packages
$100 towards scuba, snuba, cabana, or candlelight dinner
---
Elope to Couples Resorts (Jamaica)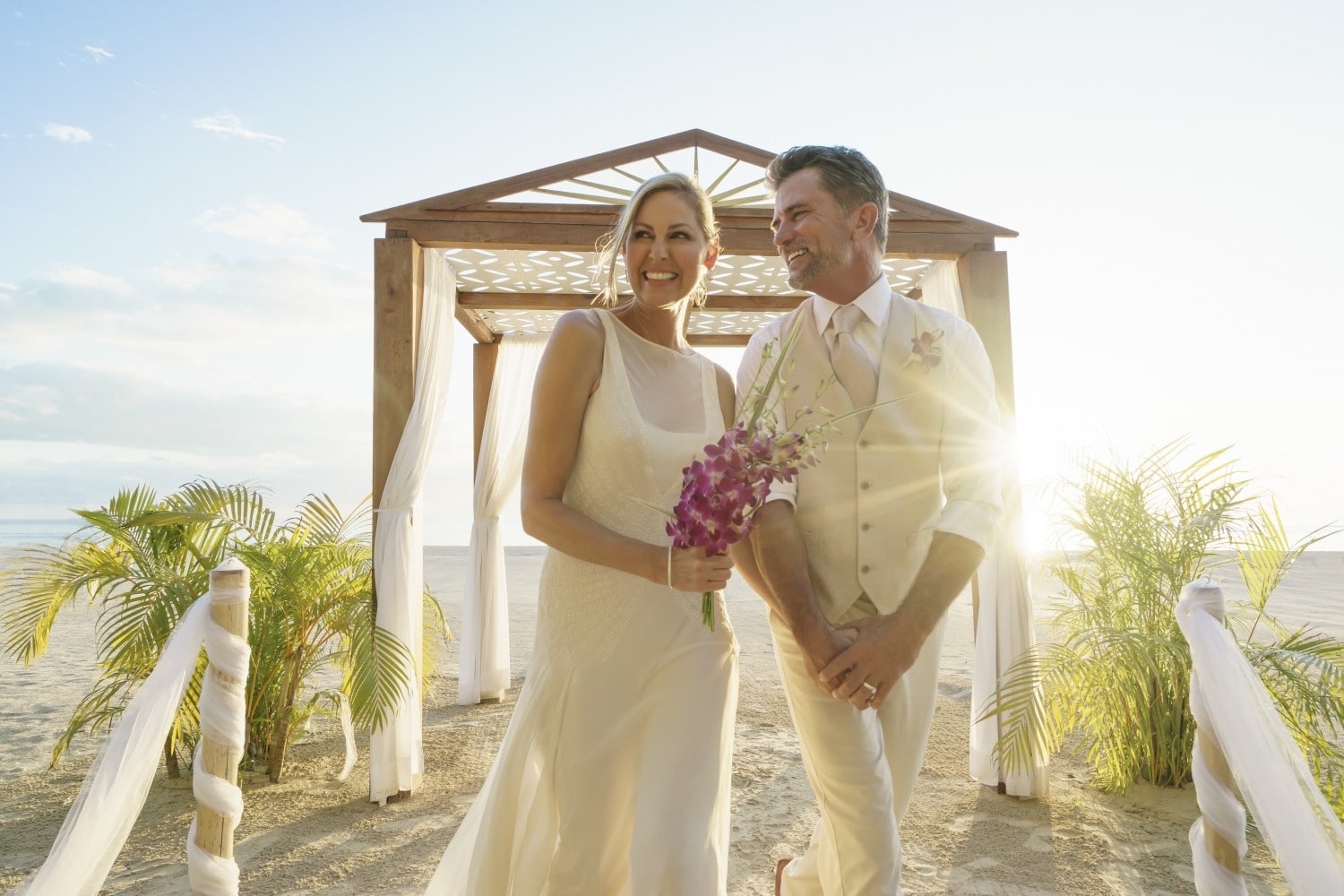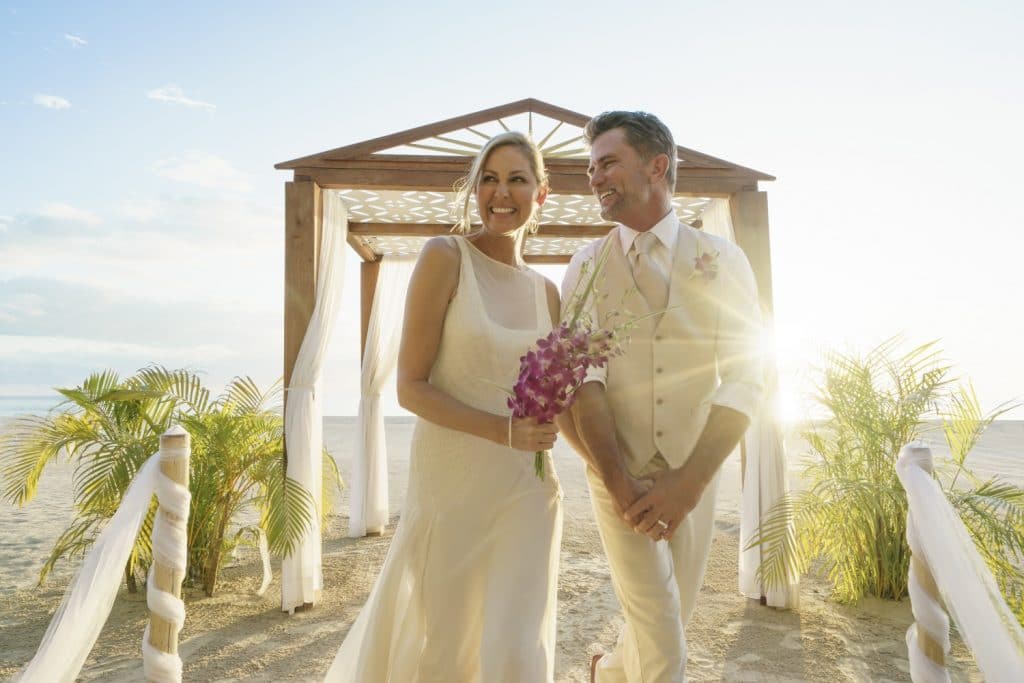 The 4 Couples Resorts in Jamaica are hard to beat for eloping. With just a 3 night stay they throw in the one love wedding package for free or you can upgrade to the runaway bride package and get some nice extras.
We especially love Couples Swept Away on the famed 7 Mile Beach.
The Carefree One Love Jamaica Wedding Package Includes:
•Your choice of locations on the beach or in the gardens
•Sparkling wine
•Wedding cake
•Fresh bridal bouquet of your choice of purple or white dendrobium orchids
•Groom's boutonniere
•Professional photo shoot: One 8 x 10 printed photograph
•Resort's sound system for MP3 Player/iPod
•On Property Wedding Coordinator
•Wedding Officiant
•Marriage Certificate
•Celebratory T-shirts for Bride & Groom
The Runaway Bride Elopement Wedding Package ($350) Includes:
One Love wedding package above + Private dinner for two on the beach + 25 minute couples massage
---
Elope to Sun Palace (Cancun)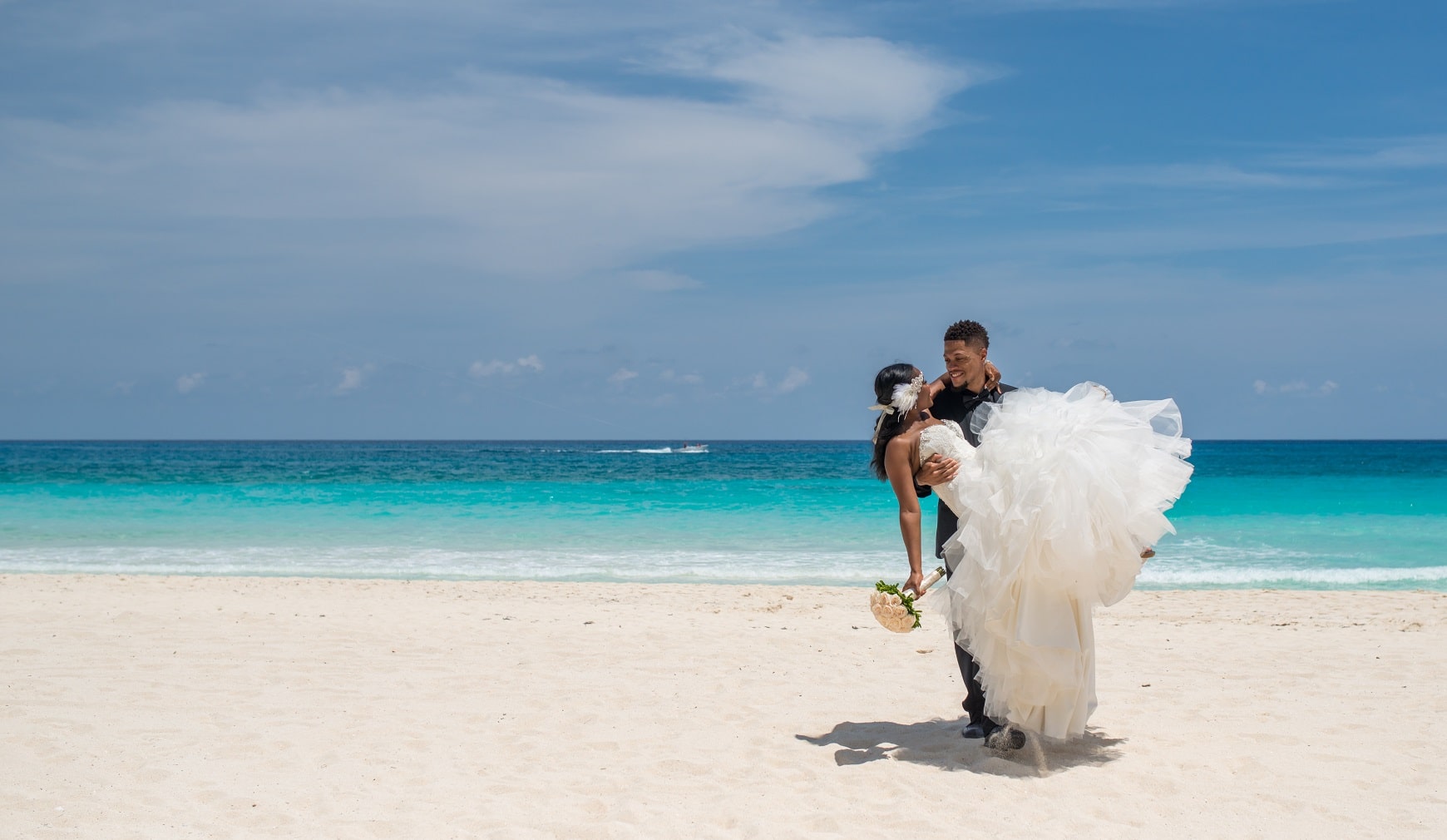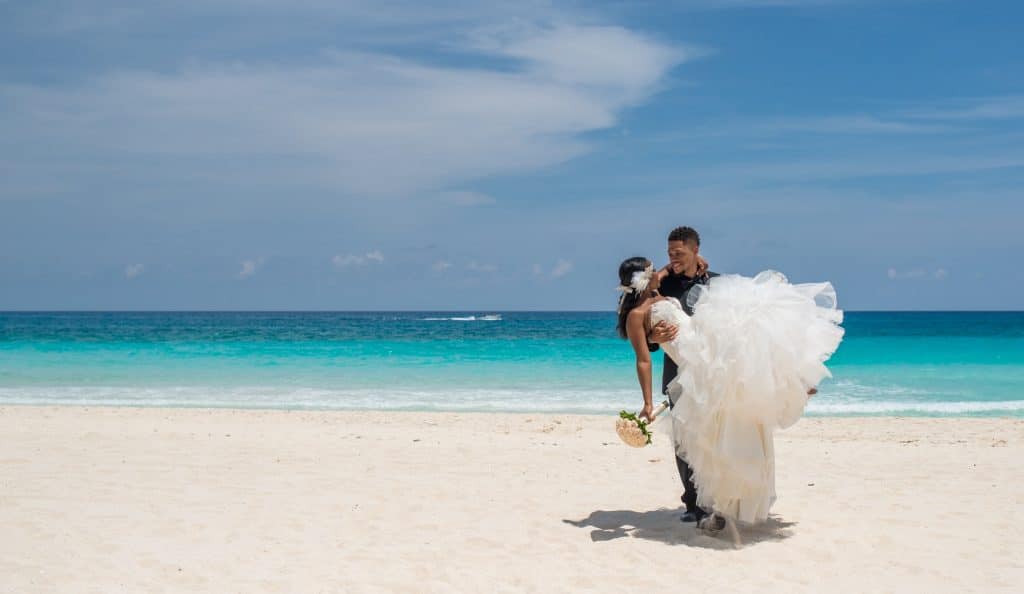 Stay 7 nights at the only couples only resort in Cancun and get a free wedding.
Free Sun Palace wedding package includes:
Services of a wedding planner and an on site wedding coordinator
Wedding ceremony location: beach or gazebo
Minister to perform symbolic ceremony
Wood wedding arch featuring ivory sheer fabric backdrop with silk floral appliqués and silver branches
Matching wood ceremony table with two silk floral spheres as table décor
Audio system available for the ceremony
Sparkling wine during the ceremony*
1 semi-private dinner reservation with standard restaurant décor
Breakfast in bed the morning after the ceremony for bride and groom
Honeymoon Wishes wedding website and bridal registry
Complimentary Honeymoon package
Bottle of sparkling wine
Mini honeymoon cake
Romantic dinner at select restaurants
Two honeymoon t-shirts
Guaranteed turn-down service
Honeymoon desk
Late Check-Out, upon request and subject to availability
---
Elope to Excellence Resorts (Cancun, Jamaica, Punta Cana and Riviera Maya)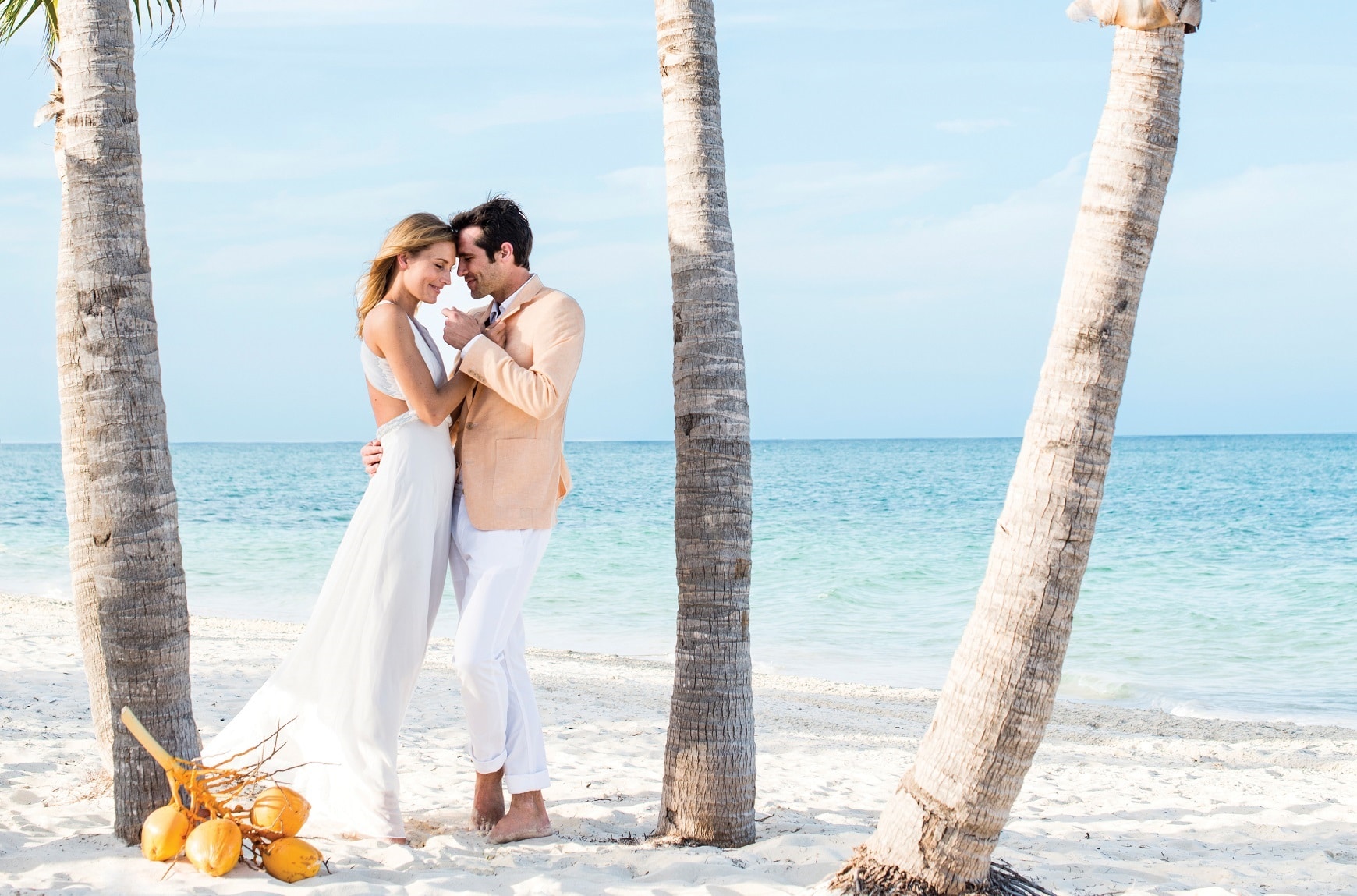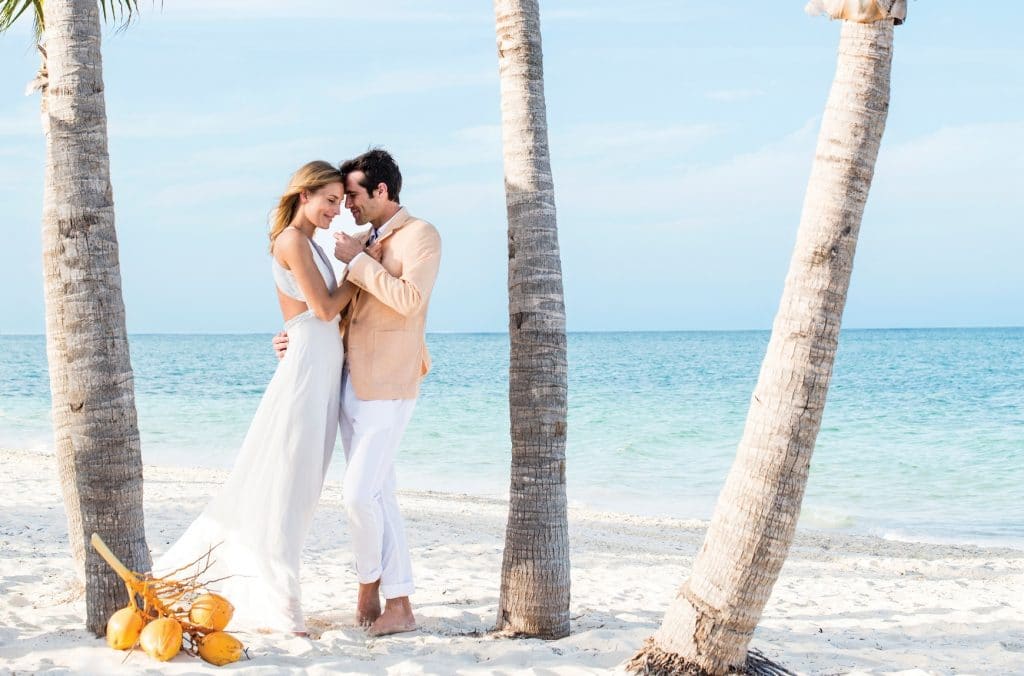 If you stay for at least 6 nights in a qualifying room category, the elope package is free or just pay $499.
Excellence Resorts Elope Package Includes:
• On-site wedding coordinator service
• Ceremony location
• Commemorative certificate (non-legal)
• Symbolic ceremony by a non-denominational minister
• Wedding cake for two
• Sparkling wine toast after the ceremony
• Special private beachfront dinner for two the evening of the
ceremony
• Small sound system and microphone during the ceremony
• 15% discount on all spa treatments
• Welcome letter.
• A basket of fresh fruits in your suite when you arrive.
• A bottle of sparkling wine.
• A special romantic dinner at one of our restaurants.
• Special turndown service.
• Champagne breakfast in bed (once per stay).
• 15% discount on your photo package (does not apply for wedding packages).
• Taxes and gratuities included.
---
Elope to Secrets Resorts (Costa Rica, Cozumel, Huatulco, Jamaica, Los Cabos, Puerto Vallarta, Punta Cana, Cancun, Riviera Maya)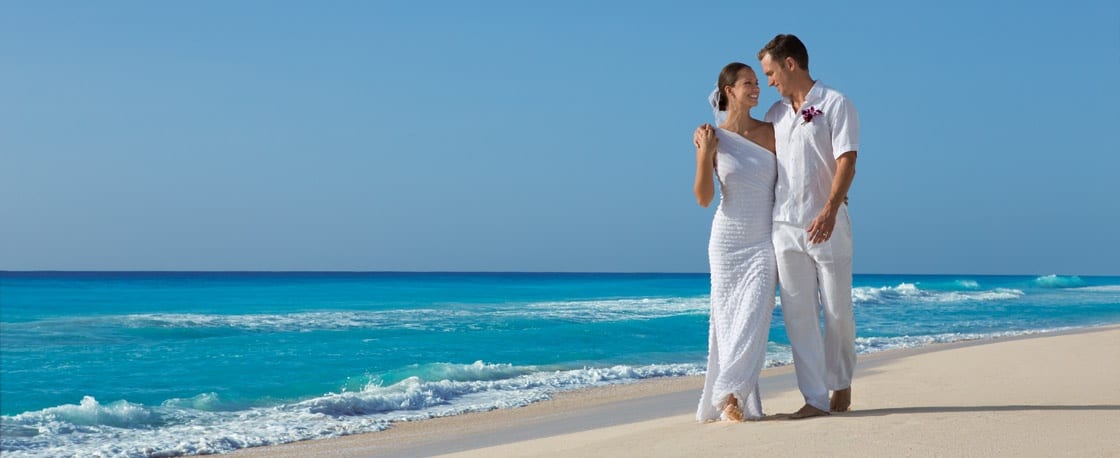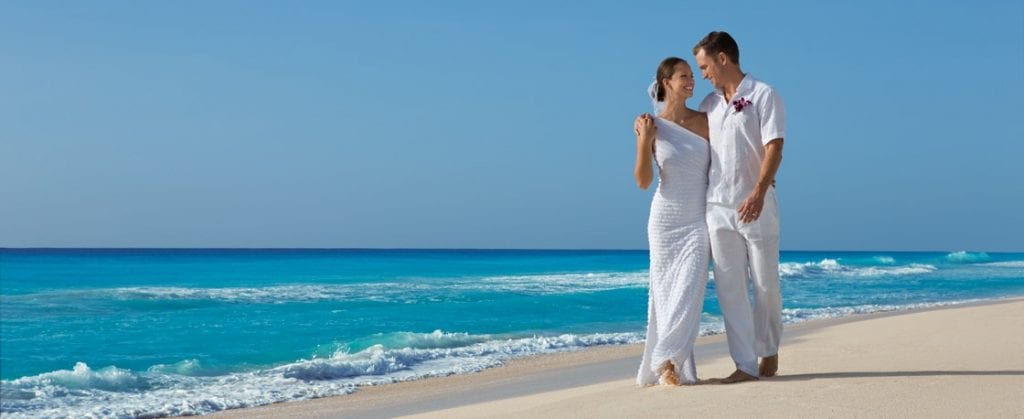 If you stay for at least 7 nights in a qualifying room category, the elope package is free or just pay $999.
Secrets Resorts Wedding Package Inclusions:
Symbolic Ceremony*
Wedding organization and personal touch of on-site wedding coordinator
Preparation and ironing of couple's wedding day attire
Complimentary room for one member of the wedding couple the night before the wedding (based on availability and upon request)
Bouquet(s) and/or boutonniere(s) for the wedding couple
Wedding cake and sparkling wine toast (for up to 10 guests)
Special turn-down service the night of the wedding
15% discount on all spa treatments (Boutique purchases not included)
Late check-out for the couple (based on availability and upon request)
Free Anniversary Nights – when staying a minimum of 5 nights over their first anniversary return-stay, the couple
will receive 2 additional nights free OR if Stay 4 nights, receive 1 additional night free. Guests must have the
authorized anniversary night certificate from the resort of their initial stay in order to receive the free anniversary
night(s) as well as Marriage certificate must be provided upon arrival.
Welcome letter
Fresh fruit
Bottle of sparkling wine
Special turn down service
Breakfast in bed with Mimosas (Reservations must be made in advance with concierge)
*Restrictions apply. Governments fees are not always included.
---
Elope to Royalton Resorts (Antigua, Grenada, Jamaica, Punta Cana, Riviera Maya, St Lucia)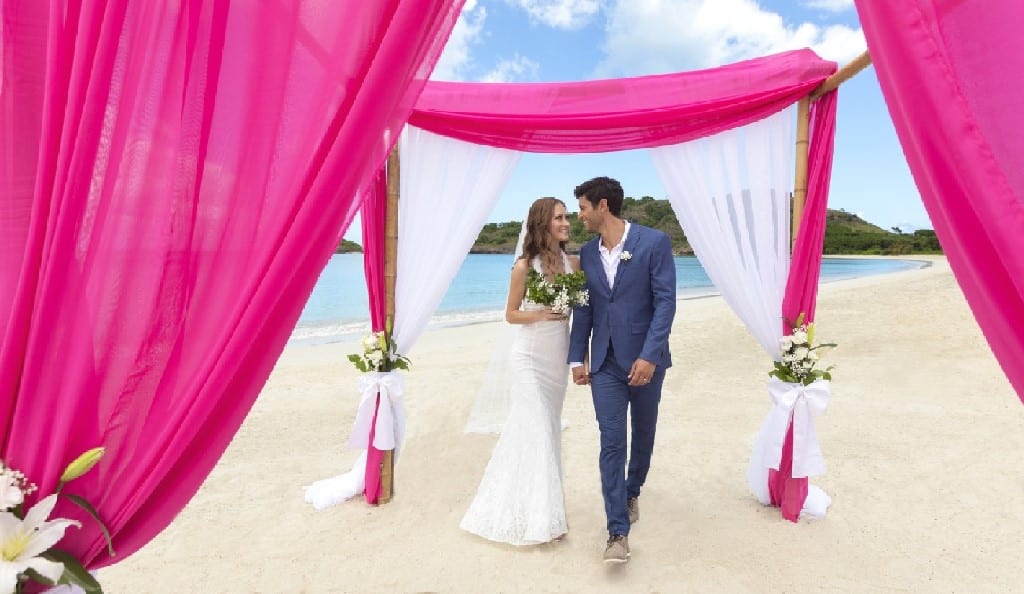 You can find the adult only Hideaway resorts for Royalton in Jamaica, Punta Cana, Riviera Maya and St Lucia
ELOPE PACKAGE
The Just the Two of Us package is designed for the bride and groom who are planning a private elopement.
Price: $699
WEDDING STAY
• Professional wedding coordinator
• VIP welcome
• Room upgrade for wedding couple, upon availability
• Late checkout for wedding couple
• 10% discount on spa services (applies to 50 min massage & spa services, not salon services)
CEREMONY
• Symbolic wedding ceremony
• Ceremony location (excluding Sky Terraces)
• 1 tropical bridal bouquet
• 1 tropical groom's boutonniere
RECEPTION
• Private dinner on the beach (unavailable on Sundays)
• Sparkling wine
• Wedding cake
Just the Two of Us wedding package can be upgraded to a civil ceremony with the addition of the notary fees. Restrictions apply.
---
Yes, you still have to pay for your all-inclusive resort stay. If you know what resort you want, send a quote request with your dates and put in the notes that you are getting married. If you have a wedding date and time in mind, we can check that for you too.
Don't make this complicated. Let us help. We don't charge fees for setting up your elopement.
</